How low is it to reference my own post for the article of the day? I worked hard on it and Mother's Day is Sunday. If you're a guy and are in that moment of "ohmygod, what do I do?!?!?!?!," this is helpful. If you are looking for menu ideas for a brunch/lunch/dinner, this is your aid. So here you go, my post from yesterday, 20 Recipe Suggestions for Mother's Day (It's Sunday)-Pay Attention Dads.
Egg salad and I haven't been on the best of terms for most of my life. It could've been the disgusting looking, slimy, store salad that turned me off. I might have even tried it at one point and gagged, then never had it again. (I had a problem with coleslaw too…due to the store version. I am cured of that little issue nowadays.)
Infact, until last week, when Greg mentioned egg salad, I made gagging noises. Most of that was to mock his immense love for the stuff and to make fun of his deep bond for his mom's recipe. No offense, Eva. You should see his cute face when he thinks of dear old mom's food. It's really fun when he compares one of her famous dishes with a recipe I tried….
Now that I know certain recipes are delicious-thanks to today's sandwich- I will not place shame on it any longer. I still refuse to have egg salad when I don't know the ingredients. Just so it's clear, I've had a slow movement towards liking any salad sandwich-tuna, chicken, etc… Same goes for those, I need to know what is in it or gagging might come back and we don't want that. There's that reflex that catches on and pretty soon people are heaving, like yawning. You should see my family when mom or one of my sisters starts- we are an empathetic gagging family. Really, how many times can I put gagging into this post?
This egg salad, adapted from a Gourmet recipe, is so good that I would eat it every week. Greg, being a longtime fan, enjoyed the curry twist with a hint of cayenne. The amounts of spice were perfectly balanced against the apple and the other refreshing ingredients. Seriously tasty and I promise making the hard-boiled eggs beforehand is easy (if you've never done that). Happy Momma's Day weekend! Safe travels to you and yours.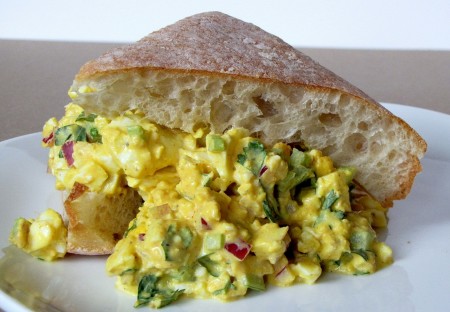 Curried Egg Salad
Serves 4 to 6
Ingredients:
1/3 cup mayonnaise
1 tbsp fresh lime juice
1 ½ tsp curry powder
1 tsp Dijon mustard
¼ tsp salt
1/8 tsp cayenne
6 hard-boiled large eggs, chopped
1 cup apple, diced (Granny Smith recommended)
1/3 cup red onion, finely chopped
½ stalk celery, chopped
¼ cup cilantro or parsley
bread of your choice
Hard-boiled eggs: Place eggs in a saucepan (single layer), covered by at least an inch of water. Bring to a gentle boil. When it begins to boil, reduce the heat to low and simmer for 12 to 15 minutes. Cool, run under cool water, remove the shells carefully and store in an airtight container in the fridge for up to 5 days. Chop for the sandwich.
Whisk mayo, lime juice, curry, mustard, salt and cayenne together in a large bowl. Add the eggs, apple, onion and cilantro or parsley, stir to combine. Now you can make yourself a sandwich. I like my bread toasted but that's up to you.