How was your weekend? Your Mother's Day was ____________?
I had a leisurely weekend even though I suffered a few accidents…one involved the trail and cutting my toe and the other involved my new mandolin and the fingertips on my most used index and middle finger of my right hand. Typing is very slow going and so are a number of other things.
The best part is that I was slicing fingerling potatoes. Go ahead and chuckle-I have. I'm hoping I come out ambidextrous. This is going to take some time to heal…I could commit a crime and not leave fingerprints right now. 'Tis but a flesh wound! (We watched Monty Python and the Holy Grail Saturday night.)
I was so proud of my husband. We are both squeamish when blood is spilled. He took such great care of me and has vowed to continue to help now that doing dishes, putting on deodorant, making the bed, chopping, typing, getting dressed, etc. is difficult and has resulted in the splitting open of my boo boos all over again. He's so sweet. I woke up in the middle of the night when I obviously had the fingers in a bad position and these exposed raw nerves had me yelling so he's a trooper.
Besides that, my weekend was great. We went to our friend's house Saturday-where we went for Easter- and they gave us more eggs, venison (hunted by their son), frozen corn from last year's harvest, homemade cherry pear sauce, and a frozen chicken (raised on their homestead). I'm probably forgetting something.
I also got some ideas for recipes and you know how much I like that…if you don't, I really enjoy new recipes. They are wonderful people that we need to pay back several times over. Hopefully Greg can help bring their table to glory again and I can whip up a few dishes. Checking out the table is why we went out…I swear it wasn't to gain all that delicious food. Thank you, Bill and Dawn.
After that visit, we went to a meat shop, which we've been meaning to suss out, in a small town that has quite a bit of buzz. As soon as we stepped in the door, we were given samples of dried beef (pastrami) and their warm beef sticks. (I forgot to mention that our friend's venison sticks with cheddar were amazing, I can't get enough.)
Back to the meat shop (Nerstrand Meats), we picked up a smoked ham loaf and ½ lb. of dried beef. I have a profound love of ham loaf/ham balls with a potato side and green beans. (That was our meal Sunday and what tried to take my fingers but it was worth it.) We will be back-it's a friendly, knowledgeable family with great products. Go there!
The temps have been lower than they were a few weeks ago so my mind has been set on making dishes that could be found in the fall-soups, stews, roasted meats, etc… Recently, the rainy, chilly weather has not made me happy-it's spring, right? Where did the 70 degree days go? Oh well, my newest cabbage soup recipe will keep me warm and coming back for more. Please carefully cut/slice/chop the ingredients.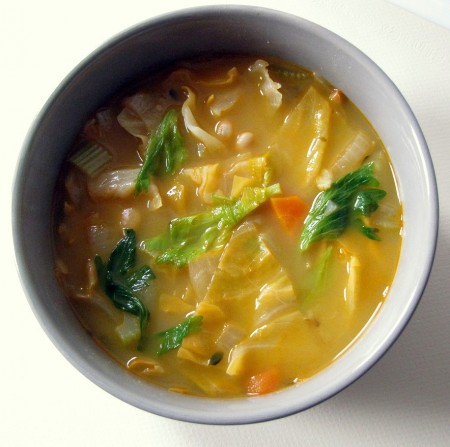 Herbs and Cream Cabbage, Bean and Potato Soup
Serves 10 to 12
Ingredients:
1 tbsp canola oil
2 tbsp butter
1 large onion, diced
2 ribs of celery, diced
2 carrots, peeled and diced
2 small potatoes, peeled and chopped
1 bay leaf
1 sprig of rosemary and thyme, leaves removed and chopped
2 cloves garlic, minced
1 to 2 tbsp herbes de Provence
1 tsp cayenne pepper-optional
8 cups low sodium chicken or vegetable broth mixed with 1 cup of water
dash of white wine-optional
2 lb. shredded cabbage of your choice
celery greens, chopped-no wasting these edible top portions
1 cup cooked cannellini/great northern/navy beans (your choice)
2 tbsp heavy cream
salt/pepper
grated Parmesan-optional
In a large pot over low/medium heat, sauté the onion, celery, carrots, potatoes in the oil until softened. Add the bay leaf, rosemary, thyme, garlic, herbes de Provence and optional cayenne. Feel free to use different herbs. Cook for a few minutes, until very fragrant but not burning the garlic. Add the optional dash of wine and broth (with the water); turn the heat up to boil. Add the cabbage, celery greens, cooked beans and salt/pepper to taste. Lower to a simmer until cabbage is soft then add the cream and some grated Parmesan to taste. Simmer for at least 30 minutes. This is great simmered for most of the day and even better the second day. Serve with toasted bread and more grated Parmesan.