How does this work? I'm a (nearly) 10 year blogger between 3 blogs and it's been so long since I made an appearance on any of them that I couldn't recall the process of logging in and making words appear on a post. It's apparently NOT like riding a bicycle for me. Not posting a recipe, not really doing that these days. I am cooking, just not writing about it. Bizarro Land. This post isn't going to cover a lot of ground. That is if you are expecting a play-by-play of the last few years. Spoilers-there was food and drink and, fingers crossed, there will be more of it!
I will cover recent things, say about 6 months of shiz. Mostly because life is so different now. I am satisfied. It's been good, it's been stressful, it seems to be getting better. Ask later.
I'll jump in….
1) It's August 2017. Already. Greg started his new engineering job last week. You probably have no idea what I'm talking about unless you follow my Em & Wit Design Instagram account.
Quick recap-he lost his job, the one that moved us to the PNW, in December. A few people lost their jobs with the CEO stepping down and some changes were made. It took 5 months for him to find another engineering job. During those 5 months, we did other contract design jobs and finished remodeling our current home. It's ready to go on the market. We did 95% ourselves. We were exhausted. It looks pretty snazzy.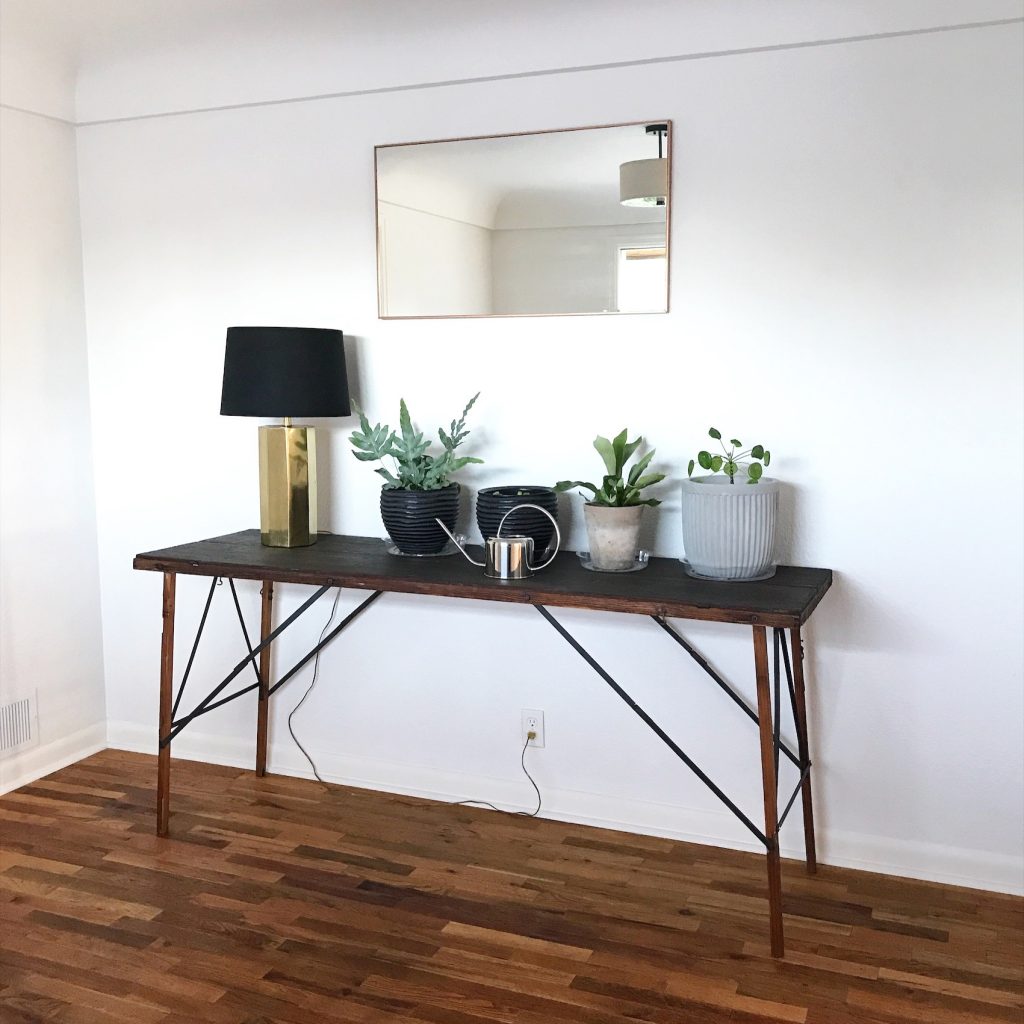 This antique folding wood table recently sold. In other news, I'm gathering more plants to add to my collection because I'm a crazy plant lady these days.
Anyway, we tried to make it work to be full time real estate investors and attempted to start a business with an acquaintance in the realm of commercial reupholstery…didn't work out. Full time real estate investors will come later. We're working on it. We attempted to pair with an established upholstery business in Seattle (residential/commercial upholstery being Greg's engineering career for 9 years) but you'd be surprised to learn just how messy the place runs  (feels like they could fall apart with any minor issue). Sooo, we parted ways (and felt a lot better about our work ethic compared to them). For half a second we thought we were moving to New Hampshire, but decided to stay and take the position north of Seattle. We worked too hard to get here to leave less than 3 years later.
2) That said, we are in the midst of looking for our next fixer upper home north of Seattle (the 3rd!). Many of our furniture refurbishing clients live in that area, so that is exciting. We had to pause putting this house on the market until we find another, which has taken months and months in the past, as you might recall in past posts. We are just as picky about our fixer homes as we are with furniture. Greg does have a 4 hour daily commute, though, which is going to get old fast. Traffic sucks here. People telling you this will not prepare you for just how sucky it can be.
3) We are taking on only a few client  furniture refinishing projects at this time. I am doing a few of my own projects, soon to be on the market. They will be available at our Auburn home shop (25 miles south of Seattle). Keep an eye on our Instagram account, Etsy shop or Seattle Craigslist. I will let you know when that location changes and when we're taking on more client pieces. I know writing from what is my food blog about furniture might bore you, but we've had a strangely high number of clients contact us who have connections to/in Minnesota. Shoutout to you lovely supporters! Thanks for spreading the word about us.
4) Here are some examples of the work we do (rummage, repair, refinish, repeat). Find their details here.
5) Maybe I'll stop back again at some point, maybe not. Go enjoy your life! I'm enjoying mine.
Peace out,
Annie