Admission: I'd never had a fried green tomato ever in my life until the other day. It might seem like an abomination as a food blogger, as someone interested and passionate about cooking, ingredient knowledge and everything that goes with the seemingly all-encompassing term 'foodie.'
They are delicious when cooked. It also put to use the poor tomatoes that never ripened on our now limited sun patio up here on the third floor. The recipe just kind of came together.
The inspiration: a blt sandwich but only with a fried green tomato and basil in place of lettuce. It took two trials to get something craveable. The first was my attempt to follow the recipe I came across which was decent but could have been better.
The second attempt was when I fell in love with green tomatoes. They are tart and wonderful. I recommend coring them as they can be very hard in the center and they did not fry into soft submission or play well with the coating when cut too thick the first time.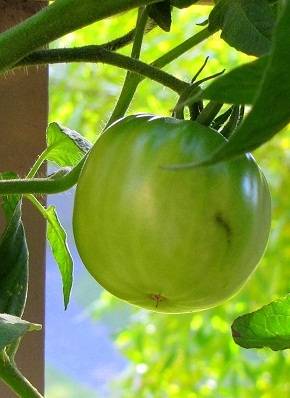 I added cayenne to both the mayo and the panko/cornmeal crust but you can do one or none if you aren't a fan of heat. Another suggestion is not use strictly panko breadcrumbs as I did in the first trial because it just didn't stick. Others might argue but it just didn't cut it for flavor either. Cornmeal is necessary. It was also partially the fault of the recipe calling for thick slices of tomato…again, don't have super thick slices. A half inch slice or slightly less seems to work best. Don't pay attention to the thick tomato slice in my picture either. That was from the first trial…forgot to snap a picture from the second.
To make it easier to enjoy, I made them open-faced and served with a fork but it's not necessary. That was also a problem with the bread being too crisp when toasted (it is not my favorite bread). I like having each bite contain all of the ingredients when it comes to things like this. The flavors blended so well together that I think I need a third try on the ol' bbfgt (bacon basil and fried green tomato) sandwich. Use your favorite bread, probably didn't need to tell you that, sandwich fan.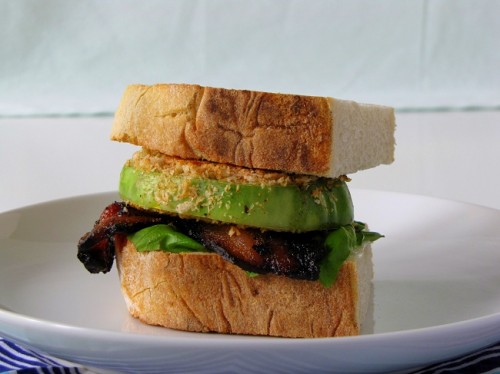 BBFGT (Bacon Basil and Fried Green Tomato) Sandwich
Makes 4 sandwiches
Ingredients:
8 slices of thick bacon
3 medium sized green tomatoes, cored (don't cut too thick-1/2 inch slices or less so that you have at least 8 slices)
2 cups buttermilk
1 cup cornmeal
1 cup panko breadcrumbs (or just 2 cups of cornmeal but don't use panko alone)
salt/pepper and cayenne pepper
about ½ cup of fresh basil leaves
8 slices bread (not too thick)
mayonnaise (add some cayenne for heat)
Prep the tomatoes and cut the bread. Set the tomatoes in the buttermilk, submerging them for at least 5 minutes. In a shallow dish, mix the cornmeal, panko, salt/pepper and optional cayenne pepper. Set aside.
In a large skillet over medium heat, fry the bacon until crisp. Transfer the bacon to a paper towel lined plate. Keep the drippings in the pan over medium heat.
Drain the buttermilk from the tomatoes and dredge the slices into the cornmeal mixture, coating them very well. Shake the excess then fry in the drippings until each side is golden brown. Repeat for all slices. Placing them on a paper towel lined plate when golden.
Toast the bread then begin assembling the sandwiches. Generously smooth the mayo (with optional cayenne) on 4 slices of bread then add some basil, bacon and the fried green tomatoes (2 per sandwich) to those 4 slices and top with the remaining bread. Serve right away. These are also great with a few drizzles of smoked Tabasco sauce.