What's been going on around here?
Greg is on a business trip in North Carolina but will be home late tonight. We've been scootin' along on the furniture side of life, refinishing like mad. The lack of space has us contemplating finding a new place to call home when spring rolls in. Collecting pieces of furniture, as you can imagine, takes up quite a bit of room as does the area needed to repair and finish. Spending time on Pinterest inspires me to find a space where we can create and have those juices flowing. I'm green with envy seeing all the DIY projects on there.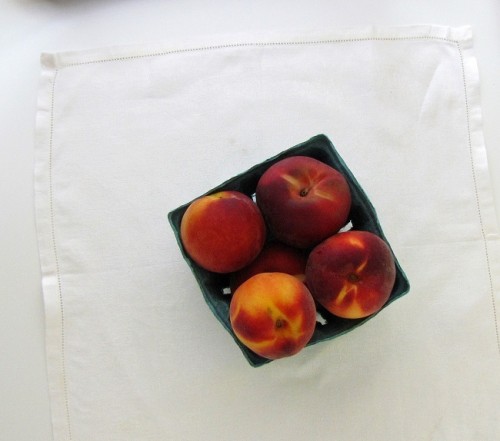 Sure we've only lived in this apartment a little more than 4 months but our ideal living arrangement involves more workspace connected to living space with a washer/dryer and soft water. Oh, how I miss soft water. A studio/loft with a workshop somewhere around or a house with a garage in the Northfield area is the goal. However, I don't think it exists and if it did, wouldn't be in our price range. We can't afford a separate workspace or storefront so that's out.
The weather is odd here in Minnesota in the loveliest way. Mid-seventies and sunshine supposedly all week long. Mother Nature must be mocking us since both Greg and I have made claims that snow will be here before Halloween like the last few years. Keep mocking us, mama, I really don't mind.
The leaves are changing and not even the usual windy day has taken them. Last year was a big disappointment when it came to fall foliage when a windy day took most of the leaves from the trees before they even fully transformed. One of my favorite things to do is take a drive around the most scenic portions, gazing at the rusty and bright reds, burnt orange mixed with vivid green leaves still clinging in their last hurrah before the outright cold months arrive.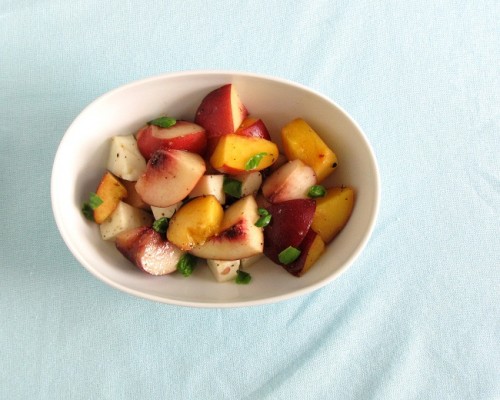 Denying the fact that it's October, I'm going to tell you about a salad so obviously for summer. The temps are going to reach 80 here today….in Minnesota so maybe it's still summer-like where you are too. Or you can save this one for next season.
On another note, have you ever combined tomatoes with peaches? The flavors are meant to be together. This recipe doesn't include tomatoes but you can certainly add them like I did after snapping these photos. Mark Bittman suggested the combo and it dawned on me, of course, that would be delicious. To stretch this thought further, adding melon or a different cheese (feta perhaps), maybe some red onion and you have another version. Guess I'm saying this salad is a great base-good on its own or jazzed up.
Peach, Mozzarella, Basil and Mint Salad adapted from Real Simple
Serves 4
Ingredients:
3 ripe peaches (yellow, white or a combo)
1/4 cup fresh basil, torn
¼ cup mint, torn
6 ounces fresh mozzarella, cut into small pieces
2 tsp olive oil
coarse salt, freshly ground pepper
Cut each peach into 8 wedges then halve those wedges. In a large bowl, combine the peaches, basil, mint and mozzarella. Drizzle with the olive oil and sprinkle with some salt and pepper. Gently toss and either serve or refrigerate for a few hours then serve. As I stated above, this would be great with tomatoes, red onion, maybe some melon and/or switch the cheese to feta. You will need to drizzle a little more olive oil if you add the tomatoes. I love the combination of peach and tomato. Additions or not, this salad is delicious.