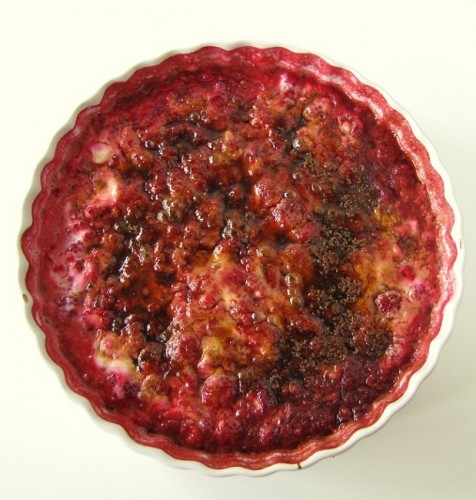 Was your reaction like Kramer's on Seinfeld when he saw the ugly baby upon seeing this recipe's picture (it's not the best for other reasons but that's my bad)? Allow me to introduce you to something amazing (again)-the raspberry brown sugar gratin. Doesn't seem so ugly any more does it? For those of you that still think it's unappealing-you're wrong. Wrong, wrong, wrong. I had this weeks and weeks ago and am craving it to this day. The goal was to post the gratin before summer was gone-made it with 2 days to spare. I was actually going to post it right after rejoicing in the ramekin I had for a snack but noticed that another blogger had just posted the recipe-great minds think alike-so I postponed my sharing.
With 3 ingredients and carmelized brown sugar as the result on top of my current favorite berry, the raspberry, this is undeniably wonderful…even though it has a mug only a mom could love and I being its "mom," indeed took one look and began cooing. I don't really believe that though. Many of you will find the beauty of this dish. Once you taste it, you'll be hooked. Good hot, warm, room temp, cold, and the next day.
Thank Smitten Kitchen for highlighting this adapted dish from the Jeremiah Tower version in the New American Classics cookbook. Bravo (and then I'm the one to initiate the slow clap that builds like in this video).
Raspberry Brown Sugar Gratin from Smitten Kitchen and Jeremiah Tower
Ingredients:
2 cups fresh raspberries (or your choice of berry)
2 cups sour cream
1 cup dark brown sugar
Preheat the broiler. (If your broiler isn't your friend, roast this at 450F until it caramelizes.) Meanwhile, gently fold the berries and sour cream together in a shallow 1-quart dish. Top with the brown sugar-sprinkling evenly over the dish (try not to put it in clumps). Place the dish under the broiler until the sugar just starts to caramelize. Good hot, warm, room temp, cold, and the next day.