Translate all of this talk about this very soup into me yelling "go make this right now (please)" if nothing else. It had been in the folder, where I keep recipes I intend to make, for over a year. It's a rather large, bursting at the seams folder and now, minus one amazing soup that will become a yearly preparation and lots of it for freezing. Complete facepalm on this one, I should have made this last year and earlier than last week this year.
So simple and genius which is where this recipe tricks people. It flies under the radar when you read the list of ingredients, of which there are only 7 and that includes a topping: summer's best corn plus broth, onion and a tad bit of butter with a little sautéing and magic happens. Drizzle the poblano sauce-consisting of nothing more than a roasted poblano, a little broth, a handful of cilantro, a touch of lemon juice and coarse salt-along with a small drip of cream and the soup is brought to a whole other level.
Of course, I did my own version of the poblano puree that came with the recipe featured in the July 2010 issue of Real Simple from Munson Farms in Boulder, Colorado because that was the only part that didn't quite hit the flavors I wanted to complement the soup. It was close though. That entire spread about Farm to Table and all of the dishes inspired me-that's where my raspberry crumb cake became a twinkle in my eye then a reality in my kitchen. Maybe this is a lesson not to put off recipes that entice me but I already know the folder is still full of similar (sad) stories.
Greg was amazed. There were lots of mmm mmm's and wishing it made more. He said it was even better the second day, adding small baked potatoes and a little more broth was just as terrific. My only suggestion would be to double, triple, quadruple the soup.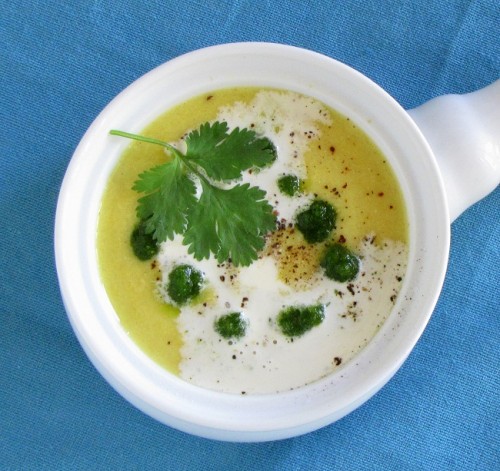 Sweet Corn Soup with Poblano Sauce adapted from Joan Munson's recipe
Serves 4 (I would double if not triple this recipe)
Ingredients:
1 poblano pepper
2 tsp lemon juice
handful of cilantro plus more for serving
2 ½ cups plus 3 tbsp chicken or vegetable broth (plus more for subsequent days)
2 tbsp unsalted butter
1 small onion, chopped
5 cups fresh corn kernels (from about 10 ears)-white corn is preferred
coarse salt/freshly ground black pepper
¼ cup heavy cream
Heat the broiler. On a broilerproof baking sheet, broil the pepper, turning occasionally, until charred, 8 to 12 minutes. Remove from the broiler and place the pepper in a paper towel, let cool then slide the skin off and remove the seeds.
In a blender or food processor, puree the pepper with the 3 tbsp broth, lemon juice, a handful of cilantro leaves and a pinch of salt until smooth. Place in a container to save for serving.
Melt the butter in a large saucepan or Dutch oven over medium heat. Add the onion, stir occasionally, until tender (do not brown), 8 to 10 minutes. Add the corn, the remaining 2 ½ cups broth, pinch of coarse salt and some freshly ground pepper and bring to a boil. Reduce the heat and simmer until the corn is tender, about 15 minutes. With a handheld immersion blender, food processor or blender, puree the soup until smooth. Serve with a drizzle of cream, poblano sauce and cilantro leaves.
If there are leftovers (big if), add more broth the following day to refresh while simmering once again. Just enough to get the consistency you'd like.