I meant to start writing more posts-not the 5 times a week that used to be- but perhaps 3 until I started having houses on the brain. (Operation!)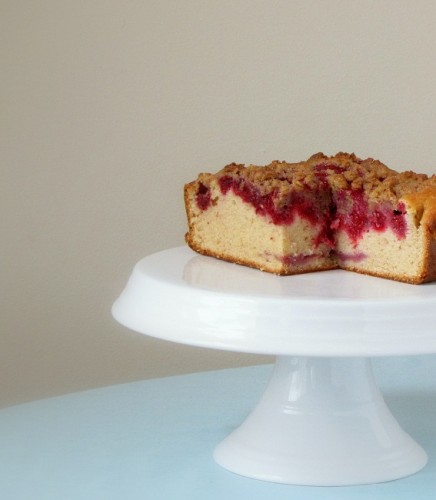 For you new readers, my husband, Greg, and I are looking for our first home. We have a small budget, according to Minnesota standards, and have been having a tough time finding anything in our range let alone something with potential. It will not be our forever home. I'm considering it incentive to stay and a poignant moment in life where 28 year old me can feel more adult. Also, creating a space that's more me (I mean us), with projects to keep us busy instead of staring at each other on the weekend, shrugging our shoulders in activity defeat, is enticing and a very welcomed opportunity. (A: "Do you want to play another Wii game?" G: "Not really…you?") Living in 10 different places over 7 years can have a toll on your sanity and a part of you could feel like you aren't in the real world. Nothing screams real world like a mortgage.
My day begins with the intention to post something delicious but then I receive an email update to a decorating website and I'm off dreaming about the possibilities for our future house. I start logging in to numerous real estate sites, house design/décor sites and a few blogs that get my house hunting/decorating mojo going. Sites like Young House Love, Desire to Inspire, Apartment Therapy and the newest edition of Rue magazine. I'm more than a little obsessed with the decorating style of Tamara Kaye-Honey (page 143).
Hours pass with scribbled notes and pages of ideas about my latest house in the area that could possibly be "the one," not about food whatsoever, and I eventually snap out of it and realize that we could never afford to remove walls and completely change the layout of our low priced future house. Adding new wood floors or designing a kitchen like the one above will cost an arm and a leg; buying new appliances will most likely remain only a dream or a goal when my student loans are paid off when I'm of retirement age. (Wish I were joking.) Simply obtaining more furniture will be a challenge (hello, craigslist) but even as minimalist as we try to be, we know that if we want visitors, spare rooms should have beds and storage of some sort.
Where most people start to fret and stress out, I see a challenge and gladly accept it. Maybe it's the Nate Berkus Show, which I watch every week day, encouraging me to move forward. Love it.
I forced myself not to go there today and for good reason, I've had a few requests from friends to post the raspberry crumb cake I made over the weekend. It's been in my recipe arsenal since June and was supposed to focus on the fresh berries of summer and farmers markets. My version highlights frozen berries for my winter cake. I wanted to make something simple, something that would take seconds to slice instead of preparing a fresh breakfast/brunch every day of our weekend and this fit the bill. The cake was even better the following day and warming it slightly took it to another level. Anything that goes well with a cup of coffee is food friend to me.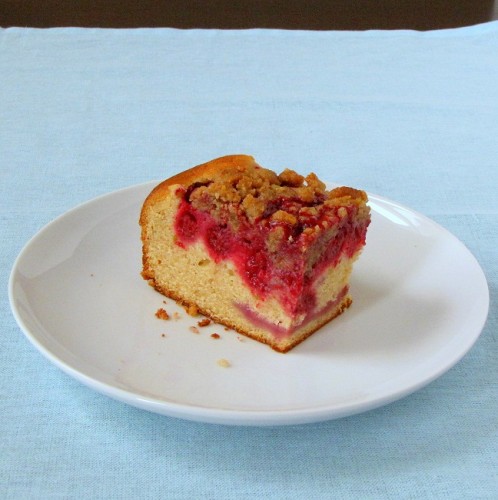 I did notice a few hiccups in the amount of ingredients and size of baking dish…if you were to use a full pound of berries, as it calls for in the original recipe, in an 8-inch square baking pan, this thing would flow over and wreak havoc on your oven. My frozen raspberries were less than a pound and were just the perfect amount.
It's not a super sweet confection and my recommendation to anyone wanting to add sweetness would be to make 1 ½ times the crumb topping. Greg was quite happy and declared that while it looks dense and as if it would suck the moisture from your mouth, it was actually light and tasty. He has a way with words and descriptions. I will turn to this recipe time and again. Thank you, Sandi Rose from Connecticut, whom Real Simple magazine highlighted in their July 2010 issue- your recipe was fantastic.
Raspberry Crumb Cake inspired by Sandi Rose through Real Simple magazine
Serves 8 to 10
Ingredients:
Crumb Topping:
½ cup pecans*
1/3 cup brown sugar
¼ cup all purpose flour
2 tbsp cold unsalted butter
Cake:
½ cup (1 stick) cold unsalted butter, cut into small pieces
2 cups all purpose flour
1 cup sugar
2 tsp baking powder
1 tsp kosher salt
½ tsp ground cinnamon
2 large eggs
1 cup milk
1 tsp vanilla extract
10 ounces frozen raspberries or fresh raspberries (or your favorite berry)
Preheat the oven to 350F.
In a food processor, prepare the topping by pulsing the pecans, brown sugar, flour and butter until crumbly. Wipe the processor carefully out and set aside the topping.
In an 8-inch square baking dish, add parchment paper for easy removal of the finished cake later. You can skip this step and keep the cake in the dish. Here's a link for a how-to on lining the dish with parchment from the folks at the Kitchn.
In the food processor, pulse the butter, flour, sugar, baking powder, salt and cinnamon until crumbly. I tend to add half of the butter to the bottom first and the remaining butter to the top. It seems to work better so that this step doesn't make you want to throw your processor when it will not blend the ingredients. In a large bowl, whisk the eggs, milk and vanilla. Add the flour mixture and mix until just combined.
Transfer the mixture to the prepared pan and sprinkle with the frozen raspberries then crumb topping. Bake until a toothpick comes out clean, an hour to 75 minutes but this will vary oven to oven so keep an eye on it around the 55 minute mark. Let it cool completely and then, if you used the parchment paper method, lift out of the pan and onto a serving plate or serve directly from the pan. It's even better the second day, heated slightly with a nice cup of coffee and a chat with your significant other/best friend.
*If you want to increase the sweetness of the cake, make 1 ½ times the amount of topping.