I guess there was a big game, maybe even called a Supergame, this past weekend. I am referring to the Superbowl. With my lack of chat on the subject you could probably tell I didn't give a fig. I was a little more into football last year but have since given up. I just don't care.
I even thought to post a wrap up of some of my past recipes that scream Sunday football and parties. Nah.
Greg and I continued this past weekend declaring that the Supergame was on or that we were going to check our face page (facebook) poking fun at what an aging parent or grandparent might call both the social network site and event. Imagine what twitter might be mistakenly called. Things like that make me laugh. I can't wait to be at that phase of life, purposely and not, confusing socially relevant items and whatnot.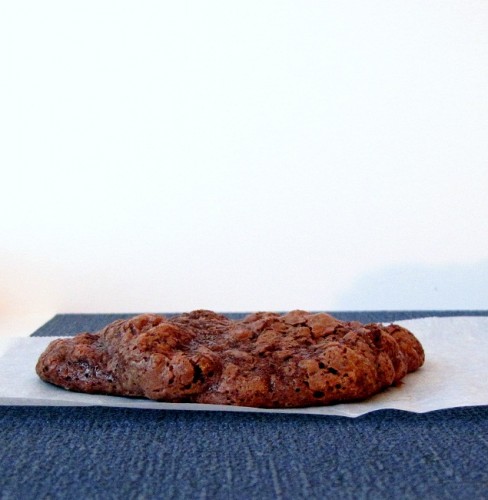 How about a cookie recipe? It's one that I'd heard a lot of fuss (and for good reason) about from Heidi at 101 Cookbooks. She's well-known in my world and the "foodie" world for her amazing ability to share fantastic recipes, stories and photos. Pure inspiration.
Now these puddle cookies are based on only 6 ingredients with most of the flavor from nuts (walnuts were her choice but I had pecans). I have the feeling that any nut would suffice and be quite tasty. If you aren't a fan of cookies based on nuts, don't expect to go gaga over these. You know my affinity for treats that go well with a cup o' Jo…not my current coffee because it is rather unsavory but now I know not to buy this brand. These are unique morsels that I think you're going to enjoy. Have a wonderful day!
Chocolate Pecan Puddle Cookies inspired by Heidi at 101 Cookbooks
Makes approximately 18 large cookies.
Ingredients:
1 ½ cups pecans or walnuts
2 cups powdered sugar
1/3 cup cocoa
¼ tsp fine salt
2 large egg whites
½ tbsp vanilla extract
Preheat the oven to 325F.
Place the pecans (or walnuts) on a baking sheet and bake for about 5 minutes or until the pecans are lightly browned. Keep an eye on these-they will burn easily. Cool and finely chop.
In a large bowl, mix the powdered sugar, cocoa and salt. Add the cooled nuts, egg whites and vanilla. Mix until well combined.
Line a baking sheet with parchment paper or a baking mat and drop the batter (about a tablespoon) far apart from one another. Bake 11 to 13 minutes. The cookies should be puffed, cracked and matte when done. Place on a cooling rack for several minutes then enjoy.