I was going to post one of the dozen recipes that I have made in the last two weeks but thought that my unexpected panini I had for lunch yesterday would be better. I simply had all the ingredients in my refrigerator and cabinets, I admit that is rare, and it was one of the best combinations for a panini that I've ever made. If you want a bit of sweetness, add some apple slices.
* I added a side of tangy coleslaw that included a bag of slaw mix with lemon juice, olive oil, salt/pepper, dijon mustard and cilantro for a light side with my sammy.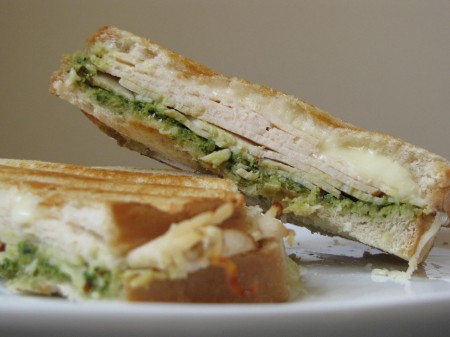 Turkey, Smoked Mozzarella and Olive-Spinach Pesto Panini
Pesto Ingredients:
Makes about 3/4 cup-leftover for more sandwiches or whatnot
1/3 cup chopped, pitted green olives
¼ cup walnuts, chopped a bit
1 clove of garlic
¼ basil leaves
1/3 cup spinach leaves
1 tbsp olive oil
salt/pepper
½ tbsp of water-optional (helps with consistency without adding more oil)
chipotle in adobo dab-optional (if you want some heat)
2 slices of your favorite panini bread (or what you have)
2 ounces sliced turkey
1-2 ounces smoked mozzarella sliced to fit bread of course
apple slices-optional
For the pesto, in a food processor, combine all ingredients and chop to desired consistency. Then, heat panini grill to low-medium heat.
Spread a dab of olive oil on outside of bread (turn over) and spread pesto on one piece and place cheese on the other, then add turkey and optional apple. (I didn't add the apple this time.) Grill to desired look, melted cheese and browned bread. This is where I sat and looked at how melty the cheese was for a few minutes, knowing the tastiness about to come, but you might want to just eat it so you don't start to wonder about your sanity.