These cookies, first off, are from the Martha Stewart Show and made by Torie Hallock from John Barricelli's SoNo Baking Company and Cafe. They are so delicious that I quickly looked at the cafe's website and fantasized about visiting it one day in the hopes that every confection would be as good as this cookie. Yes, it is in Connecticut and I am in Minnesota but this could happen. Has anyone been there? Are there other cookie recipes that inspire trips across the country just to visit where it originated?
I changed the name to incorporate all the major ingredients that I would've displayed so that people can glimpse at all of its glory.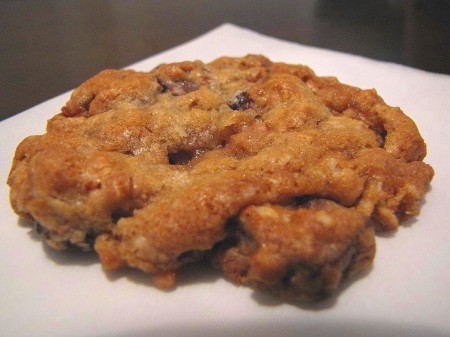 Cherry Chocolate Chunk Cookies-from the Martha Stewart Show
Makes 24 cookies
Ingredients
1 1/2 cups all-purpose flour
1 teaspoon baking soda
1/2 teaspoon salt
1 cup (2 sticks) unsalted butter, room temperature
3/4 cup packed light-brown sugar
3/4 cup granulated sugar
1 large egg
1 teaspoon pure vanilla extract
1 1/2 cups oats
1 cup dried cherries
4 1/2 ounces bittersweet chocolate, coarsely chopped
1 cup toffee pieces
Preheat oven to 350 degrees. Line two baking sheets with parchment paper; set aside. In a large bowl, sift together flour, baking soda, and salt. In the bowl of an electric mixer fitted with the paddle attachment, cream the butter and both sugars on medium speed until light and fluffy, 2 to 3 minutes, scraping down the sides of the bowl once or twice during mixing. Add the egg, mix on high speed to combine. Add the vanilla; mix to combine. Scrape down sides of the bowl. Add flour mixture to butter mixture and mix on low speed until well combined. Add oats, cherries, chocolate, and toffee pieces; mix to combine after each addition. Using a 2-inch ice cream scoop, scoop dough onto prepared baking sheets. Repeat, spacing 2 inches apart. Bake cookies until golden brown 13 to 15 minutes, rotating baking sheet halfway through. Transfer to a wire rack to cool. Store in an airtight container up to 2 days.