Greg and I went to "the Cities," that's how we refer to Minneapolis and St. Paul, for groceries this weekend. These kinds of weekends are my favorite as a foodie because it involves visiting Trader Joes and Whole Foods or another "foodie" grocery store. We only do this, at most, once a month because it is 45 minutes away and I enjoy stocking my cabinets and refrigerator with things that cannot be found at our local stores. (We don't have a Super Target….just the plain old Target that doesn't receive half of the things we find in other suburban Targets of the metro.) I found more than a few things at Whole Foods that I have not tried and would love to but due to their cost, I have to pass.
My husband and I wish we could purchase most of our pantry from here but we can't justify that in our budget. That's where Trader Joes comes in; I love this place. Of course our visit involves loading up on alcoholic beverages at cheap prices (although I am over Charles Shaw with its severe hangover-inducing wine from a single glass). We leave looking like alcoholics that just got their weekend fix. The kind employees usually can't fathom someone not living by a Trader Joes and most of the time, ask if we are having a party to which we respond that we live pretty far away and stock up a month or two at a time (and then they understand). We also went to a bakery in our town recommended by a friend and found a few breads we enjoy; we made paninis with a nice tomato and basil Italian loaf.
Our weekend also involved hiking on our favorite local trails and I received the September issue of Food & Wine which usually makes for a great day. I have already marked 5 recipes to try and when the budget allows, I will do so and post them.
Last week, we met with our neighbors down the hall for our first neighborly gathering. We brought a Gewurztraminer and I put together a smaller version of the following recipe- Chocolate Fondant Cake that I came across from Fanny in France . This was so rich and wonderful in its simplicity with only 5 ingredients. (I converted the ingredients from grams so this is approximate.) The cooking time varied from the original so the directions include what worked for my cake.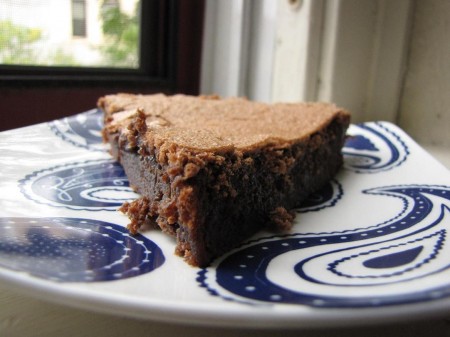 Chocolate Fondant Cake
Serves 8 in torte dish
Ingredients
1 cup of slightly bitter chocolate
9 1/2 tbsp butter
8 eggs
2 cups of sugar
1/2 cup plus 1/8 cup of flour
Preheat oven to 325 and butter a torte dish.
In a bowl, melt the chocolate and butter together-microwave is great for this.
Heat a small amount of water in a saucepan that a bowl the eggs and sugar can fit over and mix the two until they are at room temperature. Then, add the chocolate mixture to the egg and sugar mixture. Sprinkle in the flour using a rubber spatula until just incorporated. Pour into torte dish and bake for 45-50 minutes. It should have a flaky crust that rises above the dish while the bottom is the consistency of a gooey brownie, allow to cool until set.
We had a nice time getting to know the couple and hope that their move in a week will not effect our budding friendships. I hope this doesn't "nip it in the bud"- I couldn't resist. Annie out.