A few weekends ago my husband and I actually went out to a movie, not because we enjoy paying $30 for 2 people to see a movie we might not like but because we were tired of renting. We were feeling good, driving around in a neighboring town about to head towards our apartment when I spotted a sign that said 'The Cheese Cave'. We turned around to check it out thinking it would be a business that is no more like most places in this town. Immediately I knew that this was a place unlike others near us but not rare. The Cheese Cave serves gourmet cheese from around the world, as well as, specialty food items like truffle oil, crackers, and beverages including non-alcoholic wine in individual sizes and soda pop. They have a cooler with pre-made sandwiches, cheese and chocolate plates that allow you to sit at the beautiful bar and have a nice glass of wine, craft beer or mixed drink and enjoy.
My husband is a wood product engineer and was quite impressed with the large bar and dining arrangements. (It's hard to impress him- he builds his own furniture, bass guitars, works as an engineer for a place that makes restaurant furniture and helped his father in the construction business growing up.) We are the odd people in the room commenting on the wood pieces and architecture but we are young and often met with confused looks or laughs as though we don't know what we're talking about but I think that says more about society than us. Anyway, it's a charming hangout and after finding out that we were there after hours on a Saturday at 6PM, figured it must be for weekend lunches and late afternoon snacks.
That's another thing; the stores in Minnesota towns seem to stay open during the day when hardly anyone comes and close before people have the opportunity to stop by after work. I believe we heard that The Cheese Cave is open until 8PM on most weekday evenings but it seemed more like a weekend place, especially taking into consideration the town…I think they rely more on outsiders as most places like that do. (It's a fairly run down town which is why this new dining establishment seemed so out of place.) Infact, it would be my suggestion for them (and many other places in Minnesota) to make it more convenient for people to go there on weekend evenings and also to make their sandwiches and plates fresh but they are just starting out so maybe that is to come. Perhaps then we wouldn't see stores closing left and right on the main streets of towns in Minnesota. Overall, it has a great atmosphere and concept. I think we will go back soon.
That same weekend, I made spinach and artichoke dip-probably my favorite dip. To control the portions, I made it in 4 ramekins and served it with more carrots and celery than bagel chips. I also used light versions of most ingredients.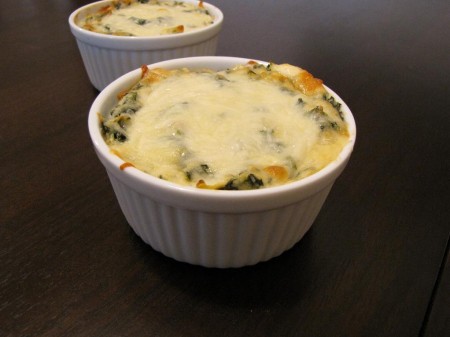 Spinach and Artichoke Dip
Ingredients:
2 10 ounce packages of frozen spinach-thawed, drained and chopped slightly
1 14 ounce can of artichoke hearts-drained and chopped
4 ounces of light cream cheese- softened
½ cup of light sour cream
¼ cup of light mayo
2 cloves of garlic-grated
¼ cup mozzarella-grated
¼ cup Italian cheese blend- shredded
pepper/salt
1 cup extra mozzarella to sprinkle on top (don't add until after baked partially)
1 chopped chipotle in adobo or a few dashes of hot sauce for heat-optional
Preheat oven to 350.
Mix everything and pour into a baking dish or 4 individual ramekins. Baking times will depend on which dish but generally bake 20-40 minutes, taking out 5 minutes before to place remaining mozzarella on top and return to oven for the remaining 5 minutes to melt and brown. Serve with carrots, celery, other veggies, bagel chips, pita chips, baked bread, etc..