Since it's been all hustle and bustle around our place with building my new favorite space in the house-a studio-for our furniture refinishing side biz, photoshoots and general office/project maintenance then there's the yard overhaul going on now. (Those links bring you to our other blog that documents our progress on the house, furniture and decor side of our lives.)
That said, I've been in the mood for easy, snacky dinners. We're eating later and no longer planning every bite as were the majority of the days of yore a.k.a before we bought our first house needing renovation and starting a business on top of Greg's day job. Weekends are accounted for and evenings are full as well. Greg and I tend to collapse on the couch on these warmer-than-usual evenings in Minnesota with a beer. Modelo is a light source that usually aids sleep along. Life is good.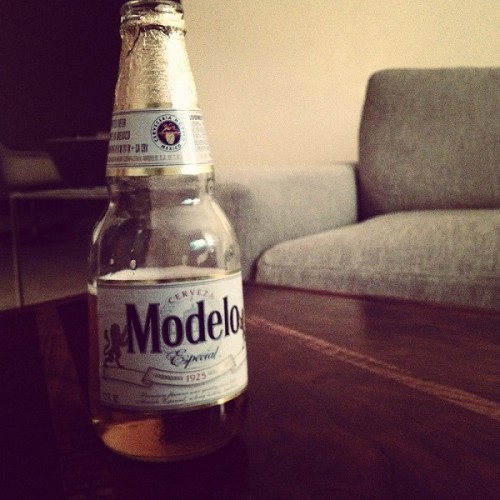 So yeah, tapas come in handy nowadays. Like this simple recipe where you get to take a baguette slice and sop up the goodness left behind and eat with a small wooden skewer a.k.a toothpick.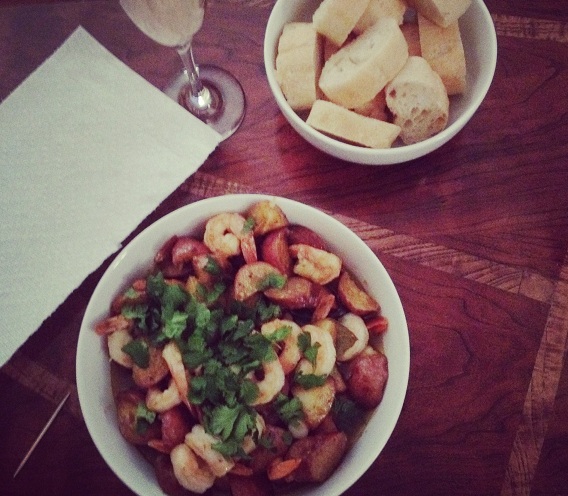 Shrimp and Chorizo Sauté from Meghan Raveis on Tastebook
Ingredients:
1/4 cup extra-virgin olive oil
2 precooked chorizo links, casing removed, sliced on an angle 1/4 inch thick
3 cloves garlic, thinly sliced
1/4 tsp crushed red pepper
1lb. jumbo shrimp (about 16 shrimp)
2 tbsp white wine
Salt and pepper
handful flat-leaf parsley, chopped (I used cilantro)
baguette, sliced and toasted (toasting optional)
In a large skillet, heat 2 tbsp of oil over medium heat. Add the chorizo and cook, stirring, until lightly browned, about 4 minutes. Using a slotted spoon, transfer to a paper towel-lined plate.
Add the remaining 2 tbsp of oil, the garlic and crushed red pepper to the skillet and cook, shaking the pan a bit, until the garlic is lightly golden. Increase the heat to high, add the shrimp and stir to coat. Add the wine and cook, stirring, until the pan is nearly dry, 2 to 3 minutes. Return the chorizo to the pan, season with salt and pepper and sprinkle with the parsley (or cilantro). Cook until the chorizo is hot and the shrimp is opaque, about 2 minutes. Serve with the sliced baguette and a toothpick. Sop up that goodness.