To go with my whole "fresh herbs and spring go together" thing from my last post, cilantro pesto with pistachios and orzo, I thought I'd bring you a recipe I snack on when the warm seasons come calling. Hummus but with a twist and without tahini (sesame seed paste) since I didn't have it on hand at the time.
Once again I turned to fresh cilantro, cannellini beans with the chickpeas, added a serrano pepper (or a jalapeno or neither), lime zest and juice and smoked paprika. I like a kick and more depth with the flavor. I've had some ho-hum hummus. You won't get that here. Serve it with veggies, pita chips, a baguette, whatever you wish.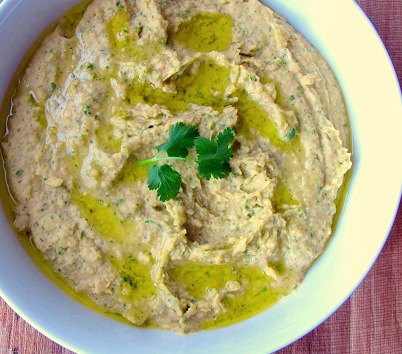 Cilantro Lime Hummus with Cannellini Beans and Chickpeas
Ingredients:
15 oz. canned cannellini beans (or another canned white bean you like), rinsed and drained
15 oz. canned chickpeas, rinsed and drained
2 cloves garlic, minced (if you want to go crazy, roast it then whirl it in the processor)
1 serrano pepper (seeds removed except a few for heat or a jalapeno), minced
1/2 cup fresh cilantro (no need to remove all of the stem, just kind of break the bunch in half with some still attached)
2 tsp lime zest
2 tbsp lime juice
a dash of smoked paprika
2/3 cup olive oil (maybe more to reach desired consistency and to top)
coarse salt and freshly ground pepper
Combine cannellini beans, chickpeas, garlic, pepper (optional), cilantro, zest, juice and paprika in a food processor. Blend until just combined then add the olive oil until you reach your desired consistency. I like mine creamy and finished with a drizzle more of oil. Season with salt and pepper then serve or refrigerate. Serve it with veggies, pita chips, a baguette, whatever you wish.