The weather has been gorgeous, near and in the 70's, just the way I like it. We worked on our backyard over the weekend, removing many things, and intend to do so again this weekend. Soon we'll be taking Henry the sheepdog to the arboretum trails, his first visit, and I'll be transitioning to more spring-like recipes. I grabbed a bag of Meyer lemons from the store last night. Can't wait to dive into those.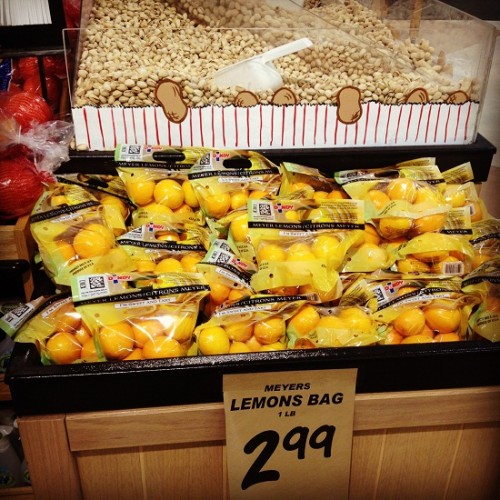 Even my usual rant about Daylight Saving Time has subsided due to the weather. I spend some time on our 3-season porch each day. A porch I haven't been fond of until now. I totally understand and get the point…if only it weren't placed smack dab in the middle of our patio/yard. Greg is excited about getting a grill and making a brick oven somewhere on the property. I'd like a fence to go up. (The last two probably won't happen any time soon but we're drunk off the spring temperatures and our minds are happily racing.)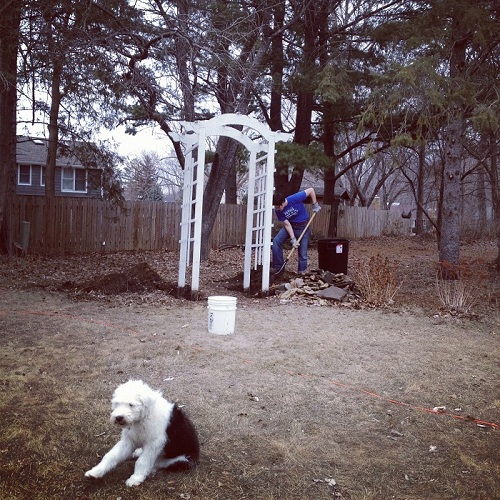 Windows are open, the breeze is blowing and the stale air of the house is making an exit. It took us by surprise how lovely it's been. We're reorganizing and prioritizing some of the house projects. Still working on the studio office space downstairs and we finished another dresser (making an appearance on etsy soon) but most of our time has been spent outside getting dirty and loving it.
I'm not sure if you readers remember the trellis with the fence in the backyard. Well, it's gone and that entire transformation can be read (and seen with all the pictures) here. Digging up the landscape rock was the highlight of my Sunday. My entire Sunday. And I'm being sarcastic as I often am.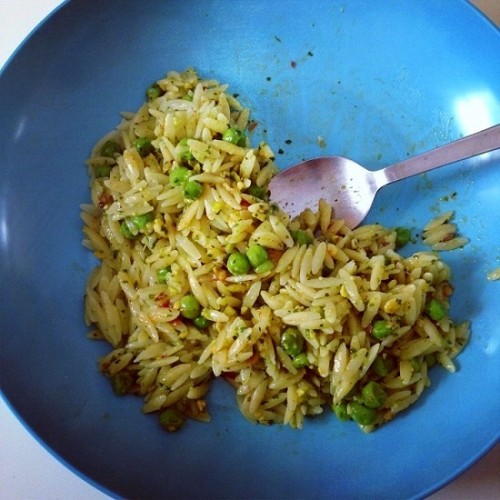 To me, spring comes with herbs. Recipes with fresh herbs. Pesto for one example. It need not be confined to basil and pine nuts. I've grown more attached to the versions using walnuts, pistachios and almonds with out of the ordinary plants like cilantro, spinach, arugula. Cilantro, pistachios and a slight kick of heat with cayenne and smoked paprika adds oomph to this pasta dish. Tasty. I used orzo but go with whatever pasta you have in your arsenal, rice would be nice as well. What's the version of pesto you are most fond of?
Oh and happy anniversary to my parents tomorrow!
Cilantro Pesto with Pistachios and Orzo
Serves 4 as a main and 6 as a side
Ingredients:
16 oz. orzo pasta (or your pasta or rice choice)
1 large bunch of cilantro
4 cloves of garlic, coarsely chopped
1 tbsp white wine or tarragon vinegar
1/4 cup Parmesan, grated
1 1/2 tsp cayenne pepper
1/2 tsp smoked paprika
1/2 cup shelled pistachios
coarse salt/freshly ground pepper
1/4 cup olive oil
1/4 cup vegetable or chicken broth
1 lime, juiced
Cook pasta according to the package then drain, place back in the pot and keep to the side.
In a food processor or blender, add the cilantro bunch (adding some of the stem is fine, I just rip the bunch in half and add it to the processor in parts), garlic, vinegar, Parmesan, cayenne, smoked paprika, pistachios, salt/pepper and lime juice. Pulse a few times then add the olive oil and broth, pulsing until it reaches the consistency you like. Add the pesto to the pasta, toss and warm over low heat, stirring, until it's time to serve. It would be great served with blackened shrimp or chicken.