I did something for my other blog, the Wits, that I have avoided for the Dabble for reasons I don't recall-started a facebook page. I use a personal account to keep up with family and friends (often). So, I thought it would be a nice outlet for our furniture refinishing business/DIY/home remodel side of our lives and keeping up with new friends we've made through that venture.
There's a part of me that I don't think gets out on the Dabble, an important one, and I wanted to share it with you supporters. If you'd like to know more about me and what I do when I'm not cooking. I wrote a "get to know us" post over at the Wits that tells a bit of where we came from and why we started working on furniture.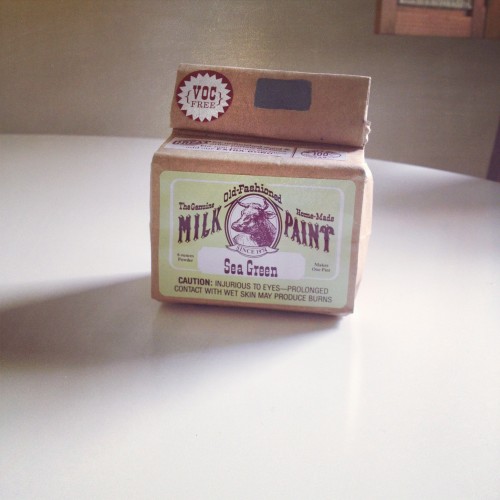 But Facebook is where you'll find our updates, questions, answer your questions, our finds (big and small), your finds (I love when you share a good garage/estate sale, free roadside item and the like), recipe, etc.. And I'm hopeless when it comes to twitter…I just don't understand how to effectively use it after many years so facebook is a better fit…even though I have 2 twitter accounts, one for each blog.
I often ask about which hardware/paint color, DIY advice, which whosal or whatsit to put in a room and all kinds of things along that line. I list resources for hardware, fabric, decor, vintage/thrifty stores and events around the country, spiffy etsy shops or items, other bloggers with interesting posts (a lot of fellow renovation/DIY/furniture refinishing bloggers) and all kinds of things that catch my attention.
You can "like us", or as we say "thumbs up" us, for a show of support if you like what we do (redecorate furniture and renovate our first home), what we find (vintage and antique pieces), where we live (Minnesota), how we dress (ha), how we dance (awesome), wanna see our taste in design, are a fan of home remodeling and DIY projects, love a good painted or stained piece of furniture (which we've been told we do), want to follow the trainwreck, keep an eye on us for criminal activity or for whatever reason. Any which way Greg and I appreciate it.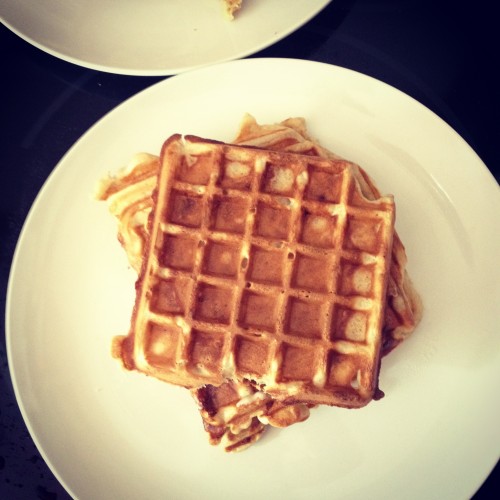 And to entice you-banana bread yeasted waffles. Yum is right. I paired these babies with homemade whipped cream, local maple syrup and that rhubarb rosewater syrup recipe from Heidi at 101 Cookbooks. One of the best weekend breakfasts to date.
I followed the recipe from Tara at Seven Spoons. She was inspired by a number of versions to get this recipe. It's not terribly sweet which is how we like waffles. That's what the toppings are for I say. Prep them the night before and wake to pure mouth joy…after cooking them in the waffle iron which is pure nose joy. Then pure mouth joy.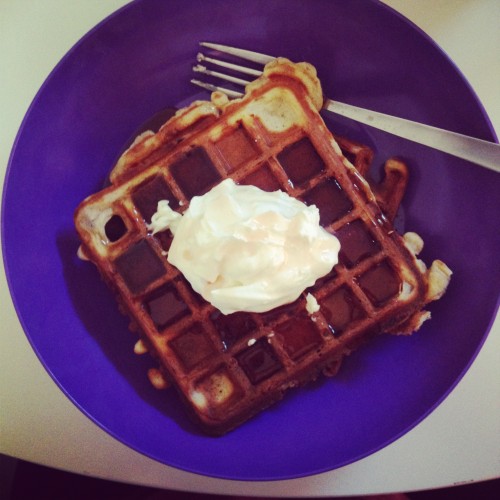 Banana Bread Yeasted Waffles from Seven Spoons
Ingredients:
4 tbsp unsalted butter, melted
1 cup plus 2 tbsp milk
1 tsp vanilla extract
2 cups all-purpose flour
1 tbsp dark brown sugar, packed
1 1/2 tsp yeast
1/2 tsp salt
1/2 tsp ground cinnamon
1/4 tsp ground nutmeg
1/8 tsp ground ginger
Pinch of ground clove
2 eggs, beaten lightly
1 cup mashed ripe banana, about 3 whole
2 tbsp sour cream or greek yogurt
In a bowl, whisk together the butter, milk and vanilla. Set aside, it should be warm but not hot. In a large mixing bowl, sift or whisk together the flour, brown sugar, yeast, salt and spices. Pour the wet ingredients into the dry, whisk until smooth. Stir in the beaten eggs. Cover the bowl loosely with plastic wrap and refrigerate for at least 12 hours but up to 24.
About 30 minutes before you want to make the waffles, take the batter out of the refrigerator to come up to room temperature. It should be doubled in size and the surface will be covered in bubbles. When you're ready to begin, stir the sour cream into the mashed bananas then mix the fruit into the batter. It will deflate, but use a light, quick hand to thoroughly combine.
Heat your waffle iron and bake the waffles as the manufacturer instructs. We had about 7 waffles. You can freeze the remaining waffles and reheat in a toaster or oven on low heat.