I'm obviously having a fling with yogurt these days. After last week's roasted/grilled pineapple with coconut yogurt, honey, pistachios and mint to now with the dip recipe. (It was actually described as a sauce but the consistency is too thick so I call it a dip.) Both recipes are worth your making. And easy. I should mention that. Both have very little ingredients that come together to make something delectable. Don't you love when that's the case?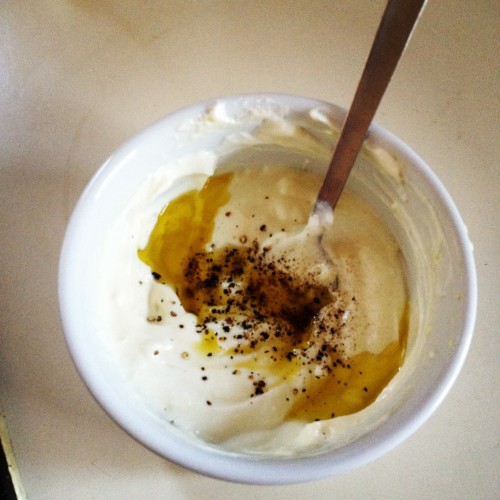 But it's true, there's almost always yogurt in the fridge-plain, fruity, Greek. For sweet and savory cooking. My preferred snack is Greek yogurt with honey. Always brands Greg and I have come to adore and turn to for evening dishes, lunch, and any old time. What's your favorite way to eat yogurt? Do you have a certain brand you like or flavor?
I should try to make my own. I'll toss that on the pile of edible/drinkable things I want to make someday-beer (again), wine, cheese, cured meats, vinegar and now yogurt. Have you made it? How'd that go?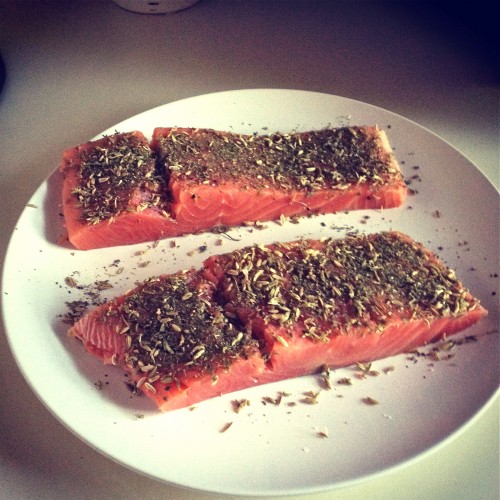 You can tell this is a topic I'm serious about with all the questions. This relationship won't be ending any time soon.
Spice-Crusted Salmon with Ginger-Cilantro Yogurt Dip (Sauce) from Bon Appetit
Serves 4
Ingredients:
1/2 cup plain yogurt (I used Greek)
2 tbsp chopped fresh cilantro
3 tsp fresh lime juice, divided
3 tsp olive oil, divided
1 tsp minced peeled fresh ginger
1 large clove of minced garlic
a pinch of smoked paprika (my addition and optional)
1 tsp fennel seeds
1 tsp coriander seeds
4 6-ounce salmon fillets with skin
lime wedges
Mix the yogurt, cilantro, 1 tsp lime juice, 1 tsp oil, ginger, garlic and a pinch of smoked paprika (optional) in a small bowl. Season with salt and pepper. You can make this ahead of time and place it in the fridge. Heck, you can even prep the fish with its toppings and make it later that day.
Place the fennel and coriander seeds in a plastic bag and crush with a utensil or with a mortar and pestle. Sprinkle the fillets with salt, pepper and crushed seeds.
Heat the remaining 2 tsp oil in a large nonstick skillet over medium-high heat. Add the fillets, seed side down, cook until browned, about 3 minutes. Turn over and cook until just opaque in the center, about 3 more minutes. Drizzle with the remaining 2 tsp lime juice, plate and serve with the dip and lime wedges.