Going to garage sales is my kind of weekend activity this time of year. When rhubarb arrives, you can bet we're checking out the sales. They are everywhere near our house the last few weekends. Over the past weekend, the husband and I picked up a number of deals.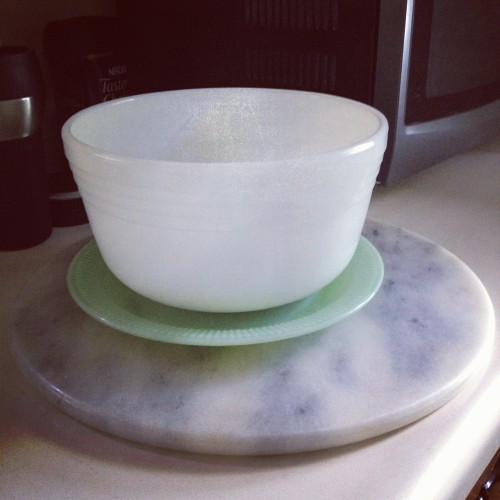 Madeleine cookie molds at a church sale (where I got a bag full of goodies for $3), a marble slab for $3 and a number of small kitchen gadgets for $.25. Yep, a quarter.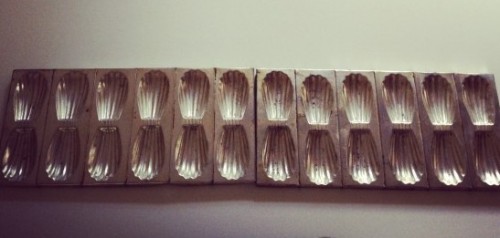 I found some heavy duty, vintage diner mugs (also in that $3 bag) and a jade plate with a vintage mixing bowl at an estate sale for $3. I found a bunch more-listed on the other site, the Wits. Although it's not a section on that blog, I seem to list my finds each week. The thrill kicks in those happy endorphins. Who doesn't love a good deal? Much like finding an amazing recipe (or piece of furniture) and sharing them with you lovely people. It's the same burst of excitement for me. If that makes me a weirdo, so be it.
This weirdo found another keeper recipe.
Another rhubarb recipe comin' atcha. This time, as I tend to make in warm weather, is a simple syrup. A newer one from Heidi at 101 Cookbooks. She can do no wrong in my eyes.
When my subscriber email popped up, I knew I wanted to make this immediately while rhubarb season is upon us. I've made a number of different simple syrups-basically water and sugar cooked to a syrup consistency. Her method provided a thick, fragrant batch with a nice punch of rosewater with the rhubarb tang. The only thing I'd do next time is reduce the rosewater a smidge. But probably because Greg couldn't get past the floral scent that can be overpowering when you aren't used to it.
I've had rosewater in my arsenal for some time with little opportunity to shine. No more waiting. Here it is- strong and floral-a perfect accompaniment to rhubarb. I drizzled some over my waffles and fell in love. The syrup added a complex taste even though it's quite easy to make…ha, simple syrup. Please use the rosewater intended for cooking. Please.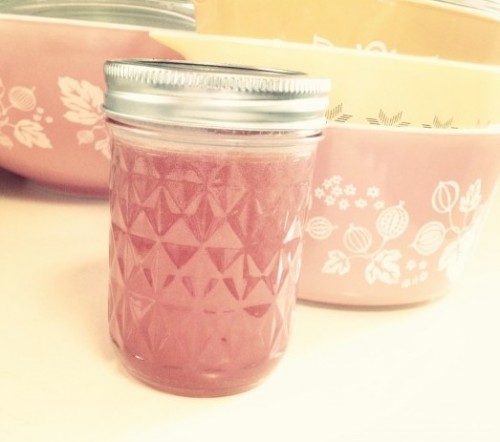 Rhubarb Rosewater Syrup from Heidi at 101 Cookbooks
makes almost 2 cups (mine did anyway)
Ingredients:
4 large stalks of rhubarb, chopped
2 cups sugar
2 cups water
2 to 3 tbsp freshly squeezed lime juice, or to taste
scant 2 tsp rosewater, or to taste (we preferred slightly less)
Place the rhubarb and sugar in a saucepan, stir well and leave for 45 minutes, not heated, stirring once in a while. Add the water and bring to a gentle simmer over medium heat, stir until the sugar dissolves. Simmer for about 15 to 20 minutes, until the rhubarb starts to break down, then strain into a bowl, removing the rhubarb stalks and leaving juice. Place in a clean saucepan, stir in the lime juice, and bring to a simmer. Let it simmer over medium heat for another 15 minutes or until the syrup has reduced and thickened. Remove from the heat and allow to cool.
Stir in the rosewater a little at a time until it's to your liking. This will keep for about a week in the refrigerator. Serve with club soda or seltzer water, over yogurt, over waffles/pancakes and wherever you'd like.