Do you feel neglected? I mean I have been spending more time and effort talking about life on my decor/home improvement/DIY/furniture redecorating extravaganza blog the Wits. The vibe is different around here. Purposely so.
It's just that and…I'm about to get very real and serious. I think that if you are truly here to get to know me and care about my our life, you might also go over to that blog but if you are here strictly for the recipes, then you don't. Which is fine. I'm not hurt. Then again you may not have known about the other site then you might be saying what the what?
When I started talking about my other passions on the Dabble (how we bought a house and are fixing it up on a tight budget, about our small yet growing furniture refinishing business, opening our etsy shop and the fact that I love discussing home decor/architecture), there were a number of persons (ok maybe 3) who unsubscribed which stung a little. It happens. I began holding those thoughts back, keeping them for the other blog, which made me hold back talking about anything involving us around here after losing my grandpa in February.
Still I'm here today to say I feel better. I value and adore your support. I feel very passionate about both food and the topics over on that blog.
One point is that this is a food blog. I feel that if you are here for the recipes and not so much for the discussion of what's going on with my husband and I, it's not appealing to you for me to talk about things outside of food, maybe a little about what we've been up to but not an entire spiel about the backyard makeover we're undergoing ourselves or the dresser we've recently completed. Things that have been happening for months, along with demo of the basement, making my studio office and some other tasks since December of 2011. My 50th post went up yesterday on that site. Guilt caught up and prompted me to address this before I started to feel a disconnect with my readers at the Dabble.
Not quite gone but very rare are the times I take out my "good camera" and have a food photoshoot. Instagram replaced that and my time is spent working on furniture pieces and the house projects (trying some DIY pinboard, lamps, chalkboard, art, sharing thrifty weekend finds, collecting vintage items, tips, techniques and trusted tools/resources for home/furniture improvement, etc.) and I'm holding more back around here because I think I may have shared more than my aim from the thrill and excitement of opening up to an audience (I was hoping there was one anyway). Some things should remain personal and I noticed that's how other bloggers I respect do it and they are not ridiculed. That's how I want it. A little more modesty, more focus on the culinary arts and shorter posts.
I know this post is laden with links to the other blog and I'm not trying to drum up business, I'm trying to give people a chance that are interested to head over there. Maybe you didn't know it was even going on or that it existed. If you enjoy my writing voice, miss my more personal posts around here, share a love for the topics mentioned above or find something irresistible about me (ha), I'm all there too at the Wits. Honestly, I'd still write if no one was following. It's that important to me.
So, I am still making some awesome food (and some not-so-awesome) but it now goes alongside this new entity. We're both, I am especially, different from when I started this blog (it will be 3 years old in July). The journey has been long and I feel the most content/happy/satisfied/whatever with who I am and where we're at along with our hope for even better things to come and more growth in many ways. I'm still no Susie Sunshine.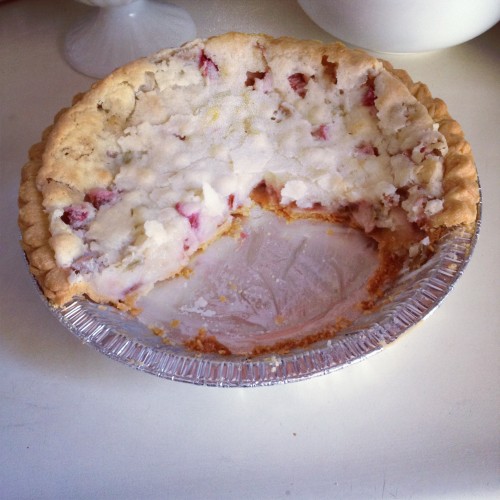 This is the where I try to combine what I talked about with the recipe I wish to share. I could say something like "speaking of growth, rhubarb _______________." How about just as tangy as rhubarb can be is my passion for redecorating furniture (makes no sense)? But instead I'm just going to hand it over. It's rhubarb season. The previous owner has a small patch in our yard that is nearly ready to go but it can be found at most markets these days. I've shared my love of the stuff before and made the rhubarb cream pie I posted a few years ago yesterday. Still awesome.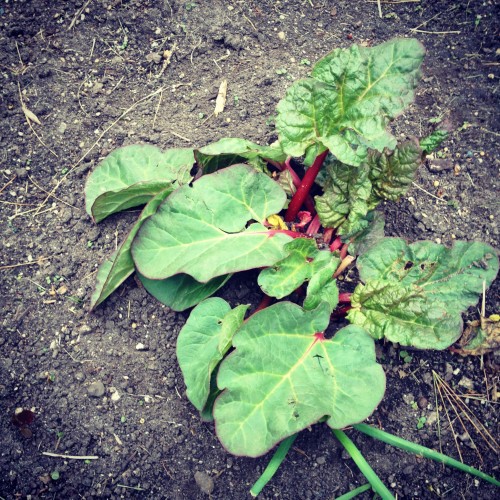 This year I wanted to go a more savory route and after a little digging, found a recipe from Bon Appetit. We grilled it. Because we're doing a lot of that at the end of our long, exhausting days but you can certainly bake the chicken. I'll give you the baking directions. Just know that grilling is mega-amazing on this one too.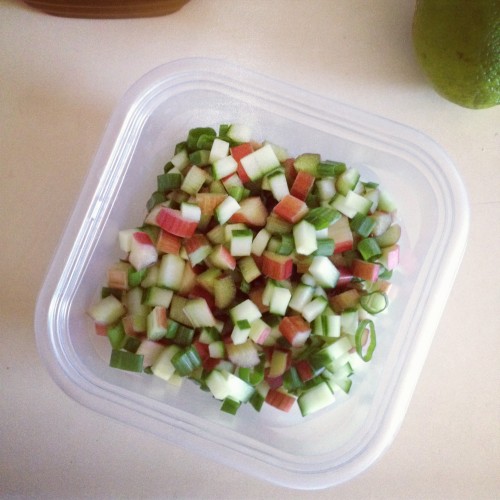 Oh, I added fresh ginger, used peanut oil instead of olive and vegetable and opted for a serrano pepper instead of a habanero, Scotch bonnet or Thai chili. The thighs were boneless, skinless instead of bone-in, skin-on. Instead of just brushing the sauce on, I let it marinate for an hour or so. I also wanted the salsa topping to have some heat and added more serrano. You don't have to but it was great and the leftovers are being turned into something else I hope turns out great that I might share later. I made preserved lemons which found their way to the salsa…again, not required. And that recipe to come as well.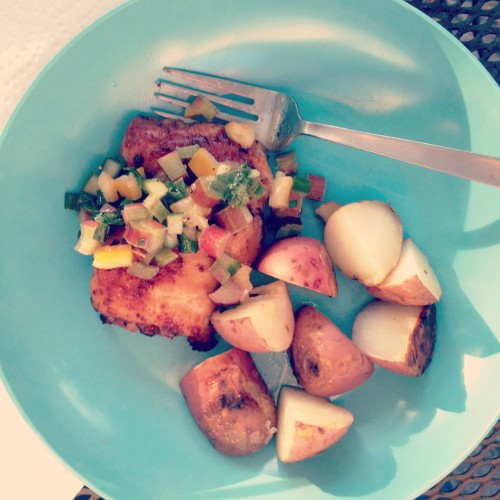 Spicy Chicken Thighs with Rhubarb-Cucumber Salsa adapted from Bon Appetit
Serves 4
Ingredients:
1 serrano pepper, with a few seeds left in, stemmed and divided (you'll need half for the sauce and the other half for the salsa if you wish to add it)
2 cloves of garlic
2 tsp fresh ginger
2 scallions, thinly sliced, white and green parts divided
1 tbsp soy sauce
1/4 cup peanut oil
6 boneless, skinless chicken thighs
salt/freshly ground black pepper
Salsa:
1 cup unpeeled, seeded English hothouse cucumber cut into small cubes
1 1/2 cups rhubarb cut into small cubes
1/2 cup fresh, chopped cilantro
remaining half of serrano pepper (optional), minced
1 tbsp honey
1 tsp fresh lime juice
*I had preserved chopped lemon to add to the salsa but it's not required
For the salsa: toss the cucumber, rhubarb, serrano pepper half, cilantro along with the green parts of the scallions in a bowl. Whisk together the honey, peanut oil and lime juice in another bowl then toss with the other mixture. Season to taste with salt and pepper and let stand. I made mine in the morning and had it 10 hours later. I recommend allowing the flavors to meld for at least an hour in the fridge.
Pulse half the pepper (with some seeds), garlic, ginger, and the white parts of the scallions in a food processor until finely chopped. Drizzle in the soy sauce, then peanut oil. Process until an emulsion forms. Transfer to a bowl. Season the chicken thighs lightly with salt on a plate then cover each piece with the sauce, allow to marinate for about an hour.
Preheat the oven to 450F. Place the chicken on a baking sheet with a piece of aluminum foil on the bottom. Bake until an instant-read thermometer inserted into thickest part of thigh registers 165F, 12 to 15 minutes. Let rest for 5–10 minutes. Or you can grill the chicken as we did. Be sure to add some oil to the grates or it will stick.
Serve the chicken with rhubarb salsa over top.