Forget the serious/informative article today. I want to share this gem, brought to you by my sister. I cried every time I watched this video yesterday-it's my kind of humor.
After a year and 9 months in Minnesota, I still can't pronounce the names of towns and cities. These places could be our nearest town neighbor and I still can't say it right. Naming major roadways is also a problem. After almost 2 years, is that uncommon? I could probably spend a few more years here and still not remember these things.
My excuse for not saying the town names correctly is that there is some weird phonetics going on that is debated by those that have spent many years here. You can ask one person and they say it one way, ask another and it's completely different. I gave up-I call it what I want-which is usually a nickname we give the place. (Greg: Do you want to go to that place with that stupid statue? Me: You mean stupid statue town? Sure.)
I'm not going to lie, I was never very good at naming roadways. GPS helps these days (not all the time) so I get by with the basics. I can maneuver around when I need to even though I generally don't drive here since Greg has the car 80% of the time.
Man, my life has changed. I used to scoot around all over several counties in Indiana and I was usually the person to pick up/drop off/run errands for myself and others. Gone all day with things to do and people to see. De-evolving socially, that's what I'm accomplishing. I'll be a single-celled organism soon.
Until then, I'm going to eat what multi-celled organisms eat (the human kind with a flair for good food). I'll continue to share what I'm eating (unless it's awful). This pie isn't awful-it's actually a pie I remember eating as a child. It's not going to win a beautiful pie of the year award but the beauty is in the taste.
There are only a few ingredients and making the pie crust is rather easy…go ahead, I know some of you are already telling yourselves that you're going to buy one and that's dandy. But if you have time, try making the crust- most of the time is for freezing and refrigeration anyway. It's very easy if you have a food processor. Pour some things in, press a button and you made dough for a pie crust. Roll it out and put it in a baking dish.
Since rhubarb is still abundant in many gardens, I thought I should get this family recipe out so that you can share with those who are up to their ears and not sure what else to make.
You can thank the ladies in my family for this recipe. It's great for rhubarb, strawberries, cherries, etc… Again, not fantastic to look at but one taste and the tart with the sweet, creamy filling and the flaky crust will make you look at other "ugly" things and wonder…I don't know if I want to go there, so I guess make you wonder if it tastes good? That's not right, ignore that last part. The pie is great. That's all you need to know.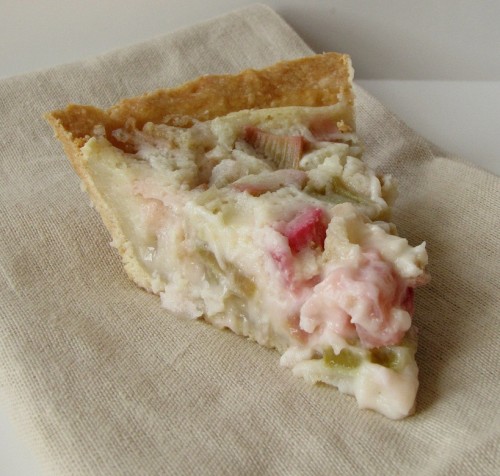 Rhubarb and Cream Pie
Serves 8
Ingredients:
2 ½ cups rhubarb, washed, dried and finely chopped (This is also great with strawberries)
1/3 cup all purpose flour
1 cup sugar
1 tbsp cornstarch
1 cup heavy whipping cream
9-inch pie crust (see recipe below)
Preheat the oven to 350. Fill unbaked pie crust with rhubarb. In a large bowl, combine flour, sugar, cornstarch and cream. Mix well and pour over the rhubarb. Bake for about an hour, until the center of the pie still jiggles slightly and the crust is golden. I covered mine halfway through with foil so keep an eye on the crust. The pie will need to cool for at least an hour.
Flaky Pie Crust from Real Simple
Makes 1 9-inch pie crust
Ingredients:
1 1/4 cups all purpose flour, plus more for rolling the dough
1 stick (1/2 cup) cold unsalted butter, cut into small pieces
1 tablespoon sugar
1/2 teaspoon salt
3 to 4 tablespoons ice water (Add an ice cube to keep the water cold but don't add cube to mix)
In a food processor, pulse the flour, butter, sugar, and salt until the mixture resembles coarse meal with a few pea-size clumps of butter remaining. Add 2 tablespoons of the water. Pulse until the mixture holds together when squeezed but is still crumbly (add more water, a little at a time, as necessary). Avoid overprocessing, which will make the dough tough.
Place the still crumbly mixture on a sheet of plastic wrap. Shape it into a 1-inch-thick disk, using the plastic wrap to help. Wrap tightly and refrigerate until firm, at least 1 hour. (The dough can be frozen at this point for up to 2 months.) If frozen, place the dough in the refrigerator the day before and then at room-temp the day of baking.
Place the dough on a floured piece of parchment or wax paper. Using your knuckles, make indentations around the dough (this will help prevent cracking when you roll the dough out). With a floured rolling pin, roll the dough into an 11- inch circle (work from the center outward, and use the parchment to rotate the dough). Flour the rolling pin, parchment, and dough as necessary to prevent sticking.
Loosen the dough from the parchment and carefully transfer to a 9-inch pie plate. Fit the dough into the plate. Trim the dough to a 1-inch over-hang and tuck it under itself to create a thick rim, if you'd like. I like a rustic crust edge so I didn't follow the remaining instructions. There are several websites out there with instructions for beautiful edges and the one coming up is a nice, simple edge.
With the index finger of one hand, press the dough against the thumb and fore-finger of the opposite hand; continue around the perimeter of the crust. Refrigerate for at least 30 minutes and up to 2 days before using.