Before I talk about the 4th of July, I'd like to say happy birthday to my grandma today. Have a great one, grandma! I'm still trying to send rain to you guys in Indiana. There are no firework shows throughout the state due to extreme drought. Some places are rescheduling the display for September. Bummer.
This is usually where I do a big post about Independence Day food, maybe some links to great ideas for picnics, parties and whatnots. But I would like to take a little time, and since this is one of the places where the topic is generously focused on me/us and my taste, I'd like to update you lovely folks about what's going on at our house. Not exactly for the 4th celebration but about something we started in March.
But if you're curious, we're grilling tomorrow-not that it's special since we do it quite often these days-but we're having some sort of chicken, corn on the cob and watermelon. Still watching my calorie intake and still getting my bum on the treadmill (I'm in the 5th week of it). And then we're bringing our pup to his first firework show in a secluded area by town with lots of bug spray. The mosquitoes are awful this year. That's it. Greg works the next day. Up and at 'em at 4:30AM.
It might sound as if we don't have amazing plans for the 236th celebration of our country's independence…we don't. Not that we aren't feeling all patriotic and happy. There will be music, there will be joy.
Our goal tomorrow is to take our American work ethic and continue working hard on our backyard.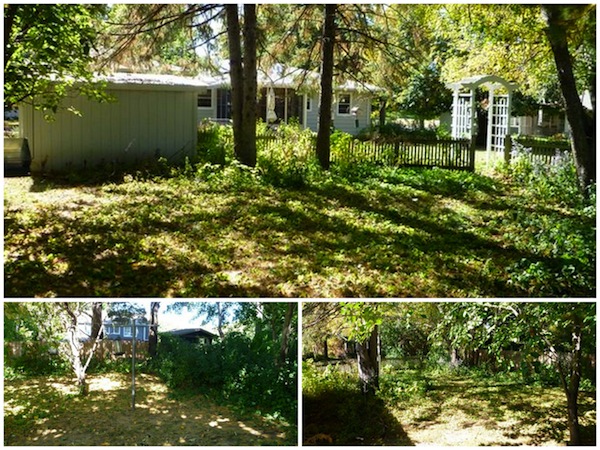 Here it is today: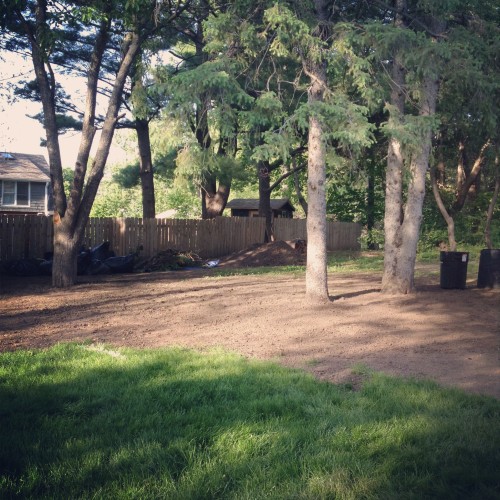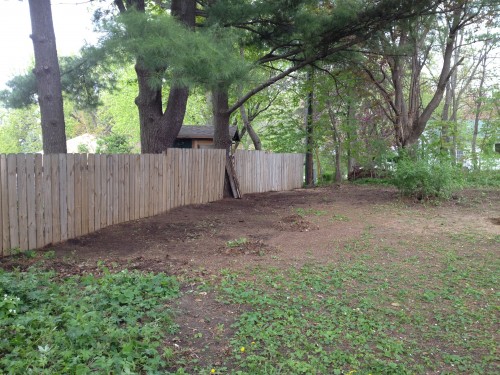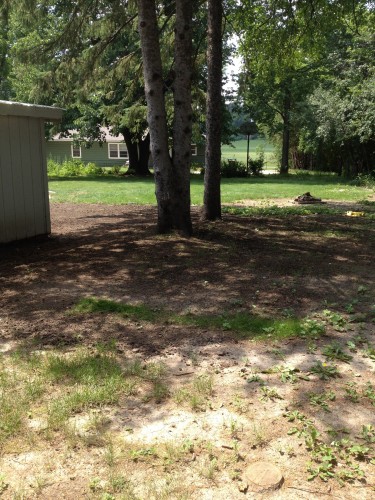 I tend to post (at the Wits blog) in a "here it is" kind of way. It being whatever project we've started, are in the middle of, or finished. Just for reporting purposes and not for bragging. Because most of the work on our first house in the last 7 months is nowhere near bragging about (may never be).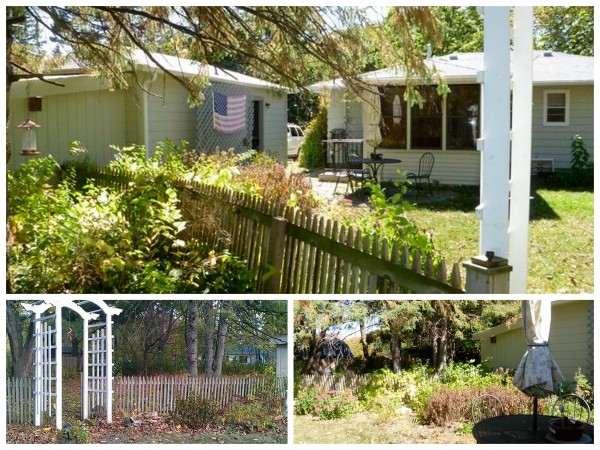 Well today I'm saying "here it is and I'm proud." I'm at the point where I have to or I don't know what it's all for (I do actually, it's grass…something so simple). I had one of those metldowns this past weekend, the kind attached with the feeling that nothing is getting accomplished. Shovel throwing and all. We're at about 3.5 months of work on the backyard. Mostly digging, removing rocks/weeds/saplings/roots/and things left in the yard for some reason (a lot of hooks), more digging, pulling, stacking, mosquito bites, sun, humidity, rain (that seeps into the basement) and then just as we get a section cleared of anything but dirt/mud, things grow right back before we can plant grass so we're back at all that again.
And there's a lot to do. We started working in areas-there are 10 just in the back and side yards. Each area tends to take a full 2 days of clearing-some require 4 days/2 weekends so our "social" life is lacking. It's taken a good bit of our money too. Yet we can't afford to rent most machinery so it's all by hand.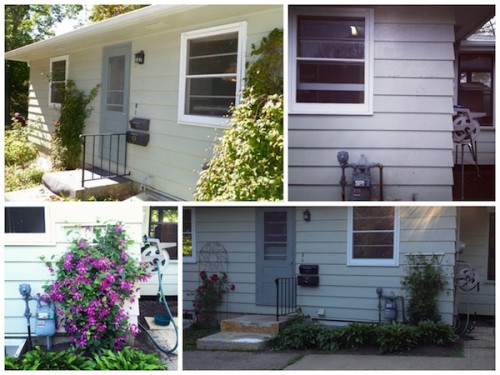 During all the digging, it feels like we're not getting anywhere. Then we sit on the patio in the evening, waiting for the charcoal to be ready for the grill, with a beer or glass of wine, and that's when I see it. Not pink elephants but that we are getting somewhere. Then I can do it all again the next day or weekend. We drag our sore bodies and sunburnt minds back out there one more time.
So, today I'm sharing the pictures I am constantly snapping. If you see dirt, it's probably trying to grow grass. Seriously all this ripping things out for grass…eventually an extended patio, a raised bed vegetable garden, berry plants, fire pit and just to take back the space blocked off by the previous elderly owner who just couldn't tend to the large yard. It needs to be open, free of dead plants, rocks (there's no barefeet going on here) and something that will appeal to a buyer when we put this baby on the market (hopefully in less than 4 years). I am jealous of all the beautiful yards (and houses) that are on this side of town and parts of the other side (we're divided by a highway).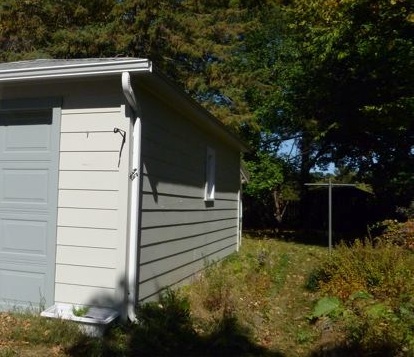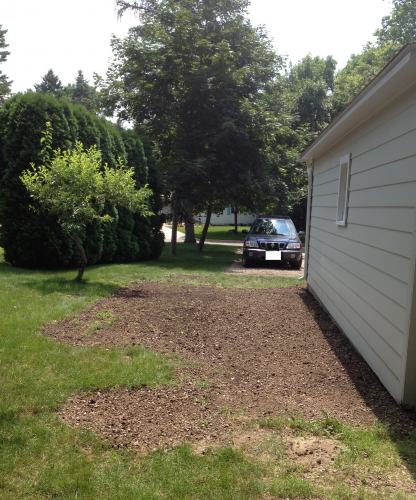 While you're enjoying your 4th of July somewhere fun, if you are, think of us toiling over the backyard. It will be worth it. It will be worth it. That's for me.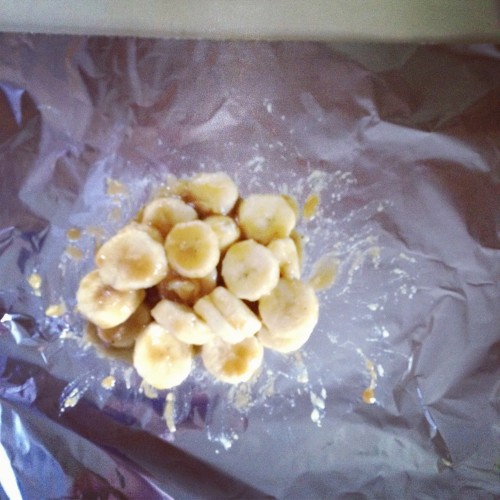 This is for you. You didn't think I'd leave without a recipe, did you? And it is awesome.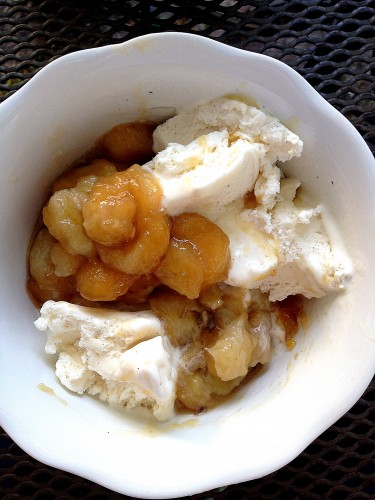 Grilled Caramelized Bananas
Ingredients:
2 bananas, sliced
1 tbsp melted butter
1 tbsp brown sugar
Preheat the grill. We toss the foil packet on once we've finished eating our grilled meal so the charcoal has cooled a bit but make it a lower temp on a gas grill.
Mix the melted butter and brown sugar then toss in your banana slices. Place in some aluminum foil and close it up to make a packet. Place on the grill and peak inside after a few minutes, continue doing so until the bananas are caramelized. Serve over ice cream. Easy and great.