With all the events that happened while Greg and I went home to be with my grandpa and family after learning of his stage IV cancer, I have nothing to share. Not much anyway.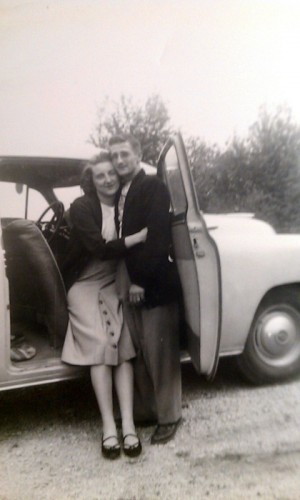 The past few weeks…I don't know what to say except I just want to move on. It's painful and I'm coping. It still doesn't seem real. I find myself talking to him and asking for guidance. That helps. I ripped my pants the other day and thought he must have been laughing hysterically up there, especially since it was chasing one of the dice we used to play with in my attempts to roll a 6, the way to know you have a good one. I think that means it was definitely his lucky dice and not mine.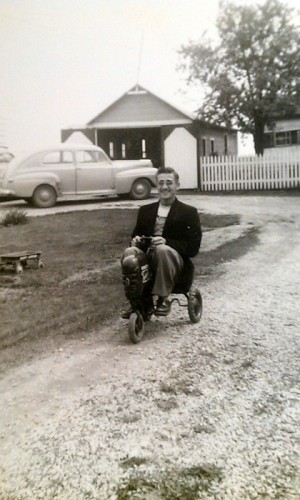 Sure I could talk about how I watched my grandpa take his last breath a few days after we arrived while holding his hand, in his home, on a hospital bed, under hospice care, morphine and oxygen being given to a man that was the picture of health throughout his life and eating and joking normally a few days before. Supervised day and night by many members of the family, under constant attention and care, with plenty of tears, some anger and laughs to go round. There he was in the middle of the living room, little more than 3 weeks after he (and we) found out his lung cancer diagnosis. So fast. Projects left behind. Disbelief, disorientation and frustration.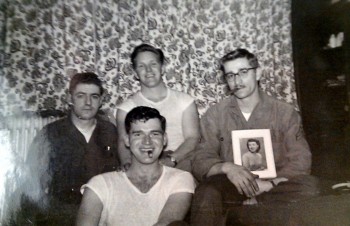 I could talk about how my grandma lost her best friend of over 60 years or tell you about all the pictures I saw of grandpa, not much changed, same energetic grin on his face, or things I've learned/recalled (including how similar Greg and I would like our lives to be-my grandparents designed and built their home, adopted my aunt, my grandpa worked hard doing what he enjoyed and traveled) or how he seemed to find a dog friend wherever he went including when he was stationed in Germany during the Korean War or how ornery he was in his letters to grandma.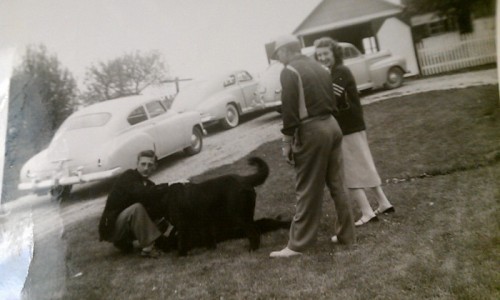 Or how we thought we'd get to have one last conversation with him but how he was unable to speak more than a few words by the time we got there. I did get an 'I love you' from him at the end of our first day by his side and that means the world to me. I could mention the droves of people who attended the viewing and that when I saw grandpa's brother, my heart skipped a beat with the uncanny appearance and mannerisms he had to grandpa.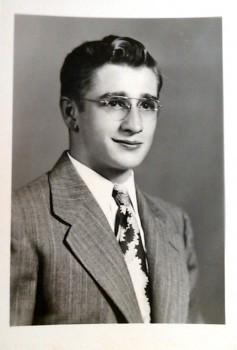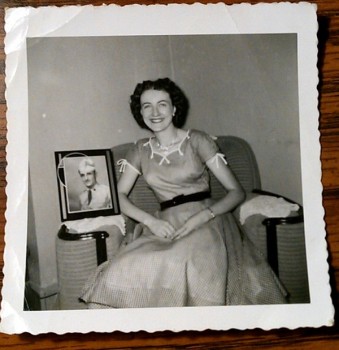 And even though I went back to Indiana thinking there was still hope, researching treatments and facilities, I walked into the house realizing it was time to say goodbye. Changing my mindset to simply wanting him not in pain nor hanging on for any extended period of time because that would have driven him crazy, the active guy he was. He didn't want us to fuss (two words I received the second day). But I don't want to. That's all you're getting.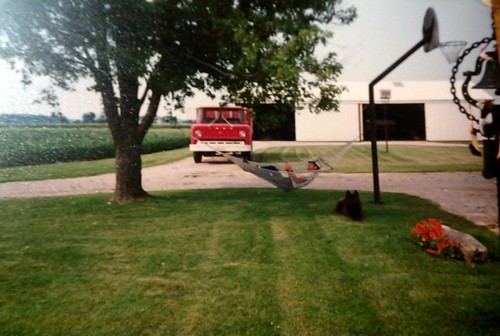 Well that and one more thing. The aggravation hat my mom embroidered for the victor of our marble games went with him in the casket which also meant a lot to me.
Greg was and remains so sweet, patient and loving. My rock and support (along with my family). He cried alongside me-he, a pallbearer, actually started first and tears from this man are not often found. My grandpa was an inspiration to both of us. We couldn't help feeling like that could be us one day. To lose a best friend spouse would be one of the most difficult things, I imagine. Greg literally will be walking in his shoes. My grandma sent us off with a number of pairs that were his. We send our love to you, grandma.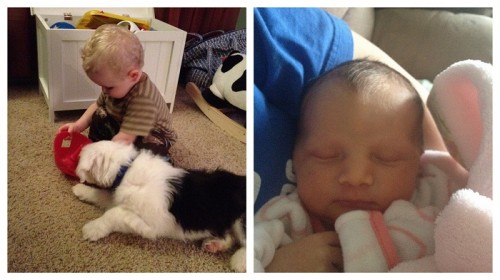 The newest member of the family, Emma Claire, is doing great. Such a tiny bundle of joy that brought happiness to some bittersweet days along with our nephew, Nolan, and his smiling face. Both are too adorable for words.
During one of the family's gathered meals at my grandparents, I made this recipe. My grandma said grandpa would have loved it. Impossible pie with lots of butter, sugar, eggs and coconut. Impossible because it makes its own crust and is very simple. It was a hit. Custard on the inside with flakes of sweetened coconut mixed in. I've made it 4 times now and can't get over how easy yet absolutely delicious it is.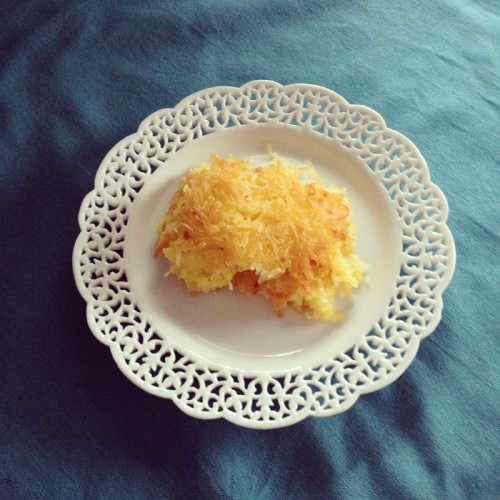 6-Ingredient "Impossible" Coconut-Custard Pie adapted from Food & Wine magazine
Serves 8 to 12
Ingredients:
1 stick (8 tbsp) unsalted butter, melted
1 ¾ cups sugar
4 large eggs
½ cup all-purpose flour
2 cups sweetened, shredded coconut
2 cups milk
Preheat the oven to 350F and grease a large pie pan or glass baking dish with butter. (Any dish will do that the batter fits into with some room to rise.)
In a large bowl, whisk the melted butter with the sugar. Add the eggs and beat until smooth. Stir in the flour, coconut and milk. Bake for about an hour or until firm and golden. Allow to cool slightly and serve. It doesn't have to be in pie slices; I just scooped it out and topped with whipped cream. You can also prepare the batter a day before, refrigerate, and bring to room temperature then bake. It's great the next day too. I think slightly warm so the custard is at its best is the way to eat this recipe. Give it a go and tell me what you think.