Happy birthday to my sister Allison (Al/Allie) who turns 25 today! I'm inclined, out of sisterly love and honesty, to tell you that it's all down hill from there…just kidding. Here's to a great day for you followed by thousands and thousands of other great days!
This is also a special day because my in-laws are flying here at this moment from California where they spent time with the newest family member, their first grandchild (Matthew) along with my brother and sister-in-law.
Greg's parents have been on vacation, away from their Indiana home, for almost a week now and Greg and I will round out the trip by introducing them to our part of the world. This is their first visit to Minnesota since we moved to the southern part of the state in August of 2008. We are both excited. Hopefully the negative Minnesota temperatures this time of year won't make for trouble.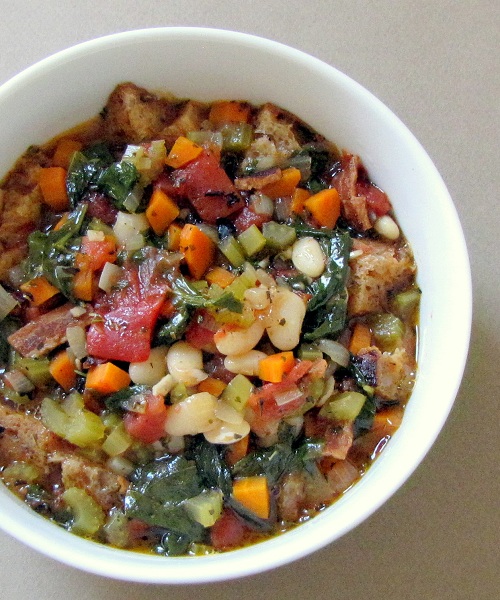 Yeah, it's been that cold. Yeah, I'm going to use the stereotype about soup and cold weather going hand in hand. Why? Because it works and some stereotypes are based on truth.
Tuscany is lucky to claim this historical recipe: ribollita, a soup/stew using leftover bread, beans and vegetables. Today's ribollita doesn't require leftover anything and can quickly be prepared with the ease of canned beans and stale bread that soaks up the liquid and keeps you feeling full and warm all day.
One more thing, I'm curious to know what you think about the new look and realized my subscribers probably have no idea about the change if they don't actually go to the site so please stop by the blog and let me know.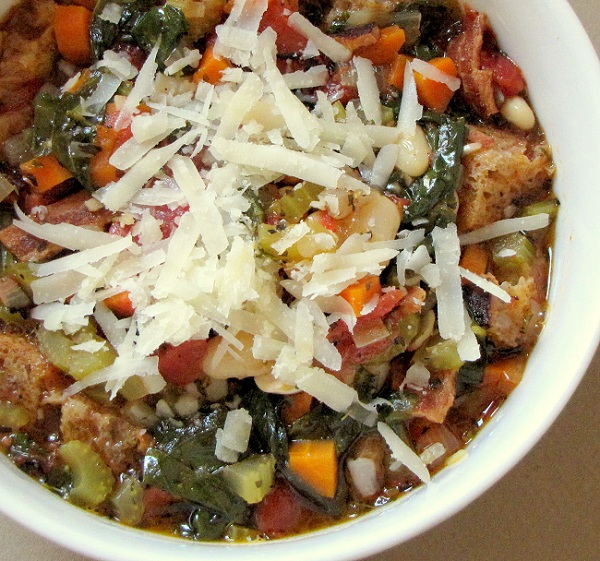 Ribollita Soup adapted from Ina Garten's version
Serves 8
Ingredients:
1 tbsp extra virgin olive oil
6 slices smoked bacon or pancetta, diced
1 cup onion, chopped
1 cup carrots, peeled and chopped
1 cup celery, chopped
1 cup zucchini, chopped
3 cloves garlic, minced
coarse salt/freshly ground pepper
dash of red pepper flakes
14 ounces chopped fire roasted tomatoes
2 cups kale or spinach, coarsely chopped
¼ cup fresh basil, chopped
14 to 15 ounces canned white beans such as Great northern or cannellini
4 cups chicken broth
2 cups stale Italian or sourdough bread, cubed, crusts removed (leave out to become stale for a few days)
freshly grated Pecorino or Parmesan cheese and olive oil to top the soup
Heat the oil in a large pot over medium-low heat. Add the bacon and cook until crisp. Remove the bacon from the pot, set it aside and leave behind 2 tablespoons of the oil/drippings. Add the onion and sauté until translucent, 7 to 10 minutes. Add the carrots, celery, zucchini, garlic, a large pinch of salt, pepper and red pepper flakes. Cook over medium-low for 7 to 10 more minutes or until the vegetables are tender. Don't overcook or it will be mushy.
Add the tomatoes, kale or spinach, and basil, stirring occasionally for another 7 to 10 minutes or until kale wilted completely and very fragrant.
Drain the canned beans and puree half of the beans in a food processor or smashing by hand. Add the beans, broth and bacon to the pot. Bring to a boil, reduce the heat and simmer over low heat for 20 minutes.
Add the bread to the soup and simmer for 10 more minutes over low heat. Add more salt and pepper if needed then serve immediately with the cheese and/or more extra virgin olive oil. If you don't intend to eat all of the soup at once, don't add the bread to the entire pot. Instead, place the bread in the bowls and allow a few minutes for the liquid to be absorbed before serving.