Phew, I made it back. The visit with the in-laws was great. My husband and I did indeed show them our part of the world in Minnesota and they now know where we reside and how life goes for the most part. We were busy the entire three days, touring and eating, discussing finances, loans and real estate with some time in there for viewing family videos/photos, then a movie or two at night.
I made a leek, feta and tomato quiche for our first breakfast from scraps in the refrigerator. Not my best one but far from awful. Greg and I introduced his parents to Indian cuisine at a local restaurant (they loved it) and we dined at a pub with a nice atmosphere and decent sandwiches in Cannon Falls (about 15 minutes from our town of Northfield). Much of the time was spent touring the two facilities that Greg works between and listening to my husband explain his duties as a manufacturing engineer and the ins and outs of the company. Overall, a lovely visit but they agree, our mattress sucks. I don't know which was worse, our air mattress or the pillow top nightmare in the bedroom we gave them. The four of us were exhausted by Sunday.
While they were here, we were shown four more houses. (My mom-in-law is a real estate agent and dad-in-law was a contractor for years and years before closing his business.) I haven't said much about that whole "house searching" thing we have going on and there's a reason. We aren't impressed but hard-pressed to find anything. (Read either of those two links to get a better understanding of the situation if you wish.) There are areas to steer clear of and short sales to deal with not to forget keeping resale value in mind with the reality of our small budget in an expensive town/area/state.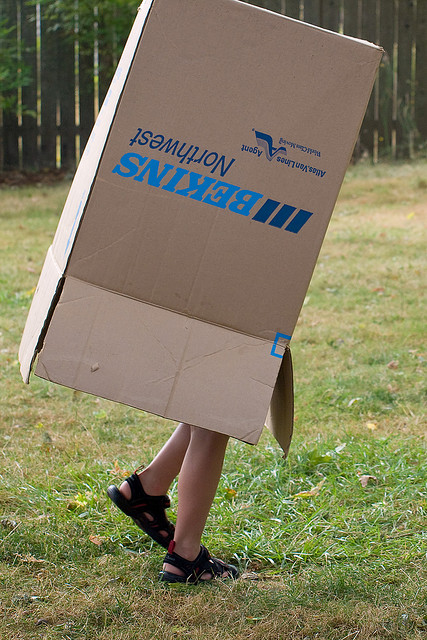 Photo from jbrownell at flickr.
If we can afford a house, it needs work and wouldn't qualify with our loan. If it doesn't need much work, we can't afford it. Sometimes I wonder if we should have said no thanks to Greg's raise and just left the state. Our plan at this time is to give the market a month and see what exists. This is our house hunting hell.
At the end of a day spent being disappointed, both of us want to kick back and enjoy a good meal. This was a good meal. This was better than that; it was one to put in my top ten. Seriously easy with few ingredients but flavor that will impress.
Nearly all of the ingredients were around the apartment (even the sage on the windowsill) but I can't take the credit on this one. The blog Peanut Butter & Jargon adapted this from Everyday Food and I adapted the recipe again. Adding kale, spinach or steamed cauliflower would be great. One more thing, the chicken sausage (I would try to find it) can be swapped out for another ground sausage, perhaps turkey. Looking at the ingredient list, I still can't believe this turned out as flavorful as it did. Simple cooking is my favorite.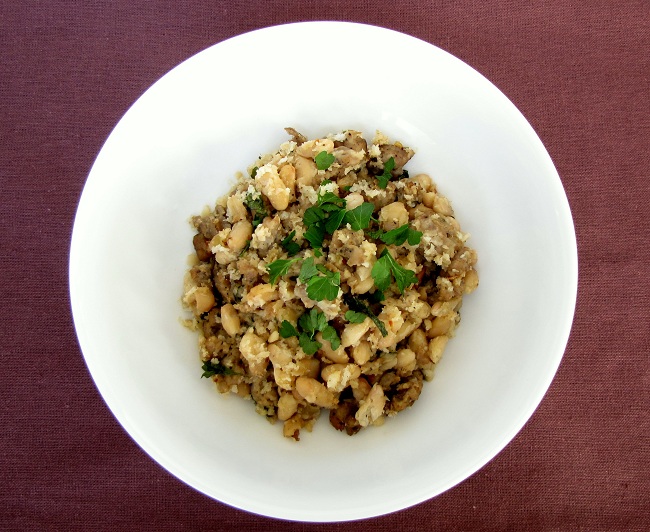 Chicken Sausage with White Beans, Sage and Parmesan Breadcrumbs-a simple, flavorful, few ingredient dish
Serves 4 to 6
Ingredients:
4 oz. (about 4 slices) bread or store-bought breadcrumbs
2 tbsp extra virgin olive oil
2 tbsp grated Parmesan cheese
1/3 cup fresh sage leaves, minced
1 medium onion, chopped
4 cloves garlic, minced
1 lb. ground chicken sausage
½ cup dry white wine (Chardonnay is wonderful)
2 14.5 oz. cans cannellini or Great Northern beans, drained and rinsed
coarse salt/freshly ground pepper
dash of red pepper flakes-optional
chopped parsley to finish
To make the meal go further: add a few cups of kale, spinach or steamed cauliflower
Skip this step if you have store-bought breadcrumbs. In a food processor, pulse the bread slices a few times to form large crumbs. Drizzle with 1 tbsp of olive oil then pulse 2 more times to moisten. Add some salt/pepper and grated Parmesan, set aside.
Preheat the oven to 350.
In a large oven safe skillet, heat the remaining tablespoon of olive oil over medium heat. If you don't have an oven safe skillet, simply place the end mixture in a baking dish.
Add the sage, onion and garlic to the skillet and sauté until soft, about 5 minutes. Add the sausage, breaking it apart, cook until no longer pink. Deglaze the pan with the wine and scrape the brown yummy bits from the bottom of the skillet. Add the beans, optional red pepper flakes and optional kale, spinach or steamed cauliflower, stirring occasionally, for about 5 more minutes, until beans are slightly soft and greens are wilted. Make sure your cauliflower is pre-steamed before adding to the dish.
Season with salt and pepper and top with the breadcrumbs if using an oven safe skillet. Otherwise, as mentioned before, place the mixture (minus the crumbs) in a baking dish and then top with the breadcrumbs. Bake for 30 minutes or until topping is golden brown. Remove and allow to sit for 10 minutes before serving. Top with parsley and serve. Bring the rest of the dry white wine to the table as a bonus-just saying.