Roast duck-have you had it? My first experience with duck was over a week ago and came about because of a free bird from our pal's homestead. Due to a large amount of interest about the roast duck from some friends, I thought I'd share it with you too.
Some of you might be wondering what kind of duck it was, I don't know. Delicious? Is that a breed?
I took this on over the holiday season since 1) I love free things in the form of food 2) duck is expensive and when opportunity produces itself, grab hold 3) the season needed something special 4) ever since I heard how great duck fat fries are (yes, fries fried in rendered duck fat) I've wanted to get my hands on the golden concoction and was close to purchasing it from a gourmet website.
Have you had anything with duck fat? It seems to be "the thing" in restaurants these days.
I decided to make the duck as simple as possible to get a feel for the natural flavor so only coarse salt and pepper were sprinkled over top and the small, lovely bird was roasted for an hour at 350F to reach an internal breast meat temperature of 170F.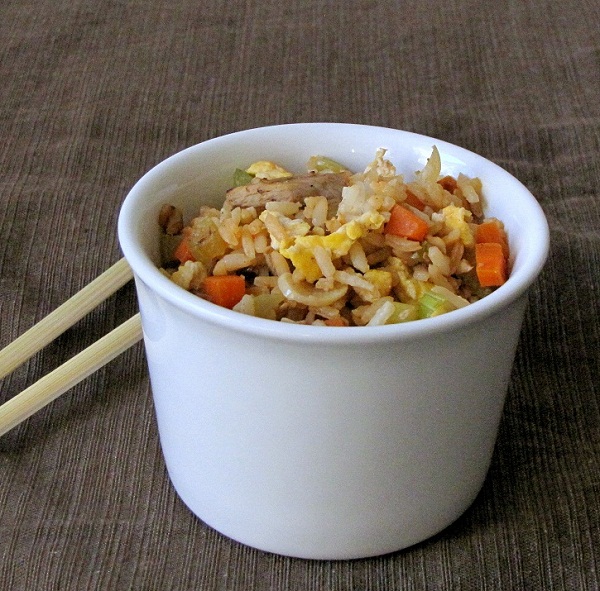 Greg and I removed the fat as best we could beforehand and followed these steps from Sugarlaws for the rendering process. In the end we had a little over a cup that will keep for months in the refrigerator and up to a year in the freezer. When I open the frig door, I can't help but smile at the jar of pure flavor said to be better than olive oil, bacon fat and butter. Fat equals flavor.
A few notes: duck meat is dark (some of you might be saying duh), this little bird splattered its juices/fat all over the oven so be careful (smoke and burns seem to be inevitable) and while the bird was a little over 4 lbs., we obtained very little meat in the end, the taste reminded me of roast beef in its richness but was in a flavor world of its own and well worth the effort.
Greg and I decided to save the small amount of meat until I had the fat rendered and add it to a special dish. That dish was fried rice which was even better than the dishes in many restaurants and something I wish I could have at least once a week.
A quick word on fried rice: be sure to steam/boil the rice the day or at least 4 hours before-storing it in the refrigerator- to rid of excess moisture, using freshly prepared rice will end in mush.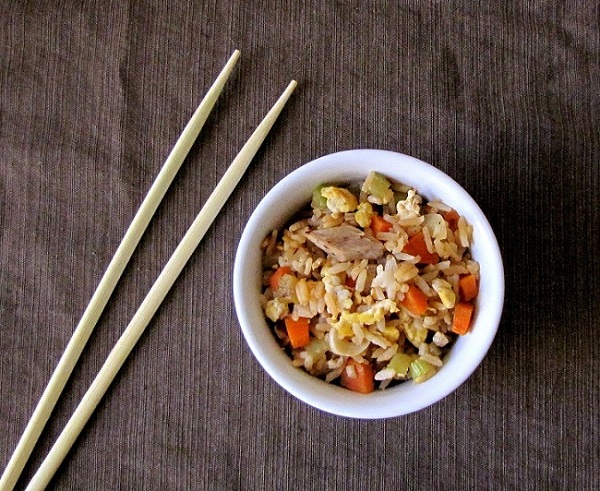 Simple Roast Duck
My duck was around 4lbs. so adjust the cooking time accordingly.
Preheat the oven to 350F.
Trim the duck's fat and skin as best you can, reserving it to render the fat for golden rendered fat great for fries and other dishes. It's rumored to be better than olive oil, bacon fat and butter. If you decide not to do this or want to keep the skin on the duck, be sure to pierce the skin all over with a skewer or fork in order to reach the layer of fat to help the skin become crisp. Rinse the duck and pat dry. Place the duck in a deep roasting pan (it will release and splatter much of the fat and you will most likely have a messy, smoky oven). Sprinkle generously with coarse salt and freshly ground pepper. Don't forget the cavity. Roast for about an hour-checking the internal breast temperature after 45 minutes. When the breast reaches 170F, remove the duck from the oven, tent it with foil and allow the duck to rest for 10 minutes.
After the 10 minutes, joint or carve the bird. My bird didn't produce much meat but did produce over a cup of rendered fat. Follow that link for the process. I decided to save the meat for the fried rice.
Duck and Vegetable Fried Rice adapted from Bella Eats
Serves 4
2 tbsp sesame oil, divided
1 tbsp fish sauce
1 large carrot, peeled and finely chopped
1 large stalk of celery, finely chopped
1 small onion, finely chopped
1 small shallot, thinly sliced
2 cloves garlic, thinly sliced
2 large eggs, lightly beaten
2 tbsp duck fat (see link above)
2 ½ cups steamed rice, cold (*see note)
roasted duck meat, coarsely chopped (recipe above)
a few dashes of soy sauce (to your taste)
1 to 2 tsp garlic chili sauce-optional
* A quick word on fried rice: be sure to steam/boil the rice the day or at least 4 hours before-storing it in the refrigerator- to rid of excess moisture, using freshly prepared rice will end in mush.
Heat 1 tbsp of sesame oil and 1 tbsp fish sauce in a large nonstick skillet or wok over medium-high heat. Sauté the carrot, celery, onion, shallot, and garlic until tender. Remove to a bowl and set aside.
Wipe the skillet clean, and then add the remaining tablespoon of sesame oil over high heat to the skillet. Swirl the oil until the skillet is very hot then add the beaten eggs. Tilt and swirl the skillet so that the eggs form a thin layer, cook for 30 seconds. Lower the heat to medium-high and carefully add the rendered duck fat, rice and duck, breaking up the eggs and allowing the rice to rest between stirs. Stir until rice is hot, a few minutes, turn the heat off and add the vegetables to the rice mixture. Add the optional few dashes of soy sauce and garlic chili sauce for some heat, stir and then serve.