Hey, I haven't seen you since 2010! How are you?
Welcome to 2011! This is the year, I can feel it, where Greg and I will buy our first home, get a dog (or two) and have weekend projects working on our home-snapping photos the entire way. I wasn't very good at bringing my camera or clicking many shots in 2010. Inspiration came in spurts and I'd like to capture more than that with improved technique (maybe new equipment…a DSLR and software that isn't free perhaps).
What do you hope to accomplish in 2011? I'd like my new layout to show the header I made but that's coming.
Out of respect for the New Year and my overwhelming emotion to keep things moving forward, here are a few pictures of our holiday, a few lessons learned from 2010, our delicious (sure to make again and again) Christmas breakfast strata and then, I'll focus on the present and future for my next post. Sounds like a plan.
Lessons I Learned in 2010:
Doing social for social's sake can be an unnecessary burden of life. You might disagree. Let me explain.
Two years ago, my husband (then fiancé) and I had an event to go to every weekend and persons to hang out a text message away; moving to a location void of social gatherings, until we met others, was tough. It wasn't until the last two years of my life that I realized being super social is not all that it's cracked up to be. I rather like time with just my husband. I best enjoy free time with my husband. Sure, we'll go out occasionally but I can finally say that I am happy and in total acceptance of my natural self.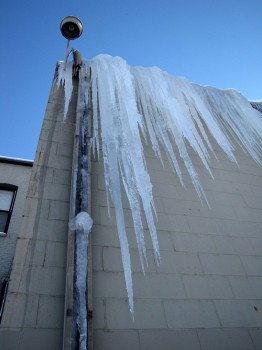 Besides, those weekly gatherings took their toll; I ignored the signs that the people we associated as friends were the very opposite. It's exhausting trying to please others who don't care to do the same for you or even recognize your efforts. I've had a lot of friends in my life but very few good friends. Be mindful and ask yourself if the people you are around make you happy and confident that they have your best interest in heart and you theirs.
In hand with this idea, if you ever have an issue with either me or my husband, tell us. Let's work on it. I will not put up with derogatory comments and immature behavior (most likely behind our backs) in place of healthy discussion. I find, nearing 30 years on this earth, that I don't put up with as much and am quicker to pinpoint whether a person has the qualities of a true friend. My accuracy has improved with age too. If you disregard my suggestion to say anything, you'll find yourself out of our company.
Don't set impossible goals, such as posting on your blog every day, that start to take away the fun/passion and make the once enjoyable task a chore. Back in the days when I posted every week day, I was a busy woman. I'm still busy but saner. The pressure mounted, mostly pressure from myself. The joy left, fear over control set in and I lost myself along with the purest notion and inspiration for the dabble, cooking (my posts reflected it). I began to feel that if I couldn't perform what I expected of myself, then there was no use doing it at all but that little voice in my head wouldn't let it rest and made me feel like a failure, torn by these two trains of thought, I kept on. That's when I decided to shake it up and post only a few times a week. It's ok to let go, regroup and come back or go another route completely-it's your choice to make with a clear head. Take time to gain that clear head.
Don't let someone else's idea of you cloud your judgment about who you are and where you are in life. Nothing hurt worse in my personal life in 2010 than the dissolving of what I thought was a true friendship, one full of ups and downs, falling apart and coming back together between two highly opinionated people. I thought the beauty in my friendship with this guy was that no matter what was said or what we disagreed on that our love for each other would come through as it always seemed to. However, it was apparent that I was wrong about the fundamental ideals between us. The basis for our arguments, past and present, was always centered on the fact that he didn't know, probably never knew, the real me. Based on the last things he wrote to me, he never did. The foundation of the relationship crumbled and I've moved on. Don't let the harsh words of a loved one define who you are or make you question your values. Most likely the issue lies within them.
Finally, take a chance on something new, whether it's making a recipe renowned for its difficulty, asking for a raise, moving to another state in search of happiness (or lessons towards learning where your ideal place is) to shake up your life or challenging yourself to a stricter budget for a period of time to achieve more financial stability. Your future and happiness is at stake so it's definitely worth the chance, lessons and experience.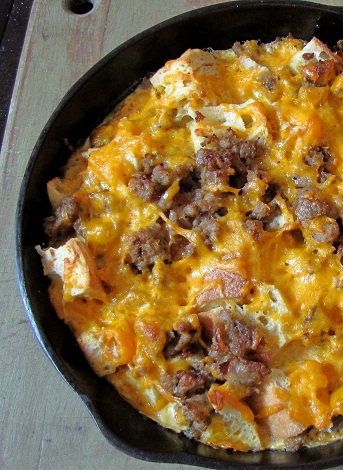 Sausage and Cheddar Strata inspired by Poetic Appetite
Serves 4 to 6
6 slices of dense bread, such as Italian, cut into ¾ of an inch thick cubes
1 lb. pork sausage (we like the spicy version)
2 tsp Dijon mustard
1 cup shredded cheddar
4 large eggs
1 1/4 cups milk (2% or whole preferably)
¾ cup half and half
salt/freshly ground pepper
1 tsp Worcestershire sauce
*The original recipe asked that you remove the crust from the bread but I like to keep it on and submerge it in the liquid before baking but do see if you prefer.
Preheat the oven to 350F.
Brown the sausage in an oven safe skillet over medium heat, stir in the mustard then remove and drain the fat by placing the sausage on a paper towel. Wipe out the oven safe skillet and add the bread cubes by layering them in the bottom. Top with the sausage and cheese.
In a large bowl, beat the eggs, milk, half and half, salt/pepper and Worcestershire sauce. Pour this mix over the bread, sausage and cheese in the oven safe skillet. Bake for 25 to 30 minutes when cheese is melted and strata is browned. Serve immediately. You can make this the day before, reserve it in the refrigerator then bake the next day. This method might require a few more minutes of baking. Enjoy!