Happy birthday to my sister-in-law, Leslie, and happy anniversary to Greg's parents! I know times are trying but we, and all of the family, support and love you. This will pass.
The great memories from the trip are forever in my heart as are some of the not so great. It was emotional, parts were wonderful, parts were not and we deeply miss our families. Not much was stated about our getaway before we left due to the nature of the trip-we went mostly to celebrate birthdays but also to help organize for an auction due to financial troubles on my in-law's side. We knew what we were getting into and that it would be tough. That was an understatement.
Greg's family is having a very difficult time after closing both self-employed businesses and now face sorting through their belongings (emotions/memories attached), ridding of a good amount to get in better financial standing. Emotions ran high. We didn't have a chance to see anyone outside of family and we apologize but hope those of you in that boat understand. I snapped a mere 100 pictures-something odd since I made several posts about the trip home last year.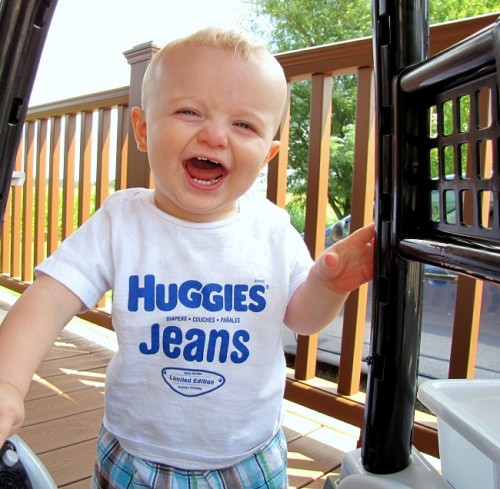 Nolan, our nephew, turned 1 and that was fantastic. He's a sweetheart and I'm in love with him. My youngest sister is expecting a sibling for Nolan in February who I can't wait to meet. Greg and I caught up with family members, not seeming to skip a beat, simply picking up as if time hadn't passed. My grandma had a lovely birthday party and sent us home with the mirror I cherish from her spare bedroom. Those of us with September birthdays were thrown in for good measure. (I turn 29 September 5th…yipes.) My mother-in-law sent me back with her parent's wedding dishes, glasses and beautiful linens. They are one of my most treasured belongings now. Maybe I will get around to snapping a few pictures.
My other grandma sent us home with her delicious salsa. Always a favorite. Greg's birthday was spent in Shipshewana followed by a nice night with his family. My dad kindly worked on our car and helped with the cost of new tires for birthday gifts-saving us hundreds and my mom did our laundry and helped in all those ways only a mother can. Big thanks topped with lots of love to all!
My hometown, Roanoke, Indiana, happens to have an excellent farmers market where I stocked up on fruits and veggies. Met some nice people with top notch merchandise too. I stopped at a new gelato/sorbetto store there, Moose and Mollies, as well and it comes highly recommended by Greg, my family and myself. Stop by if you're in the Ft. Wayne metro area. One last spot that I am a fan of in my hometown is Joseph Decuis Emporium. From its Wagyu beef to its wine selection and dishes from the attached restaurant, it made for a special occasion. There were a few nights around a campfire and I even prepared a beef stew (inspired by this Sunset recipe), a vegetarian dish and cobbler for my parents and the "middle sister" Al (Allie/Allison) in cast iron skillets and a Dutch oven over the fire.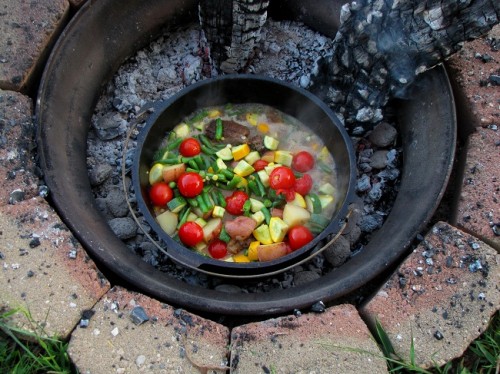 Speaking of that, the oven set fire twice at my in-law's house when I tried heating up lunch…not from any of my doings for once-just some leftover bits from an overflowing baked good. Talk about a wahwah. Idiot daughter-in-law moment.
Good news is that we are planning a visit to California in January for time with loved ones. Getting out of some of a Minnesota winter isn't too shabby either. So there you go, laughter and love mixed with tears and anger. We miss you guys. And yes, we do intend to have children at some point. Facing 30 you receive a lot of comments.
But now we feel that we need a vacation from our "vacation." That's not happening. Our furniture refinishing business picked up. While home, we found ourselves taking orders, gathering quotes and looking for the next piece to join our family. If you'd like to see the newest pieces, check them out on this link.
Now fall fast approaches-the season dearest to me. I can't stop thinking about it. The transition to fall and tomato recipes. Our tomato plant produced a number of fruits while we were gone. Our pepper plant produced a few more for the season-one giant beast of a pepper clings to the small plant. Our herbs are doing splendid and a big thanks goes out to our friend Bill who cared for our plants while we were gone. He also filled the fridge with eggs, green beans, peppers and tomatoes. Such a nice guy.
So today I bring you a tomato recipe. This was a big hit around here. It may not look that appetizing but believe me, you would be missing out big time if you passed this by. I know, I know tomatoes are not supposed to be slathered in cream this time of year when they actually taste great alone but I didn't mind. From the Wednesday Chef: creamed tomatoes on toast. Luisa never steers me wrong. (By the way, this would be delectable tossed with pasta.)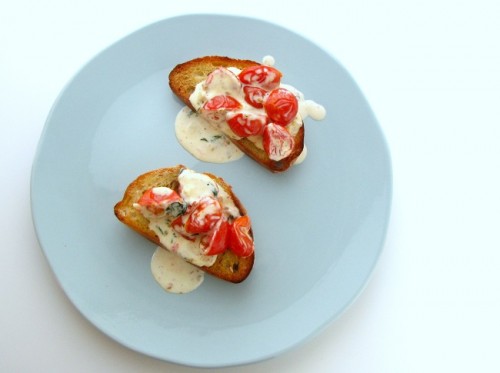 Creamed Tomatoes on Toast adapted from the Wednesday Chef's recipe
Serves 2
Ingredients:
8 ounces heavy cream
2 garlic cloves, peeled and minced
5 ripe plum tomatoes (or your choice of tomato), cut in half lengthwise
sea salt/freshly ground pepper
10 basil or mint leaves (or a mix of the two-recommended)
4 slices French crusty bread, grilled or toasted with a little olive oil
a few dashes of red pepper flakes-my addition and optional
Preheat the oven to 375F. Simmer the cream with the garlic in a saucepan until reduced by half then remove from heat to cool. Place the tomatoes, cut side up, in an ovenproof dish and season with salt and pepper. When the cream has cooled slightly, add the mint, basil and optional red pepper flakes. Season the cream with salt and pepper then pour over the tomatoes. Bake for 20 to 25 minutes or until the cream is reduced by half and thick while the tomato tops are slightly blistered. Prepare the toast on two plates then spoon the tomatoes and cream over the top. This would also be great with pasta.