Want to know how I spent 2 hours yesterday? Too bad-here it comes anyway. I'll give you two melon recipes at the end to make up for the blather. They might seem a little odd but the flavors meld so well.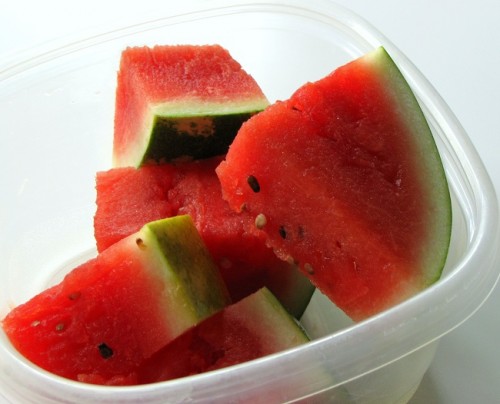 Well, when I'm designing/replacing/updating this blog or our other blog, I open a document to keep track of the changes I've made to the php/css/whatever else is involved that's too much to go into- just in case I need to put it back in or go over something I'm not sure about with Greg who has a slightly better handle on it than I. (He does similar things for his programs at work. Makes sense.)
So anyway, on top of documenting exactly what I had done, I began typing out my thoughts and things I was seeing. This seemed to help me through the aggravation because absolutely nothing worked (I might add that this is the 4th time in a week trying to adjust the exact same things). Something was overriding everything I was doing and I couldn't find the right combination. I tried every option to no avail. My brother-in-law has been a big help with our questions/issues. Thanks, Ted! We did get to Skype with our adorable nephew Matthew though. He's getting so big! It's hard to hold a 7-month-old's attention across a screen.
Here are some of the excerpts from yesterday:
"Back to the drawing board…forgot where I was/what I was doing…remembered I had to bring the stupid google fonts page back up when Chrome decided the link I gave it- that was working- suddenly didn't want to do it any more…found the site/found the info needed…searched both style and header for the phrase to change (trying this again another way) and both didn't have such terms…which is when I made up a song about being as mad as me (oh, if you've ever been as mad as me, raise your hand…I don't think so, put it down then some humming)…face in hands"
"…stared out the patio door, saw blonde kid picking his nose for a very long time…"
"Remembered I had to change line 11 but still no go. Heard kid crying, looked out to see blonde booger boy on pavement after wiping out on his bike and his brother, other blonde boy, was throwing pebbles at him while he laid there. Nice."
"So it's 1:58 and I've achieved nothing. Well, I did pick out a font…took 2 minutes but hey. Really hungry…guess those 3 bites of soup didn't do it for me. Thinking about eating all of the chocolate covered pretzels and realizing that anyone else would probably have changed this without a problem in 2 seconds. Definitely eating the pretzels." Greg came home and indeed changed it in 5 minutes. Supposedly I was to put two lines together in two places instead of the one."
"2:01: Eating the pretzels. Yum."
"Should I try this with another theme? This one seems to have too many confusing and unnecessary sections. I've simply been trying to change a few things until something can be done with that linky thing (originally a curse word) I have to add that hasn't worked so far in all the places all the time… then the other things aren't right after quadruple checking my style sheet. It's like in Labyrinth when she marks the tiles with her lipstick and little bastard goblin things flip them over so she can't tell. That's what this is. Little bastard goblin things. Leave my lipstick arrows, uhh, I mean styling alone! This theme should be called Little Bastard Goblins".
"Turned on the Current radio. Wondered if the mail person didn't hear anything in here with the tv off so that's why my hardware hasn't come yet…or they were scared away by my cursing. Either way no package."
"Why is it that Firefox still won't show the updated version with the new font/changes even though I've cleared it and it works on the other two browsers? This makes changing it with firebug difficult. I can't really do anything more. Call it at 2:48. Wasted almost 2 hours."
So I need a break. I'm hitting that level of crazy that frightens your everyday crazy person. I'll be back here in a few weeks after our Indiana trip to see family and friends. Even then I might take a little more time away to attack these issues with a fresh mind.
I'm leaving you with some simple melon recipes for some of the season's best produce, I believe. My grandma and I share a love for cantaloupe (muskmelon as we say) and there's a history of putting salt on our watermelon on my dad's side. Greg can't get enough watermelon. A few years ago we found a yellow version that was supersweet and juicy at our local co-op. I'll be looking for them again. What's your favorite melon? Have any particular way to eat them?
See you on the flipside. (Flipside being a few weeks from now.)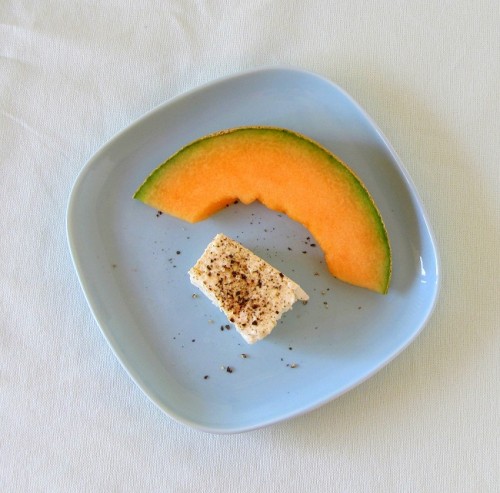 Cantaloupe Wedges with Feta Cheese form Martha Stewart Living
Serves 4
Ingredients:
½ tsp whole black peppercorns
½ ripe cantaloupe, seeded
8 ounces feta cheese, cut into 4 pieces
Crush the peppercorns and cut the cantaloupe into 4 wedges. Place a wedge and a piece of feta on each serving plate. Sprinkle the cheese with peppercorns. I enjoyed this combination-makes for a nice snack.
Grilled Watermelon and Halloumi Cheese Salad from Scandi Foodie (a blog I adore)
Serves 2
Ingredients:
½ watermelon, cut into thick slices (remove seeds if you'd like)
1 tsp Hungarian paprika
½ tsp red pepper flakes
1 tbsp olive oil
about 8 ounces of halloumi cheese, thinly sliced
1 sprig fresh thyme
mixed salad leaves-optional
Olives-optional (your choice but green Picholine are nice)
Dressing:
2 tbsp olive oil
1 tbsp balsamic vinegar
1 tbsp honey
Whisk the dressing ingredients together and set aside.
Heat the grill to high (or a very hot pan), brush the melon slices and grill top with the olive oil and sprinkle with paprika and the pepper flakes. Place the melon on the grill, grilling both sides for a few minutes and set aside. Grill the halloumi on both sides until golden and soft. Add the salad leaves to a serving plate, top with the melon and halloumi. Add the olives (optional) and sprinkle with the fresh thyme leaves. Drizzle with the dressing and serve immediately.