Welcome to August!
First, here are the before and after dressers. I've shared them with so many people already but didn't want to let you down. Thank you for the support on this venture. The positive responses have made it all worthwhile. My favorite is the dark grey with mother of pearl and brass knobs. I call it the 'French one.'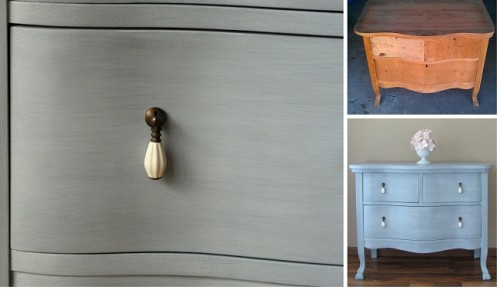 Next, in 10 days, I will be back on my old turf-Roanoke, Indiana and Greg in his, Warren, Indiana. Yep, we're still driving the 12 or so hours and I will be taking a break from posting. I need it. Even though I've been cranking out a whopping one post a week on here, our other blog- thewitsblog.com– is on its way to existence-not an attractive one yet-and taking up a good portion of my work day. I'm still in the process of transferring our tumblr blog to the new site. A rough existence indeed since I've been divvying my time between getting something anything up and running and posting our finished dressers in our etsy shop (that is on the sidebar), and planning our trip. I was also announced as Foodista's choice for Drink of the Day regarding the lambic floats. I'm flattered-big thanks to them!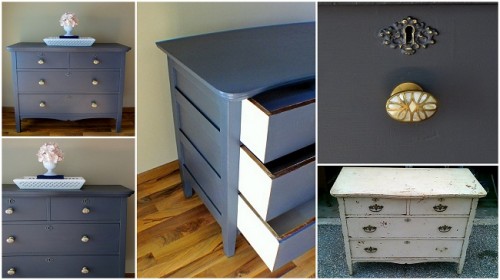 We did take a break and went to the Minneapolis farmers market over the weekend and picked up two chairs (see pic) from a craigslist seller. We had planned to see other craigslist items but both persons were slow to respond and we'd had enough of a break with so much on our plates that we decided to zip back down to our Northfield apartment and knock some things off the list.
The trend with the craigslist deals I found in the last two weeks seem to come paired with people who 1) don't seem to have much interest in selling the item and/or 2) don't communicate very well and then there's 3) they are very eager and communicate well but have completely misrepresented their item…we chased one piece down Friday that was a mess. Lucky for us, it wasn't too far away. The woman had the dresser in her store (which smelled like cat urine) but we couldn't find the store because she apparently didn't know her correct address. We spent a good 15 minutes stomping up and down the main street looking for the place then when we finally saw the piece, we could hardly hide our disappointment because it wasn't as she had stated at all . I wanted to cry "no laminate tops" like the line in Mommie Dearest "no wire hangers." She was a fibber McGee. When we passed, she gave us that upset Minnesota church lady accent-pleasant but you could hear she really wanted to curse at us.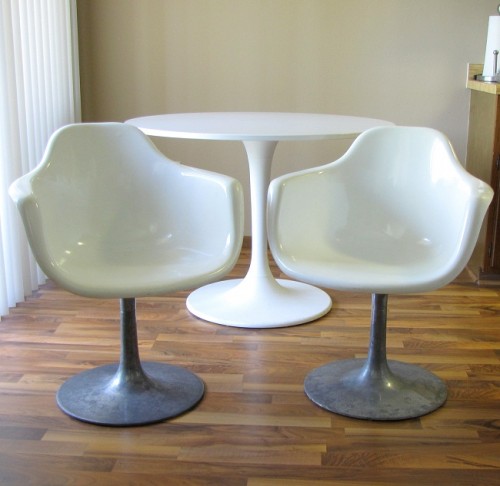 On top of those tasks, the power went out a few times in the last week making most things a challenge, someone rammed their white vehicle into our car door while Greg was in the grocery store so we filed a claim played phone tag with the rep for a few days…just to decide not to chase it since it wouldn't cost us the deductible and was therefore, something we'd just have to deal with), the air conditioner doesn't want to work properly, the dishwasher is acting up and this very laptop is making noises like an old projector. Maintenance persons have been in and out-not announcing their arrival ahead of time either and my curly hair has that perfect frazzled from the humidity/crazy lady thing going on. Yeah, so I'm busy and stressed and it feels like I'm only getting half of everything somewhat completed. Projects get left at some half-assed level until I remember to get back on it. But it's all going down with a smile on my face thinking about vacation. I know it might sound otherwise but I'm actually pretty pleased and when trying things happen, I laugh at them when I can. Greg helps cheer me up in that inside joke kind of way. What a sweetheart.
While all the little and big details are being put into place for our lives here in Minnesota, I am planning our trip to Indiana. Getting everyone together in one place at the same time with multiple families is difficult, as you probably know or can imagine. Greg's oldest brother is flying in from California to help out the family, their cousin Christine is coming from Maryland and my aunt will be driving up from Indy over that weekend for birthdays. Every day is booked. We also have Greg's 27th birthday on the 17th and about a half-dozen other (no exaggerating) birthdays to celebrate falling around August/September. Oh and my in-law's anniversary. If the evenings allow, we want to camp out again this year and have a bonfire party for my birthday guy. If you live near Northfield and would like to help me out, the apartment needs a good cleaning. Any takers?
If you do, I might make today's recipe for you from Jamie Oliver. It was beyond delicious. I roasted instead of grilled, left out the biscuits and adjusted the entire preparation process. We had the warm berries over vanilla ice cream and….sorry, I was reminiscing about the flavor. Mmmmm…anyway, roasted strawberries with ginger, vanilla and Pimms liquor.
Roasted Strawberries with Ginger, Vanilla and Pimms Over Ice Cream
Serves 2 to 4
Ingredients:
1/3 cup water
1/3 cup sugar
a knob of peeled ginger about an inch, roughly chopped
about 1 ½ cups of strawberries, hulled to have a flat base
1 vanilla bean, split and scraped (keep bean)
a few splashes of Pimms liquor
vanilla ice cream-optional
fresh mint sprigs
Preheat the oven to 400F. Begin the ginger simple syrup by placing the water and sugar in a saucepan, bring to a low boil and keep at a low boil until sugar has dissolved. Remove from the heat and add the peeled ginger pieces. Allow to steep for 20 minutes then remove, reserving a few pieces of the ginger. Strain the syrup into a bowl, place the vanilla bean and seeds with the syrup and mince the reserved ginger pieces (not all of it though-just enough for a teaspoonful or so), adding it to the syrup bowl as well. Set aside.
In a shallow oven-safe dish, place the berries on the flat side so their peaks stick up. Pour a few tablespoons of the ginger/vanilla syrup over the top and splash with the Pimms until a small amount of liquid rests on the bottom of the dish. (You'll most likely have leftover syrup so make it again or make a nice ginger soda with it.) Roast until the strawberries soften and their juices run into the syrup making a lovely red shade. Allow to cool slightly, remove the vanilla bean, add the mint sprigs and place it warm over ice cream. It's great alone and chilled as well.