Summer 2011 Things I Adore:
Wish I had this collection of dishes and props for food photos.
This fabric site contains vast amounts of designs and is my go-to spot.
Pinterest (my love affair with this site will span the ages). Find a room that inspires you or a product, maybe you found an outfit or hairstyle that tickles your fancy, or a quote that makes you feel all warm and fuzzy or a concept that will change the world that you would like more attention brought to? All you have to do is simply click on the "pin it" button, handy on your browser's toolbar, and there you have a place to keep all those items you so enjoy. One of the best parts, it keeps track of where you saw it with a link attached. Part of my daily obsession. It's brilliant. You can follow me to see my boards, likes and ideas for food, fashion, home décor, travel, DIY and so on. Some days I just go through my contact suggestions because I believe that seeing what it is that people like gives more insight into them as a whole. Can't tell you how excited I get when I see that someone else is on there and they let me get a glimpse into their life.
The website Polyvore for fashion…I love that I can search by outfit and price. It's made it easier to see what is in my price range while finding clothes I actually like. Saves so much time.
This arrangement should be in my home.
Found this lavender soda at the co-op and instantly fell hard. It's not extremely sweet or overpowering in the lavender flavor. I'm going to try the other flavors soon.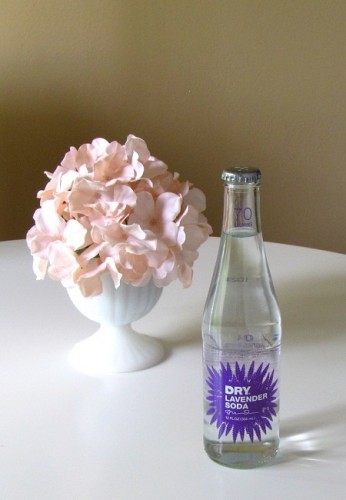 Must make these blackberry cabernet cupcakes and these blueberry cupcakes with honey buttercream.
Enjoyed reading through this article by Ganda Suthivarakom at Saveur regarding the history of food blogs.
Want this blouse to join my attire.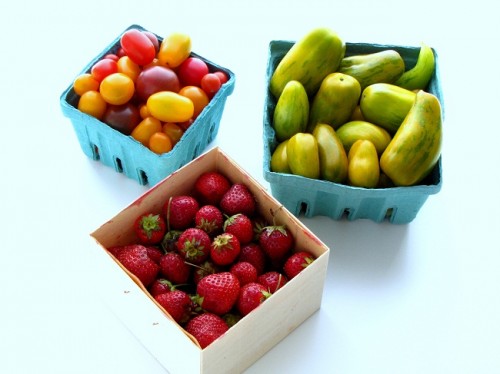 Found this beautiful candle holder while looking for furniture hardware.
Can't tell you how many times I've looked at this dresser/mirror arrangement. Love the grey with the antique brass. Pure inspiration.
Since we've been in the world of furniture refinishing, I can't help but wonder about this paint.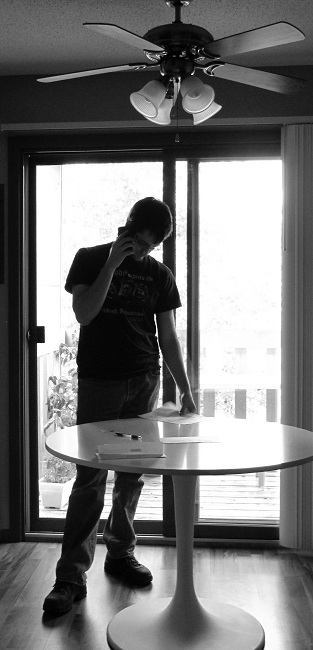 I keep this thought close to my heart. So true.
This sign gets a big laugh from me and begins the song in my mind while I break out my Salt-N-Pepa moves (yes, the ones in that video).
Then there's this tomato salad that I came across on my weekly visit to the Kitchn which I will provide today. Perfect. Summer. Salad.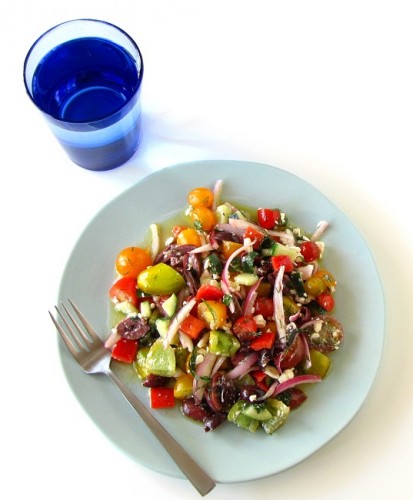 Tomato Salad with Red Onion, Dill and Feta adapted from the Kitchn
Serves 4 to 6
Ingredients:
1 lb. heirloom tomatoes, cut into bite-sized chunks
half of a red onion, thinly sliced and covered/soaked in ice water for 10 minutes
1 clove garlic, minced
sea salt and freshly ground black pepper
1/4 cup red wine vinegar
1/2 cup olive oil
1 red pepper, seeded and cut into small chunks (or yellow)
1/4 lb. cucumber (approximately 1/3 cucumber), diced
1 cup pitted kalamata olives, cut in half
1/4 cup fresh dill, roughly chopped
1/4 cup fresh mint, roughly chopped
handful of chopped basil (my addition)
1/2 cup feta, crumbled (I reduced this from 1 cup)
Drain the onion and pat dry. Place the garlic, a pinch of salt, and the vinegar into a large mixing bowl. Drizzle in the olive oil while whisking.
Add the onion, red pepper, cucumber, olives, and herbs and let marinate for 15 to 20 minutes. Add the tomatoes and feta, and toss gently to combine. Add salt and pepper to taste. Serve. We had leftovers and it tastes just as amazing the next day.