Last week I added a link on the sidebar to the feed for our newest venture-the furniture refinishing one. (That's the announcement.) This link will take you to our furniture, decor and home reno blog so that those of you interested can check out what we're doing. (*Update a year later: the furniture redecorating business is going great-and we do create custom pieces for clients- and we now also document the progress of renovating our first house, which we purchased December 2011, on top of the furniture finds and makeover process.) You have the ability to subscribe, shoot us an email with comments and questions, or just be a looky-loo (one of my favorite things to be when it comes to blogs). Our etsy shop is also up and going on the sidebar of both blogs if you want to see some of our pieces. Happy happy, joy joy. Life is swell.
To up that pleasant factor, I was contacted by Easy Canvas Prints (also a link in the right sidebar) for an opportunity to use their services for a canvas in my dining room/kitchen area. Awesome. The rep, Megan, was so sweet, helpful and a wonderful communicator. I created my own design, uploaded it and was on my way towards a one-of-a-kind piece. They can also do photos and have their own selection of artwork for you to order-we're talking millions of choices with many size options. Impressive.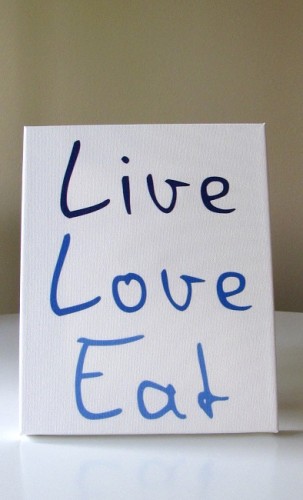 This service is something I always thought about doing and then out of the blue, this offer was given. Affordable, quality work, super easy and nice people made this one of my favorite opportunities. I could spend a day on that site. Sharing it with you is a no-brainer. So please check them out. Great gift idea? Absolutely. Even if it's for yourself? Yep-a-roo. My next trip there is probably with the intention of more phrases or portions of a song for our spare bedroom wall art. Let me preface this by saying I'm not having a baby nor do I have kids but a sweet phrase/song/child's name seems like a good idea. One of the example sites I was sent to placed their grandmother's recipe on a canvas and hung it in the kitchen. It was spectacular.
This canvas will end up on my dining room wall, surrounded in a collage of images I like from my pics, etsy buys, garage sale finds and flea market bargains in frames I will paint white from the same sources. In my mind-I've not put much effort into this yet. (Do you know how many paint options there are for white? It's insane.)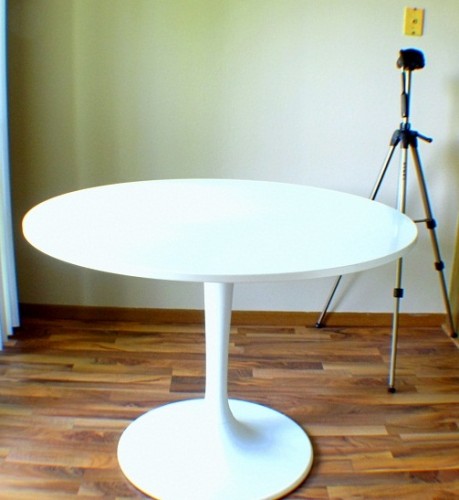 It's hot here in Minnesota. Heat advisory hot. Mostly humid with showers passing through that have made it worse. But family and friends tell me the temps have been unbearable for a long time in Indiana, as it is in other parts of the world, so we can't complain too much…until we're driving home in it come mid-August. Working outside or even stepping foot outside immediately conjures a "blech" from my mouth and swimming motions…feels like I'm swimming in the air. That hasn't stopped us from cleaning out the garage somewhat, donating items we hoped to sell in a garage sale, and we've painted another dresser while waiting for shipped materials. (Again, plugging our other blog mentioned above…so if you want to know what I'm blabbing about, go there.)
Back to being miserably hot, we put a twist on an ice cream float-grandpa, it's just as good as a root beer float we made back in the day but the adult version. After seeing it float (ha ha) around the food blogosphere for a little while, I finally made the lambic float that always caught my attention. Many of those are sour, fruity beers-could be cherry (kriek-our choice), raspberry, strawberry, peach, apricot and so on. With a scoop of French vanilla ice cream, it made the evening. I'm thinking of serving this when we go home. What flavor would you like?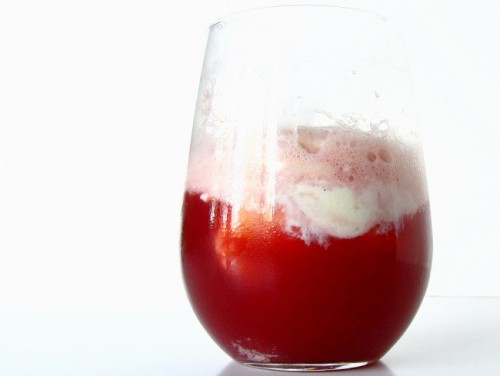 Lambic Float
Serves 1
Ingredients:
2 scoops vanilla ice cream (I like the French variety)
½ cup lambic beer
Put the ice cream in a glass, top with the lambic, add a spoon and serve. Maybe go back for another. That's a big yes on this side.