Because sometimes you just want a cookie…a salted, peanut butter, oatmeal and chocolate chip cookie. I know. Everything delicious is packed into this puppy. So good. You're welcome. Consider it a gift from me for the Dabble's 2 years of existence mark tomorrow. Your support and appreciation is invaluable, genuine and much loved. Also, less than a month comes between me and my visit to nephew Nolan (and family and friends) for his first birthday. I haven't seen that little growing to be a big boy since he was about a month old. He's crawling and pulling himself up with 9 or so teeth. He's not pulling himself up by his teeth. I hope. Convey fail. Our nephew Matthew will be seen for the first time this winter! His also adorable self will be 1 in December. I only ask that they stop growing so big until we've had a chance to meet them. Please, fellas.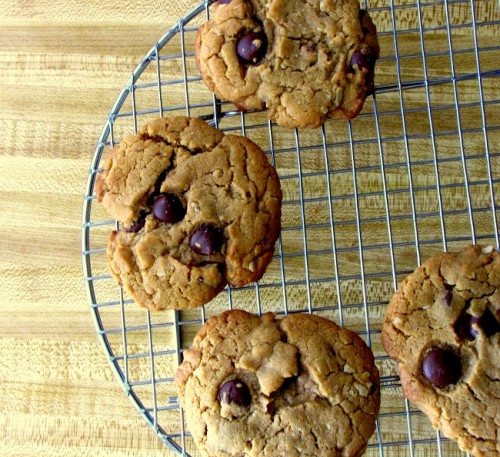 It doesn't even feel like two years has passed. Seems like just yesterday that I asked Greg what he thought about me, instead of continuing to hit my head against a wall searching for a career with my PSY/business degree in the new state we'd moved to, going for what I thought was a hobby but definitely something I'm passionate about in blog form. He wholeheartedly agreed that this was the route for me and onward we went together, as we always do, towards making this website.
There have been good times and bad-but you can be sure a decent, most bordering recipe superhero follows…most days. The joy I get from finding/creating a recipe, researching its origin or ingredients, purchasing the needed ingredients (while gaining knowledge about my surroundings and where I can obtain things/becoming "that girl" who comes in frequently to some local stores), setting up a shot, snapping/editing a ton of photos, writing the post, editing the post, sharing, responding, meeting great people and doing it all over again has inspired me to go into other areas that I take joy in doing.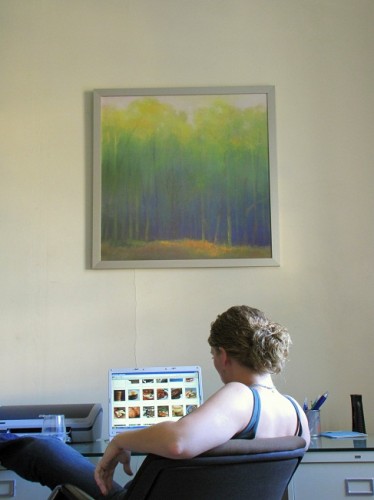 Something I wouldn't have allowed myself when I was younger because I didn't think I had the chops and geesh, Annie, I would have said, do something in your degree field as you set out to do and have obtained a large sum of debt along the way chasing even though your first job experience outside of college was horrible and gives you nightmares-yeah, keep on that path. Maybe I still don't cut it or am not as talented as I wish to be but I've enjoyed the ride and am determined to continue and grow. Thanks for indulging and letting me follow my passions. I love this.
Salted Peanut Butter Oatmeal Chocolate Chip Cookies adapted from Pictures and Pancakes
makes about 2 dozen
Ingredients:
1 1/2 cups all purpose flour
2/3 cup old- fashioned oats
1 tsp baking soda
1/4 teaspoon salt
3/4 cup smooth peanut butter
1 cup brown sugar
8 tbsp unsalted butter, room temp
1/4 cup honey
1 large egg
1 tsp vanilla extract
6 oz. milk chocolate chips
2 tbsp flaky salt (maldon perhaps)
Preheat the oven to 350 F.
In a bowl, mix flour, oats, baking soda and salt together. In the bowl of an electric mixer fitted with the paddle attachment or with a hand mixer, cream together the peanut butter, sugar and butter until fluffy. Add the honey, egg and vanilla then mix until smooth. Add the dry ingredients (in two additions) and stir in the chocolate chips. Refrigerate the dough for 30 minutes or until no longer sticky.
Roll a large tablespoonful of dough with your hands to make a ball and place on a baking sheet with parchment paper, placing about 12 on the sheet. Using your hands, a utensil or the bottom of a glass, press the balls down slightly until the cookie is about 1/4-inch thick. Sprinkle with the salt and bake 11 to 13 minutes or until they begin to brown but are still slightly soft to the touch. Cool on the baking sheet for 5 minutes and then transfer to a wire rack to cool completely.