Shorter post today. You deserve it with all of these horribly long ones. Apologies.
I realize I haven't said anything about the house thing so a quick update on that: we've pretty much given up on the search. Partially because nothing new with potential has been on the market and the remaining portion because we really like our new place-the garage is great for projects. Don't get me wrong, I still weekly check out real estate websites.
Which brings me to my next update about refinishing the dresser: it's been on hold since the 4 paint samples I've tried haven't been right (first too dark then too light) so we have to venture to another town this weekend to check out their options and pick up an already paid for dresser in Red Wing. Our town has a few options when it comes to paint but most contain the same paint brand with limited choices. The old gal, the dresser, is sitting primed and ready to go. Love the hardware that finally arrived.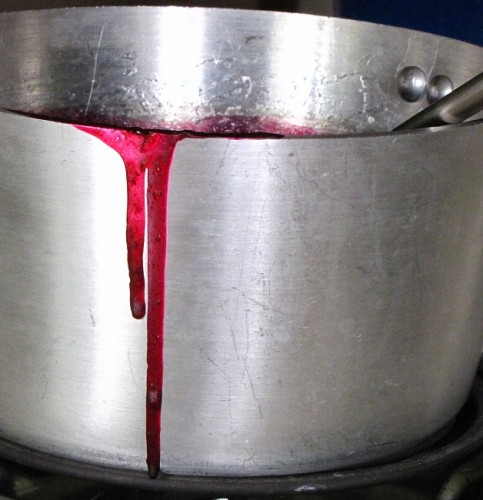 Since I'm updating and it's been bothering me that I haven't said a word about our beer making…that was so long ago. We made 3 batches with so-so results-oddly the first was the best in my opinion. Then the stovetop caught fire and the thrill fizzled. Greg and I are not finished with that venture but it's definitely on hold.
Something worth mentioning would be that this here blog turns 2 years old July 14th (next Thursday) which might have passed by without my attention since I only remembered when I came across the note on my calendar. Happily busy and grateful for your support. Thank you!
So there ya go.
While clicking around the Wednesday Chef's website, as I often do, the blackberry flummery caught my eye or tastebuds rather. It's a British term along the lines of a thickened pudding-like dish and complete nonsense. Pretty much the inside of a pie minus crust. I had a quart of blueberries instead but since blackberry and blueberry season is here, you can probably find a deal on some fresh berries somewhere-maybe local. I tend to side on the "eat fruit fresh and raw-that's the best way when they are in season" camp but somehow this few ingredient dish sounded like something I just had to make. And I'm glad I did. It tastes like canned pie filling but so much better. With a little cream over the top or some Greek yogurt, this one was best, to me, chilled. So simple yet rock your world good.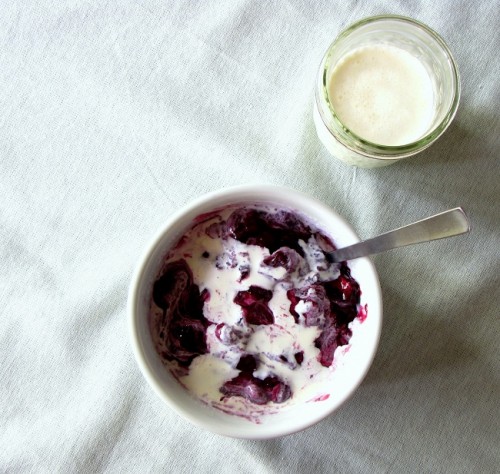 Blueberry (or Blackberry) Flummery adapted from the Wednesday Chef
Ingredients:
4 cups fresh blueberries or blackberries
½ cup sugar
½ cup hot water
2 tbsp cornstarch
3 tbsp cold water
juice from half of a lemon
heavy cream or plain yogurt-for serving (optional)
Combine the berries, sugar and ½ cup of hot water in a saucepan. Cook over low heat, stirring, until the mixture breaks down and becomes liquid. Bring to a boil.
Meanwhile, mix the cornstarch with the cold water in a small dish. Stir this into the boiling berries. Add the lemon juice. Simmer for 1 minute. I liked it chilled but warm or room temp are scrumptious as well. Serve with heavy cream or yogurt.