Our 4th of July weekend was one of the best we've had in 4 years. It was romantic and sweetly simple-Greg and I got down to basics, reconnecting while doing the refinishing project on the dresser below. We were covered in dust with wood glue sticking to our hands-looking a mess in our scuzzy clothes. Clothes that have seen many a project that we brought with us from our Indiana home where there was always something for us to get dirty doing. Since moving to Minnesota, our weekends look nothing like what they did with family, friends, and things to work on. Something we continue to miss.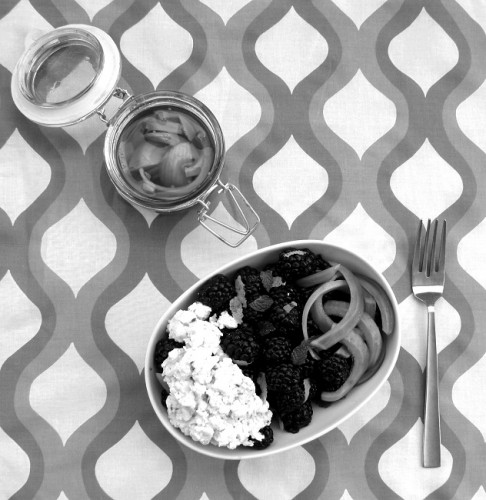 That part of our old creative/active selves sparked again. Good thing since we have two more dressers to refinish after this one. We spent most of the 3 day weekend in the garage diligently, yet in a relaxed way, working on the dresser. We sold a few more craigslist pieces and discussed our project with the buyers who seemed more interested in the fact that a young couple is skillfully (well, Greg is…I'm learning) and lovingly restoring something antique. Did I mention we don't have power in the garage so it's kind of being done the hard way? I guess neither of those things is common in today's world.
The process and "after" photos are to come. We're still working on the finish. After 4 samples, I am not pleased with the shade so back we go for a third time just for paint. Some people we know might be cursing the paint step because they believe wood and furniture of this caliber should only be stained (I used to agree) but we both see the benefits and appeal of a painted piece these days. While we like it, this one is geared towards pleasing those that really love the painted look. I'm more a fan of the understated mid-century modern (beauty, to me, is simple, understated and hinted at) but there's a part of me that really digs antique/vintage. I'm trying to marry the two in an eclectic modern style. (As if someone said to me" why don't you marry them then," I said "fine" and thus did.)
It's been a task; we feel accomplished and even closer to each other doing the process in an equal, business partner-like and loving husband and wife way. (Yes, I am chiseling, sanding, filling, cleaning, priming, etc. right alongside my woodworker husband.) I do step aside and/or learn how to properly do a task and when it comes to perfecting an important step, I let Greg handle it but for the most part, I'm doing well (he says). My most important task is finding the right shade of paint (this one I see in light grey/blue with knobs in place of handles) and hardware along with researching how to achieve certain finishes. The mega-distressed look is not for us though.
We ended the weekend with the local fireworks display-one that came about 45 minutes later than stated by sources but at the exact moment we looked at each other and said "do you want to leave" (Greg getting perturbed with an early wake-up call the next day), the smaller show began. It was as if it was meant for just the two of us (among a large crowd), positioned just above the park bench in front of the river we randomly chose hours before to sit upon after a picnic dinner, watching children feed the ducks while their parents looked on, extra bread in hand. Tears welled in my eyes with how perfect the entire thing was… I contemplated singing America the Beautiful aloud in the hopes that it would catch on but that seemed farfetched and straight out of some Disney movie (I wanted to start the clap). I hummed it to myself instead.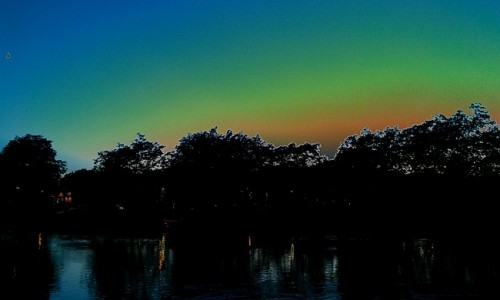 The bigger show was in another park and could be seen from our bench but it wasn't close enough for our tastes so we took to the road where we found the ideal spot (alone) and watched the remainder of the spectacular show. Being our first viewing of the fireworks in Northfield, we were happy. (Please do consider starting the show earlier if the following day requires many people to be back at work though…it was plenty dark at 9:45.)
A few days before these festivities, I received my July issue of Better Homes and Gardens. I still can't sing their praises enough when it comes to recipes. Their team usually comes up with interesting, people-will-actually-want to try-this recipes or interviews persons with clever dishes. That used to seem odd but I've come to highly regard the publication. No longer believing it's my mom or grandma's kind of magazine. This particular recipe is from Erin Flynn and Skip Connett who started Green Gate Farm in Austin, Texas, a CSA (Community Supported Agriculture) which provides a lesson in local food, sustainability and repurposing while nurturing a partnership between farmers and consumers. My dream and future goal is to have a homestead like this.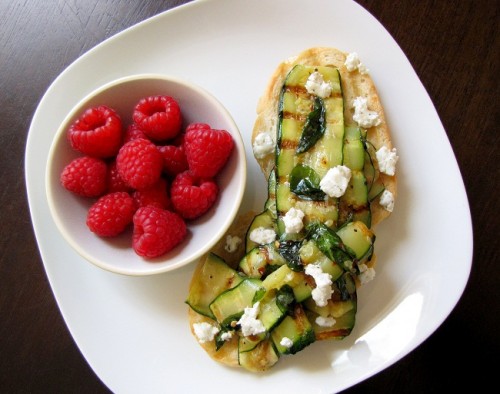 Every bite of this vibrant salad holds flavor and texture that are admired by many-sweet, sour, slightly hot from the pepper flakes, creamy, crunchy, fresh and if you put them all together you get one perfect bite. It's blackberry season, ladies and gents, so please give this one a try. I'm hooked. It's right up there with the grilled bread, zucchini, goat cheese and basil meal (and side of raspberries) from last year that was a hit with many readers.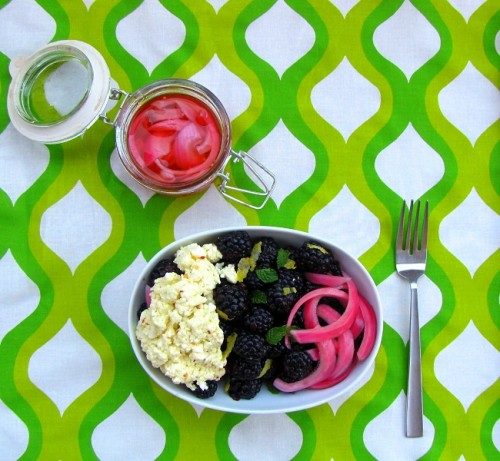 Blackberry Salad with Creamy Feta adapted from Better Homes and Gardens/Erin Flynn
Serves 6 to 10
Ingredients:
Quick pickled onions ingredients- (I doubled the brine and added a little water to help cover for an extra sour taste)
6 tbsp cider vinegar
2 tbsp water
2 tsp sugar
1 tsp mustard seeds
1/2 tsp salt
Salad-
6 oz. feta cheese
3 tbsp olive oil
dash red pepper flakes
6 to 7 cups fresh blackberries (or blueberries)
1/3 cup fresh mint leaves, torn (or not)
2 tbsp turbinado sugar (raw sugar)
2 tsp finely shredded lemon peel
Make quick pickled onions: thinly sliver 1 small or half a large red onion. In a bowl, toss the onion, 6 tbsp cider vinegar, 2 tbsp water, 2 tsp sugar, 1 tsp mustard seeds, and 1/2 tsp salt. Place all in a clean jar and cover. Let stand at room temperature for 1 to 4 hours, stirring occasionally. I preferred mine not so quick and let them sit in the refrigerator for a few days with a double batch of brine for a softer onion with a sourer flavor. It's up to you.
Before serving, in a food processor, combine the feta cheese, 3 tbsp olive oil, and red pepper flakes. Process until nearly smooth.
In large bowl gently toss the blackberries, mint, sugar, and lemon peel. Arrange on a serving platter or individual dishes then fork out some of the pickled onions from the jar over the top or on the side. Serve with a scoop of the creamy feta also on the top or on the side. Delicious.