We bottled our first batch of home-brewed goodness last week. (We hope it's good anyway.) This Belgian beer should be ready to drink in 3 weeks. Fingers crossed.
I made unattractive labels simply with the word 'Tripel,' the style, by hand and taped them to each bottle-each of the 7 bottles from the supposed gallon it was to produce. You're right, that doesn't add up.
One of our lessons is to fill the gallon jug to the gallon mark with water after the steeping process so that we can attain the 10 or 11-12oz. bottles we intended to fill. Another lesson is to create a better way to siphon the beer from the jug to the pot and from the pot to the bottles. We're working on that.
Sunday, we prepared another kit from the same company, Brooklyn Brew Shop, an IPA (a nice fragrant, citrus version). Not to worry for the reader that commented about using the Midwest Brewer's Supply here in Minnesota, we ordered a few items to aid the process.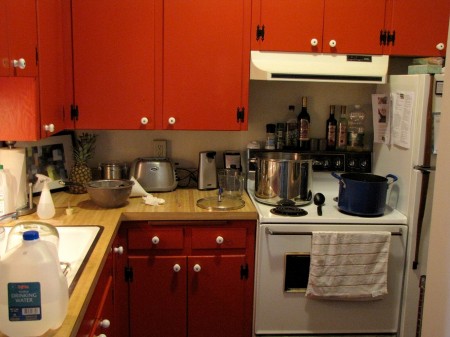 The goal is to create our own unique brews once we get the hang of the whole shebang. This time, the stovetop caught fire from the burner going out. We had to rush to use a friend's stovetop to finish the boiling portion when you add the hops in batches for an hour. What a memory! Driving back to the apartment, we were joking about getting pulled over with an open container and our argument would be that it isn't alcohol yet.
The kind repair guy stopped by yesterday and gave momma a brand new burner. No whammies, no whammies, STOP! That's me landing on a new burner. Actually, if I landed on a burner, it would be ouch.
I don't think I've proclaimed exactly how much dill I've been rolling in here. Our kind friends gave Greg (my hubby) a good amount of dill. (It filled a gallon bag.) Plus, we have our own small dill plant on the window so needless to say, I was looking for recipes that would highlight the herb. I told you that I made dill pickles and spicy dill veggies, I've tossed it in casserole dishes and, as you're about to find out, placed it in an egg dish. An omelette to be precise. This is another "toss in the ingredients you like" dish but my combination was a keeper that I am craving just thinking about again.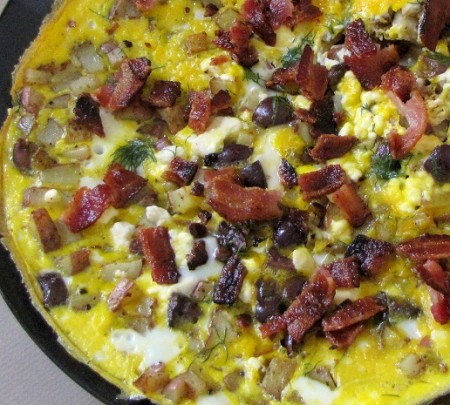 Potato, Dill, Feta and Bacon Omelette
Serves 2
Ingredients:
1 tbsp butter
½ tbsp olive oil
3 small potatoes, diced (I used red)
5 large eggs
2 tsp cumin
a dash or two of red pepper flakes
2 to 3 sprigs of fresh dill, chopped
¼ cup feta or cheese of your choice, crumbled or grated (Manchego would be yummy)
2 tbsp kalamata olives, pitted and chopped-optional
3 strips cooked bacon, crumbled (or diced ham/shredded prosciutto)
coarse salt and freshly ground pepper
Over medium heat, melt the butter in a skillet, add the olive oil and fry the potatoes until tender, stirring a few times. In a small bowl, beat the eggs. Add salt/pepper, cumin, red pepper flakes and dill. Lower the heat once the potatoes are cooked to low/medium and add the cheese and olives, top with the egg mixture, swirling the pan to coat the skillet. Make sure the eggs are reaching the heat but don't fuss with it too much. Fry for 2 to 3 minutes, until eggs are cooked. Carefully slide onto a plate and top with bacon.