Two food fails in the last week. Two. That's unacceptable. One recipe being an Asian-inspired chicken salad with a horrible dressing and the other something that should have been scrumptious, pumpkin cake with a cream cheese layer, topped with dulce de leche.
The parts were better than the whole. The cream cheese layer actually baked into the pumpkin layers which took away from the sweetness in the cake and while dulce de leche (milk caramel) is always tasty, it was ruined by the weird taste of the other parts. The picture was lovely, the directions and amounts were, well, off which is the kindest way I've said it to date.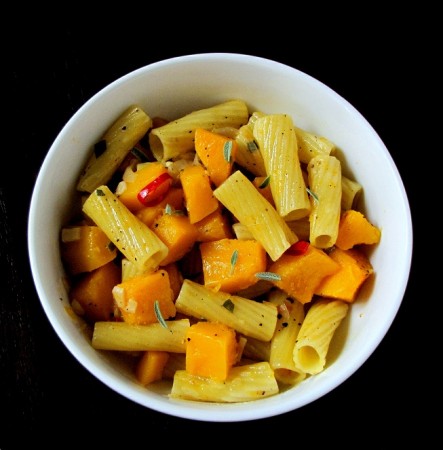 Let's move on to something that didn't disappoint: pasta (rigatoni this time) with one of my seasonal favorites, butternut squash and my current herb obsession, sage. This one is just too simple and flavorful like one of those combinations where angels begin to sing as soon as they are placed together and in turn, they write the medley in a sacred food book for all to sample throughout history. Sage and butternut squash- add a little bacon or pancetta and the angel's voices become louder.
It may be a little guilt-inducing when everyone praises it at the dinner table as if you're a genius. Don't tell them this took next to no time to prepare or that the ingredients cost very little overall or that it was written in the sacred food book a long time ago. Let them think you're a genius. No harm in that.
Pasta with Butternut Squash, Sage and Pecorino Romano
Serves 4
Ingredients:
2 tbsp olive oil
3 tbsp butter
1 small onion or 2 small shallots, diced
1 large clove garlic, thinly sliced
1 large butternut squash, peeled, seeded and cut into bite-size pieces (about 2 1/2 cups)
dash or two of red pepper flakes (about ¼ to ½ tsp)-optional (I used leftover Thai chili)
10 fresh sage leaves, chopped
1 1/2 lbs. pasta (I used rigatoni)
coarse salt/freshly ground pepper
½ cup grated Pecorino Romano (Parmesan works too)
Begin to boil water for the pasta in a pot.
In a large skillet over medium-high heat, add the oil and butter. When the butter is melted, add the onion (or shallots), garlic, squash, optional red pepper flakes and sage; toss occasionally and fry until tender, about 12 minutes. Meanwhile, cook the pasta as directed.
The pasta should be cooked and draining by this time. To the skillet, toss in the drained pasta, some salt/pepper and top with the grated cheese before serving. If you wish, toss in some chopped, cooked pancetta or bacon to take it to another level.