A very happy 60th anniversary to my grandparents this day! Also, I thank the men and women in the Armed Services this Veteran's Day.
When my grandpa was going into the military, on his way to basic training, before working on tanks in Germany during WWII, he would toss a pencil from the bus window to one of his friends (may have been one of his brothers) on the road. These pencils would have a note wrapped around it for my grandma. The only way he could communicate with her at that time. I love that story-a story I didn't know until a few years ago, mentioned at a picnic during their Studebaker car meeting, on a visit that they had made a few times in our college days in West Lafayette, Indiana.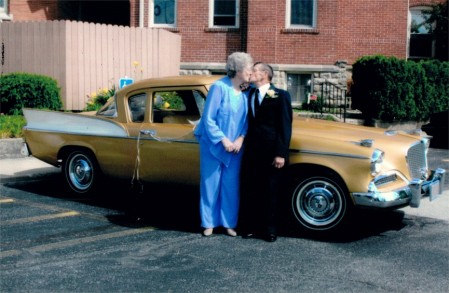 Can you imagine 60 years into your marriage? Our 2nd anniversary is the 24th of this month. When Greg and I were trying to plan our simple outdoor wedding, in record time, November in Minnesota brought depressing thoughts until we realized that we would be sharing the anniversary month with my grandparents and that perked our spirits. That is an honor.
Two…compared to sixty…blows my mind in an awe-inspiring way. All those times of love, learning, joy, fear, struggle, success, sadness, arguments, reconciliation, family, friends and the millions of other emotions, people and experiences that go with life through 60 years of matrimony with the one person you chose as your partner long ago. A person you obviously still want to be around with sixty years under your belt.
My grandparents are a great couple-it's no surprise that they still adore each other. Made for one another, best friends, ornery as ever, compatible in every way describes them as a couple. Not to say there weren't arguments and bullheaded moments, as we all have, but for every moment of that, I imagine there were twice as many instants of love.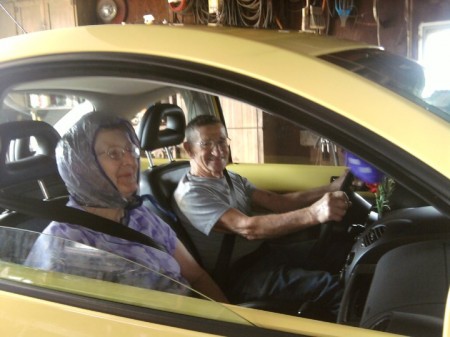 They waited to have children until they were financially better able to provide for them. There were years of miscarriages and maybe even a stillborn baby. My Aunt Penny was adopted because they had so much love to give, that's how I see it, and after trying without success, they just had to have her. Soon after my aunt, their struggles to conceive were over and my mom was born then two more girls. They lived in a few different houses and towns, made friends with nearly everyone they've crossed, built their home, worked hard, raised four girls, raised many dogs and other pets, had exciting family trips, spoiled their amazing (wink) grandchildren and retired in style with hundreds of other things happening in between. I love you to the moon and back.
My grandma's apple pie is epic. I can recall eating the layers and layers with whipped topping or ice cream as a youngster. Her pie has been perfected with cinnamon red hot candies baked inside for a boost and a little something different. It's wonderful! You should try it if you're a cinnamon fan. My grandpa has enjoyed many of her pies… gaining no weight. It's a family joke that his legs might be hollow so that he can fill them with food. It makes you wonder where he piles all of it in his 5'3" frame. Here's to you two!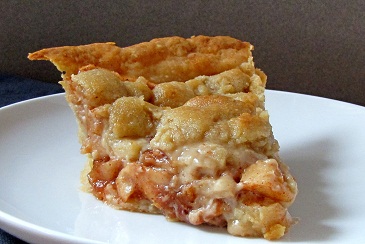 Apple Pie with Crumb Topping
Pie Crust from reader Lisa:
Makes 3 9-inch pie crusts
2 1/2 cups all-purpose flour
1/4 teaspoon salt
1 cup shortening
1 egg
1/4 cup cold water
1 tablespoon distilled white vinegar
In a large bowl, combine the flour and salt. Cut the shortening into pieces and add it to the flour mixture, pinching together until it forms coarse crumbs. Mix the egg, water and vinegar together in another bowl then pour into the flour mixture. Blend with a fork until dough forms a ball. Since this makes 3 crusts, split the dough into thirds and freeze the remaining 2 balls in the freezer up to 2 months. (Simply thaw and roll them out for your next pie.)
Place the remaining ball on a floured work surface, pressing it out slightly with your knuckles and then with a rolling pin into a 12-inch circle about 1/8-inch thick. Place into a 9-inch pie plate and trim the dough within 1/2 inch of the edge of the dish. You can tuck the dough under itself to create a thick rim if you'd like. I like a rustic crust edge so I didn't. My pie plate was a bit bigger than 9-inches so the crust looks odd in the picture. If you haven't made the pie filling beforehand, place the crust in the refrigerator unbaked for this recipe.
Apple Filling:
6 to 7 large pie apples (Braeburn, Golden Delicious, granny Smith, etc-I used Honeycrisp this time), peeled and sliced
1 tbsp lemon juice
½ cup sugar
2 tbsp cornstarch
2 tsp ground cinnamon (or 1 tsp with a handful of red hot candies)
1/8 tsp salt
¼ tsp ground nutmeg
Crumb Topping:
1/3 cup cold butter, cut into chunks
½ cup sugar
¾ cup flour
In a food processor or with your hands, pinch the ingredients together to form a crumbly mixture. Set aside.
Preheat the oven to 375F.
Place the apple slices in a large bowl, add the lemon juice and set aside. In another bowl, combine the sugar, cornstarch, cinnamon, optional red hot candies, salt and nutmeg.
Drain the excess juice from the apples and toss the slices with the sugar mixture. Add to the unbaked pie crust and top with the crumb topping.
Bake for 45 to 50 minutes, checking pie halfway through in case the crust is finished baking before the apples are tender and topping is golden brown. If it is, top the pie with aluminum foil. Allow the pie to cool. I think it's best the next day…if you can wait.