Greg and I move into our first house in a month. One month. I feel like I should be packing but I use most of our belongings almost daily so there's no use. The ever-prepared person in me is screaming mad. I have to ignore her and rest on my ability to organize. I do it like a boss. Plus, there will be a few weeks to transition from the apartment to the house for our convenience.
But hey, we finished another dresser (on etsy right now). Ta-da!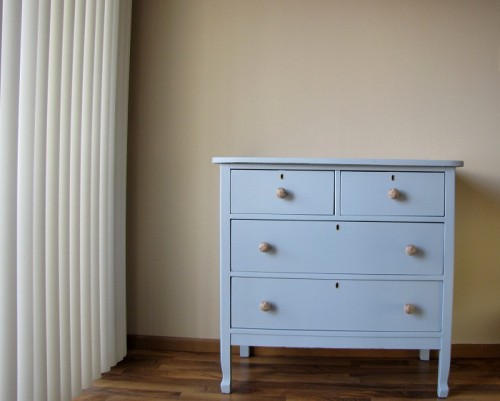 It's an antique gal we found on craigslist for a client that decided to go for a different piece so we were able to design this as we saw fit (i.e. put the leftover paint together to get this shade). A light blue (with a hint of grey from a tiny bit of chalk paint) and a wax finish for durability. Greg took great care making this one last years to come. Sturdy with jute rope knobs. I wanted a muted, chic country feel for this baby. I'm working on a bookcase (in our second bedroom since it's too cold to work outside with paint) now. The reveal to come soon.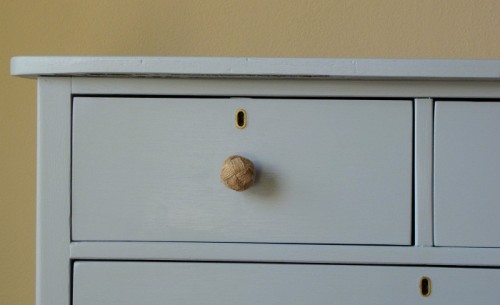 Enough about that. How about some fried goat cheese? That's what I'm talking about!
I can't take credit. I've seen them floating around the blogosphere in salads. I found myself with giant Chioggia beets from our pal. Greg is a fool for beets. I love them as well but don't love preparing the red beasts. The things we do for love.
Goat cheese goes so well with root veggies. Herbs taste wonderful in goat cheese. Thus the trio was put together and went on a journey where they came across their breading ingredient friends. There they decided to mix and dredge with one another and continue on a walk where they eventually found a hot, oiled pan to jump into for some melty, browning pleasure. That sounds disturbingly delicious. And it is! Forget that story.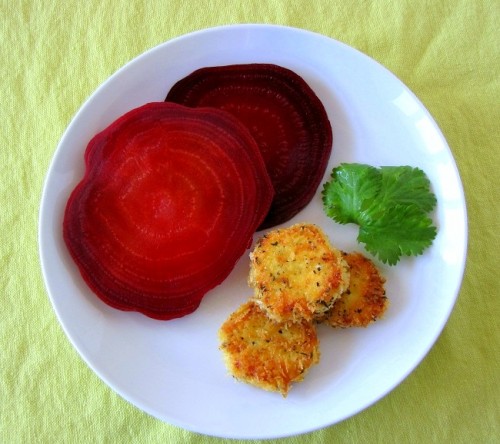 I'm always looking for a way to make what I categorize as a 'salad' but without lettuce (or not much of it) and more heft. A little fat, some protein, carbs (through a small amount of meat and/or beans/bread), usually some cheese and lots of veggies (raw, steamed, roasted). That's where these discs o' cheese come in. Right alongside roasted veg. I think it's a great transition for fall/winter salads. Thanksgiving is coming, holiday parties, why not fried, herb goat cheese rounds as appetizers, a side, snack or complement for your veggies? If I were having a gathering, I'd probably pull these out. Make a large amount because they always seem to go fast. What do you add to salads to help keep you satiated longer?
Fried Herb Goat Cheese Rounds inspired by the Hungry Mouse
Makes about 8 rounds
Ingredients:
16 oz. goat cheese (in log form or you'll be making the round shape by hand)
1 cup panko breadcrumbs
2 tsp dried herbes de Provence (or parsley and thyme)
1/2 tsp granulated garlic
1/2 tsp ground white pepper
pinch of salt
2 eggs, beaten
1/2 cup of flour
olive oil
It's important to chill your cheese. So toss it in the freezer for about 15 minutes so it's easier to slice.
Meanwhile, put the panko in a bowl and add the herbes de Provence, granulated garlic, ground white pepper and salt. Stir well and set aside. Beat the eggs in a separate bowl and set aside. Line a sheet pan or plate with parchment paper.
Place the flour on a plate or in a shallow bowl. Slice the chilled cheese, using a sharp knife, into 8 pieces. You can keep it nice and clean by wiping the knife on a wet paper towel in between slices. I ended up shaping the rounds by hand anyway to keep it from falling apart. Place the cheese in the flour-coat both sides. Then drop the floured cheese into the egg-both sides. Lastly, put it into the seasoned panko breadcrumbs. You got it, both sides. Put them on your lined pan.
You could do this about an hour ahead and keep them in the fridge. Add a little olive oil in a nonstick pan-just enough to coat the bottom of the pan. Set it to medium-high heat. When it shimmers, you're ready to go. Place your slices of breaded goat cheese in there. Probably best to do them in batches depending on your pan size. Don't crowd them.
When the bottom is brown, flip and repeat. Remove to a paper towel lined plate to absorb some oil. If you need to keep them warm for a little while before serving, place them in a 150F oven. Otherwise cool a few minutes then serve and enjoy!