What are your feelings about meringue? Meringue cookies, pies and cakes topped with the fluffy stuff? Comprised of 3 (sometimes 4) things-sugar, egg whites, and air (sometimes cream of tartar or water in this recipe case).
I don't recall why, maybe I had a meringue topped pie and wasn't pleased, maybe I just thought it looked odd and didn't go near them. But I avoided any dessert with a meringue topping. Not my dad. I've never seen the man avoid dessert. By the way, happy belated birthday to him.
Honestly I'm not too familiar with meringue. I watched my grandma prepare it as a child. I kind of placed whipped cream and meringue prep in the same mental compartment for years. When you grow up with a tub of Cool Whip as the dessert topping then see the mixer come out occasionally, you might confuse the two too…if you aren't paying attention to the ingredients. As a child, I wasn't the foodie you see read today. I know the difference but both require a lot of whipping and air so the association will remain.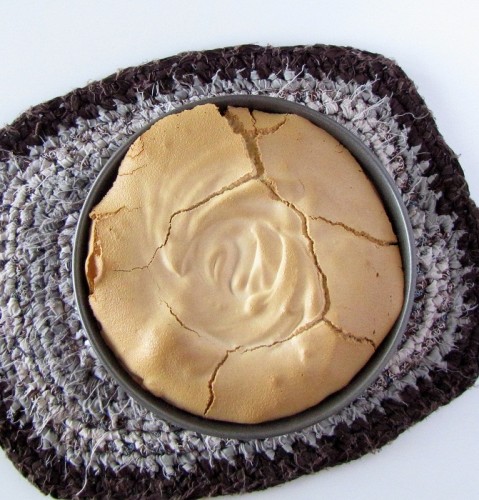 Later in life I heard there was a science to meringue but I just jumped in. It isn't too difficult when you have the equipment. Sure, by hand but also a hand or stand mixer for the cheat (which I am when it comes to this unfamiliar territory). Even the pros pull these puppies out.
This cake uses brown sugar (light works best) in the meringue and even though I haven't had much experience with the stuff, think I am addicted in a way that regular white sugar wouldn't give me. The cake, even though the batter isn't very moist, comes out, protected by the meringue topping, delicious and moist with a layer of a pudding kind of concoction in the middle.
Once again, I reverted to my younger days and the days of Pop-Tarts (something I've yet to make homemade) to describe the flavor and smell. If you've ever had a brown sugar cinnamon Pop-Tart, this is the flavor equivalent in spice cake form. Of course a million times better.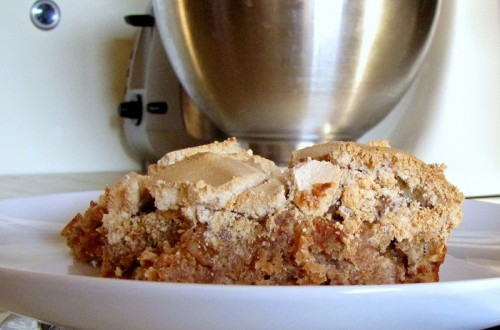 The smell overtook the apartment and I was back in my childhood and loving fall. It smells like the fall holiday season. You get the cinnamon and cloves (I added a dash of nutmeg) with the brown sugar caramelizing scent in the air then the taste, quite sweet, makes you sit there in a stupor. Maybe that was just me but that's how good this cake was. Bravo to betteirene at Food 52 for this one. I really just stood up and clapped.
Adding the toasted walnuts and raisins (golden is my preference) is a grand idea and my choice but you can omit them for whatever reason you feel. Another tip, make sure to use a double boiler for the meringue. Plus have your hand mixer or your arm will burn like nothing else.
Apple Spice Cake with Brown Sugar Meringue Topping from betteirene at Food 52
Serves 6 to 8 (I think it can serve more-it's quite sweet)
Ingredients:
For the Meringue:
2 large egg whites
1 1/2 cups firmly packed brown sugar (light seems best)
2 tbsp water
For the Cake:
1/2 cup unsalted butter at room temperature
1 cup packed brown sugar (light again)
2 large egg yolks
1 tsp baking soda
1/2 tsp salt
1 tsp cinnamon
1/2 tsp ground ginger
1/4 tsp ground cloves
a dash of nutmeg was a nice addition (optional)
2 large apples, cored and grated on a box grater (do this beforehand)
1/2 cup toasted chopped walnuts (optional)
1/2 cup raisins (I prefer golden-optional)
2 cups spooned and leveled all-purpose flour
Preheat the oven to 350F. Grease a 9″x 9″ baking pan or casserole dish and set aside. (I used a round pan.) Toast the walnuts while the oven preheats until fragrant but not burnt then chop if needed. Set those aside to cool.
To make the meringue, place the egg whites (reserve the yolks), brown sugar and water in the top of a double boiler. (I use a glass bowl over the top of a pot.) Put enough water in the bottom of the double boiler to touch the bottom of the top pot. Over high heat, beat the egg whites with the brown sugar mixture with an electric mixer until peaks form, 3-5 minutes. Set aside.
For the cake, in a large bowl, beat the butter and brown sugar until fluffy then add the egg yolks. Mix well. By hand, stir in baking soda, salt, cinnamon, ginger, cloves, dash of nutmeg, grated apples, walnuts and raisins. Fold in the flour, blending well but don't overmix. It will be a dry batter.
Place the batter into the prepared pan. Spread the meringue evenly over the batter. Bake until the top is crisp, about 40 to 45 minutes. If you serve it while warm, the meringue will crack when you cut it. If you want neat slices, serve the cake the next day. Yeah right, that didn't happen here. I also just dove in without making slices. Enjoy!