So the big news I've been withholding for what feels like months but has actually been only weeks is that we are getting a house! We put an offer on a 1952 mid-century place near one of the colleges in town about…oh October 18th 6PM and while grabbing a quick bite at Subway October 20th 5PM found out it was accepted. Last Thursday we had the inspection-no surprises, nothing too big. We met with our mortgage consultant last night and have the closing date set for December 15th. (Please excuse the picture quality in this post. I was without my camera when we snapped some shots of the house.)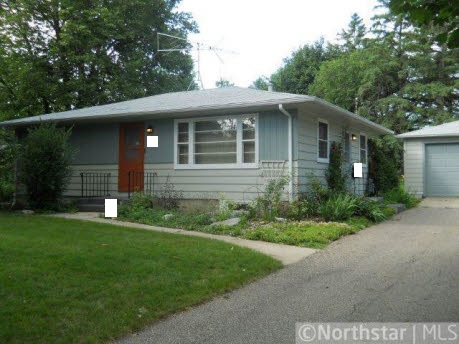 Sure it's crazy to move in Minnesota in December. Yes, it means I will not be decorating for Christmas. Then having a billion things to do in the next month, will not be making a Thanksgiving meal or doing much of anything for our 3rd wedding anniversary. But we're getting a house! (And with that, we're getting a pet…finally!)
I am still hesitant to release more information because last time we found a place, when I put it all out there, I fell on my face. Humiliated and defeated. For that house, I created a new floorplan that would take years and years to accomplish. I picked out the décor, made a timeline, budget and finally an ass out of myself when the deal broke. Not one other place with potential came up for months.
Not even a year later and this one came from nowhere. We actually had interest in another place but it was atrocious. Our agent suggested dropping by this house that same night and we began to wonder why this one was still on the market while traipsing around. Other agents wondered the same thing. Maybe something to do with the fact that it has only 1000 square feet listed as the living space but it comes with a finished basement (one we can rent to a few students) so you're getting about 2000 square feet, a 3 season porch, garage, a large, secluded backyard and a garden shed/greenhouse.
It's on a quiet lane, has a cute stone patio out back, large windows, a deep garage (the first project to tackle) and established landscaping/plants. It's open. The kitchen is small-slightly bigger than 10' x 7' but has a decent layout (and is better/larger than most places we've rented in 9 years). I've got plans for it. Where don't I?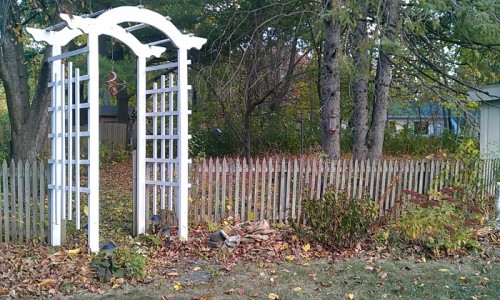 Things could use updating (we wanted a project house). Nothing is at a point where it absolutely must go but since we don't intend to live there for more than 5 years, we're keeping resale in mind mixed with some of our own touches. For instance, the owner put in new carpet before leaving…but I'm not a fan so our plans to update the basement rooms will include moving the new carpet down there and putting in an engineered hardwood floor throughout the top floor (ouch on the budget). When our realtor said the listing agent told him there weren't hardwood floors, we didn't believe it. On a 1952 home? Hmmm. So while he was looking the other way, I tried to lift the carpet in a closet without success. That carpet was installed well. When we were there for inspection, Greg continued to see if there was hardwood flooring in another closet even after the inspector tried to lift a corner and said only plywood was visible. I'm not above walking on subfloor until we can afford a new floor. I know it's ridiculous but sometimes that's me.
Before renting the bottom, we want to reframe the closets, do something for the brick walls and put that carpet in. I would like to renovate the bathroom downstairs but I don't know that it will work in the next year. I already have plans including round penny tile, a wall of wallpaper I have leftover from a project and a custom glass shower with new vanity/mirror. I'd like to fashion a vanity out of a dresser since that's kind of "our thing." Then our upstairs bath needs some assistance too. I could go on and on with all the other plans but I've said too much already.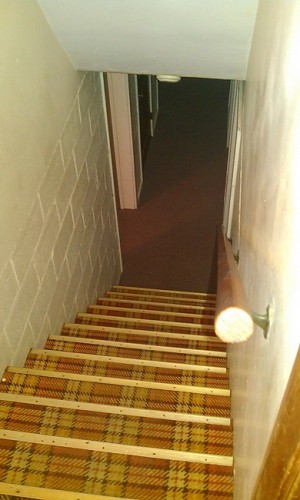 Before I go on to the recipe links (I haven't been cooking much…found out the newer Japanese restaurant in town is great), I hate to admit it but this house was one we rejected checking out when we were moving into our current apartment. We were tired of being disappointed and content to stay in this place. Then the furniture refinishing thing came up-it's doing well so we need more space and then wham, everything fell into place. The plan is to document our renovation projects on our other blog along with our furniture jobs.
Wow, did I really just write that much? I have been trying to avoid those posts. Here are some recipes floating around the interweb I'm craving. Anything on your list I need to know about?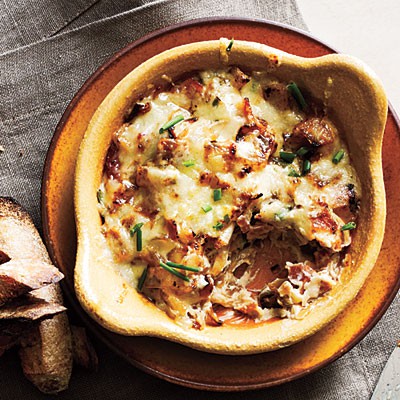 Caramelized Onion, Gruyère, and Bacon Spread
Then there are waffles. Greg and I both crave these. It's been too long, waffles.