I know I said Thanksgiving wouldn't be happening, meaning no meal, no plans due to the hustle and bustle of buying our first house, packing and moving in 3 weeks! Well, that's changed.
Greg's employer kindly hands out a free turkey each year so I'd like to roast that bird before we move. It didn't slip my mind. I just thought we'd bring it along for Christmas dinner. But I began to realize that once we get moved in, I'll be going into "remodel" mode and not "let's make a large meal involving hours of prep and a large fowl" mode.
Thanks to the free turkey and a trip to Trader Joes, we will have a feast…a trip in the first bad snow/ice fest. We knew this could be the last weekend we'd travel any large distance (minus a trip to Iowa to deliver a secretary we refinished in December) so I was determined to stock my pantry.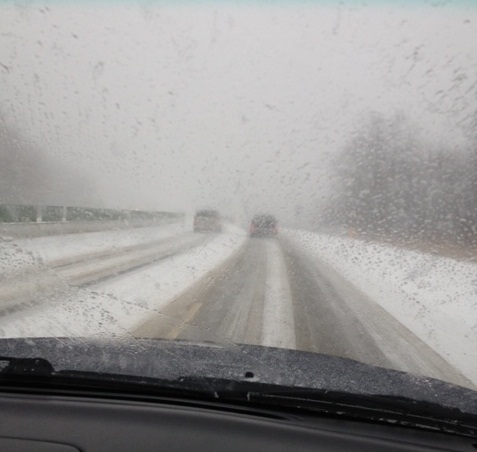 In my defense, when we left Northfield it was only raining and then turned into the picture above on the trip to St. Paul. With my new iphone 4S (yes I finally broke down and got rid of my dinosaur phone), I snapped some photos and actually kind of enjoyed the trip. Greg was having fun whipping around in our AWD vehicle and seeing him happy always makes my day. What kind of husband thinks, on his own, to take his wife on a path out of the way in bad weather to see their new home so she can see the house in the first snow of the season? A mighty sweet one that's made the total almost 9 years together fantastic.
So putting this together for our first Thanksgiving alone (still missing family) and it also happens to be our 3rd wedding anniversary seems super important right now. We'll be cooking together, cozy and snug, a tift might break out, all in good, teasing fun. But those are our plans now. I felt some guilt about our first one alone, knowing how much Greg likes a roasted bird and all the trimmings. I'm usually considering the menu a month before. Sitting pretty proud at this moment just throwing it all together.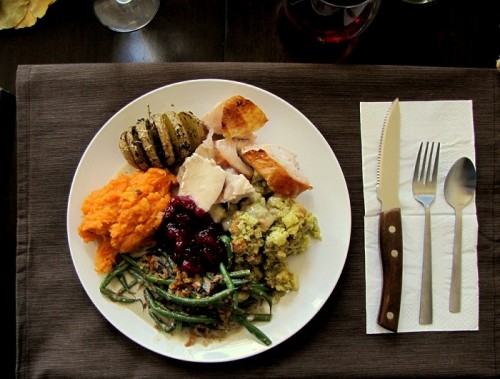 So here's our menu:
Spatchcock Turkey- using last year's brine method and gravy
Stuffing with leeks and pancetta
Brussels sprouts with brown butter and hazelnuts
Mashed potatoes or a gratin
These Parker House rolls (prepped and ready to go as of Sunday)
Pomegranate Cranberry Relish
Sweet potato pie with candied nuts and whipped cream
Beaujolais nouveau wine
All for 2 people. Leftover love up in here. Bonus! What's on your menu?
And because I like to share our projects, here's the painted grey bookcase with modern floral wallpaper on the back recently completed.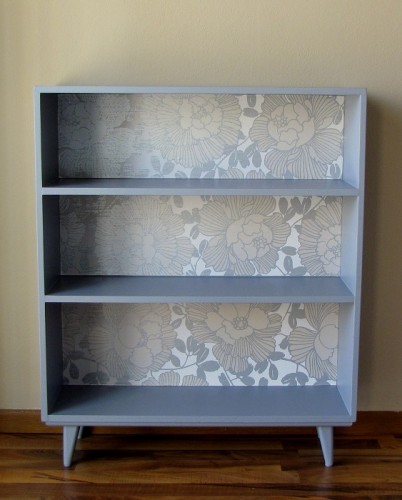 You'll have to excuse me in the coming weeks; I'll most likely be posting less through our transition to the new place and holiday season. Have a terrific Thanksgiving, folks!