I blinked and my family's visit was over. A joyful, ideal, loving visit it was.
So what if I burned my thumb to the point of extreme pain and blistering while removing the pie and so what if the pie looked like hell after that and so what if I didn't take hundreds of pictures of the meal and the 3 days of events, Greg and I felt happy again. Truly happy.
The main attraction, the food, was the best Thanksgiving meal I've made and the holiday was the most relaxed, at our place, yet. I filled my plate too full and did indeed stuff myself with great food throughout their stay. Pizza, Thai, chocolate, sweets, my mom's pumpkin bread besides the Thanksgiving meal. The treadmill is coming back out.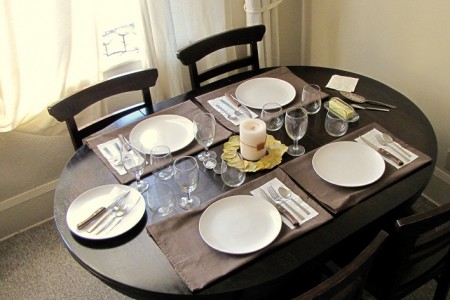 Which reminds me, my parents brought us Christmas presents from my grandparents (thank you all for the wonderful gifts) and themselves. While here, they purchased our big gift which is a yearly occurrence, carefully thought about by the two of us. Content to receive nothing but love, we fight this big gift thing but my parents are too kind and always seem to find a way to get us something great.
We decided that a tv for our bedroom (could also be a nice computer screen) would be handy this year. Until we can actually place it in our bedroom, it rests beside our living room tv. The treadmill sits to the side so that I can put on an episode of No Reservations and jog away. It's been months since I've been jogging, choosing instead to randomly perform strenuous cardio dvds by Chalean Johnson. I've grown bored so I'm changing my routine.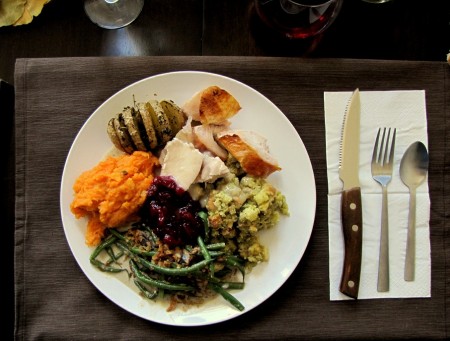 Before Thanksgiving, I didn't release the simple recipes intended for our table this year so today I would like to share. I highly recommend this brining method- better than our last experience- but this one did produce highly salty gravy. I know how ill-timed it might seem but I'll try to remind you next year. It's truly simple and honestly the best turkey we've had in a long time. Two words: brining bags. I would buy them if you decide to do this method.
To save face, I'll also give you another of our Thanksgiving dishes that remains relevant beyond turkey time…as long as you aren't tired of sweet potatoes. This recipe gives you a bit of smoky heat while mingling with maple syrup for contrast. Yum.
Brined and Roasted Turkey from Saveur
Ingredients:
2 tbsp dried sage
2 cups kosher salt
1 cup sugar
10-12lb. turkey (giblets and neck removed)
8 tbsp butter (unsalted)
freshly ground pepper
8 quarts of water (32 cups)
Toast the sage in a skillet over medium heat for a few minutes then place in a very large pot (enough to hold 8 quarts). Add the salt, sugar and 2 quarts of water to the pot and bring to a boil. Remove from the heat and stir in 6 more quarts of water. Allow to cool completely.
Place the brine and turkey in a brining bag (or bucket or pot that can fit in the refrigerator) and refrigerate for 8 hours or overnight.
Preheat the oven to 325F. Remove the turkey from the brine and pat dry. Place in a roasting pan, breast side up, tucking the wings under the body and brush with the butter and sprinkle with pepper. Tie the legs with butcher's twine and roast, basting every 30 minutes, until golden brown and registers 165F in the thickest part of the thigh (not touching the bone), 2 ½ to 3 hours. Let the turkey rest when removed before carving for 20 minutes.
Maple-Chipotle Whipped Sweet Potatoes
Serves 8
Ingredients:
4 lbs. sweet potatoes (about 7 medium), peeled and cut into even sized pieces
4 tbsp unsalted butter, melted
2 tbsp pure maple syrup
2 tsp to 1 tbsp (or more) chipotle en adobo, chopped with sauce (depending on the amount of heat you can stand)
coarse salt and freshly ground pepper
Add the potatoes to a large pot, cover with water and bring to a low boil. Boil until tender, 15 to 20 minutes, drain and add to a bowl. Add the other ingredients and mash with a fork or masher. Serve immediately.