And now we're back to that time of year. Snow time. It caught me off guard this weekend. I'm completely unprepared for snow and cold. Sure there were meteorologists calling for the 4-letter "s" word in their forecast but I ignored it. Instead, I woke up from my slumber Saturday morning to inches of the stuff, snowplows beeping, shovels and scrapers making their all too familiar sound on windshields and sidewalks. My reaction was first shock-no words but mouth wide open followed by painful screams while my husband, who apparently woke up earlier for some water and saw the awaiting surprise below, was laughing. He lives for moments like that.
If you give me a chance to see the snow gently falling (or not so gently), I have that moment where it's beautiful and I can settle into the idea that it's time for snow in Minnesota. I won't be pleased but definitely better able to cope.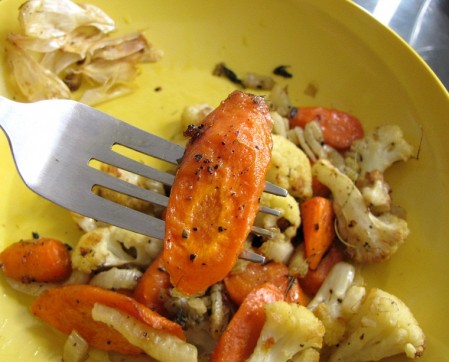 That missed me this year and I find myself frustrated. Our plans to travel miles and miles for fun errands over the weekend were nearly foiled but we waited and the warm ground and rising temps made the roads just dandy to drive. However the situation became worse in the afternoon. While in Trader Joes, we stood gaping in horror after turning the aisle, facing the large front window, to see heavy, wet flakes falling at a worrisome level. Being an hour away (in decent weather) from our apartment, we skipped the remaining plans and tried to get home. Not a problem for us but others were in ditches and medians on the main roads.
Quick question: is it the norm for mailboxes to be plowed over in Minnesota? I noticed that at least 6 were hit on the back roads. That would add insult to injury for me.
Once home, we made the Indian dishes purchased at Trader Joes and sat in for a nice night in front of the TV with our Netflix lineup. The next morning, we found out that 12 inches of snow wreaked havoc north of our town and caused a blackout in some neighborhoods in Minneapolis and the metro area. A significant amount of accidents were reported and it was declared that that amount of snow was the most had on the first day of accumulation in quite some time.
I felt grateful for having made it to a few places with my husband and arriving home safely….but now I'm forced to make peace with the fact that 6 more months of this is bound for this state. Hibernation mode is upon me.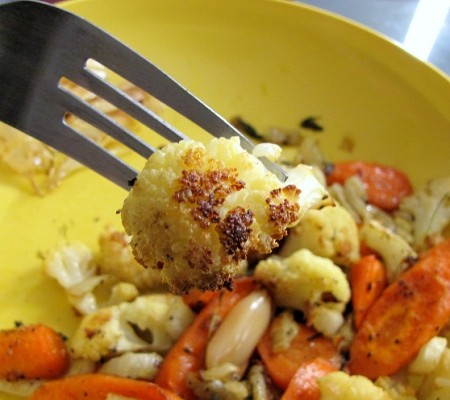 Being officially pre-approved for a mortgage and ready to house hunt, my skeptical self can't help but make my inner dialogue louder. It continues to spout off about this seeming a cruel trick of fate that I, snow/ice-hating-take-me-to-a-place-where-snow-is-rare me, end up in Minnesota. Before moving I was fully aware of winter and winter-like weather; Indiana (my home state) is not empty of bad winters but has less wind and warmer temps during the cold season than Minnesota. Negative 20 to 30, anyone?
But yes, I despise the frigid cold, walking like a penguin on the ice, restraining apparel and limited travel that come with the winter Minnesota territory. I raise my arms in defeat to think that I am house hunting in this weather in a state sure to show me worse conditions very soon. Doh. What was I thinking when I agreed to stay here another 4 or so years?
I need to make this side dish as my lunch again. Now that was a good day and a recipe capable of postponing my beginning stages of seasonal affective disorder.
When the blues hit, I turn to fennel. Odd statement? Absolutely. When roasted, normally ignored fennel turns into a sweet, caramelized veg. Mixed with a handful of other vegetables and once again, they catch your attention because they too have caramelized into an amalgamation of grand fragrance and delectable taste. (A touch of grated cheese helps too.)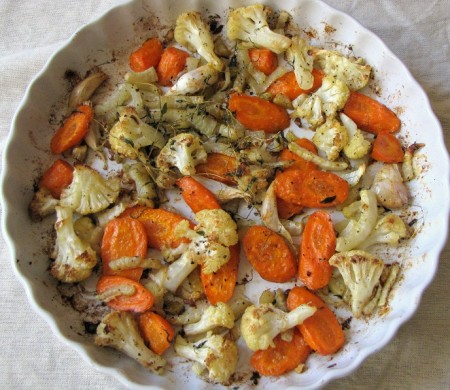 Roasted Fennel and Vegetable Medley with Herbs, Garlic and Pecorino Cheese
Serves 4 to 6 as a side
Ingredients:
3 tbsp olive oil
3 fennel bulbs, cored and thinly sliced (reserve a few fronds)
3 large carrots, peeled and cut diagonally or coarsely chopped into thick slices
½ head of cauliflower, cut into small florets
5 cloves of garlic, left in the skin for roasting
2 to 3 sprigs fresh thyme or rosemary or 2 tsp dried rosemary, thyme or herbes de Provence
coarse salt and freshly ground pepper
1/3 cup grated Pecorino cheese
*Feel free to add more vegetables like broccoli, onion, peppers, squash and celery, just increase the amount of herbs and olive oil accordingly.
Preheat the oven to 375F. Pour the oil in a large baking dish and add the vegetables, garlic, herbs, salt and pepper. Toss well to coat and spread, as best you can, in a single layer in the baking dish. Top with the grated cheese and reserved fronds. Roast for about an hour or until tender and the top is golden brown. Serve immediately.