I think I have this Thanksgiving thing down. One week, people. One. Commence screaming and fighting over ingredients at the grocery store while the store plays Christmas songs (it's the most wonderful time of the year…sing it, Andy Williams).
Greg's company gave us the turkey again this year. I've made final calls on sides and desserts, finalized the schedule for cooking and my family will be on their way in less than a week (!) with plans to stay at the historic Archer House down the street.
This holiday will be easygoing. I'm going the classic route. Homemade and most of the dishes were tested ahead of time- hopefully helping the easygoing factor. Nothing diet-friendly or low calorie. I've been working out and eating low calorie, nutritious dishes like a mad woman recently to get a jump on the smorgasbord season. Anyway, like I said in a previous post, if we end up having pizza, I'll still have a good time.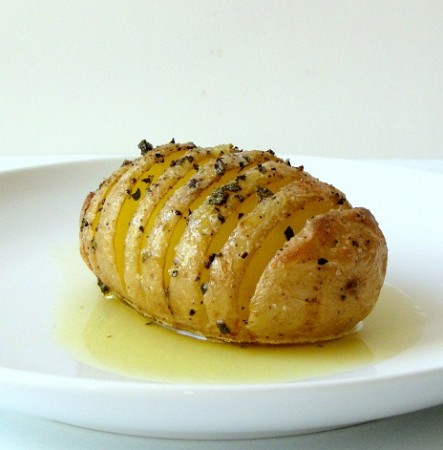 The meal consists of brined turkey with a mix of herbs, Hasselback potatoes, dinner rolls, green bean casserole, gravy, cranberry sauce, classic stuffing with sage and two versions of pumpkin pie for the five of us. (We really like pumpkin pie.) If you know me, you know that I have wine sitting around in boxes because we don't have room for a chiller or cellar. A few were held back for the holiday season. A fragrant, somewhat sweet blackberry from Oliver Winery being one of the saved drinks from our Indiana trip for Thanksgiving Day sipping. Delicious.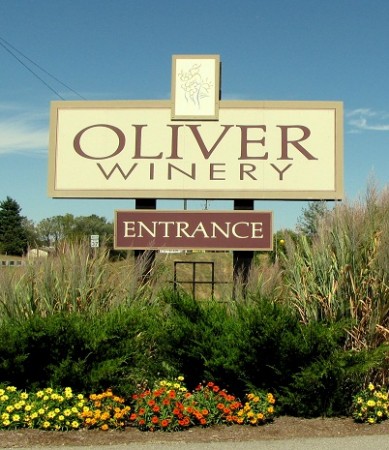 The day before (also our 2nd wedding anniversary), I will be prepping almost half of these dishes and Greg is taking over the turkey responsibilities. He took the day off to simultaneously help me, celebrate our anniversary and welcome the family.
My alarm clock will be going off rather early Thursday so we end up eating sooner than last year…our ungrateful guest pestered me about when we'll "finally get to eat" while he plopped his bottom on the couch and played video games most of the day. I, in between managing all of the dishes, handed him a bag of chips. Believe me, I fought my instinct to hand him his luggage and a plane ticket. It was 4PM last year when I single-handedly set the table, took some photos and served the three of us.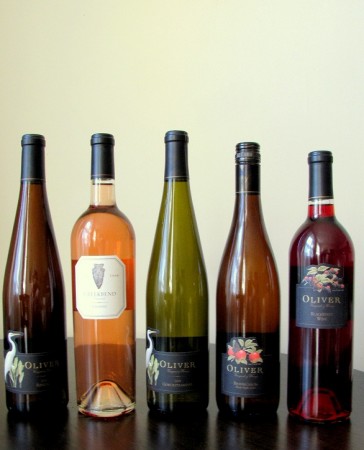 I bought new white dishes from Ikea and made my own simple centerpiece, a wreath that will encircle a candle. Wait a second, I MADE MY OWN WREATH…I don't do that. I'm not crafty. Oh, but I did with gingko leaves which I began to trample all over while on a walk on the arboretum trails before birthing this craft idea. The Martha Stewart in me stopped, smiled and a mind wreath was born. No, the Martha in me didn't begin to yell at Greg or belittle his ideas. (You do that sometimes, Martha.)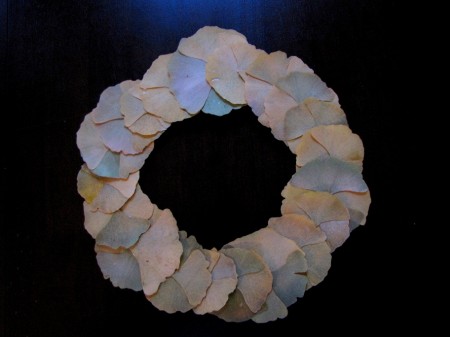 I love the look of the gingko leaf so I stuffed handfuls in my pockets and asked Greg to do the same. He barely put up a fight because he knows I'm weird like that. He likes it.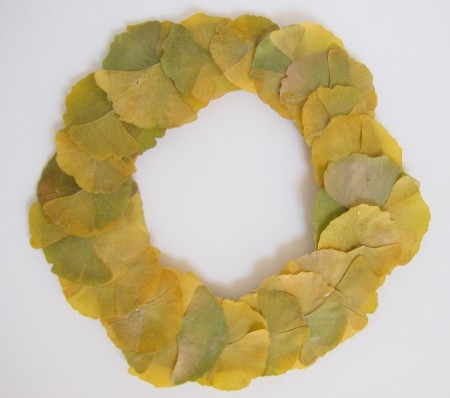 The only issue I have is with my table. It has a dark espresso finish that I managed to ruin (again) a few weeks ago by ironing a shirt on top of a towel. My table now has a cloudy finish from the steam. I've done this before and put a coating of some kind of wax that rid of the cloudiness but I can't find it and all the other tactics to remove the marks haven't worked. I've stared at the scars, crinkling my nose with aggravation. C'est la vie.
I can't get enough pumpkin right now, specifically pumpkin desserts. Mentioned above is the fact that I've been watching my calories so to appease my sweet tooth I made this pudding from Cooking Light. It's basically the flavor of pie without the crust and if you omit the whipped cream, it's less than 200 calories a serving. Even with the whipped topping, it's less than 300 calories. My suggestion, if you aren't watching your diet, is to make bourbon whipped cream. Leave it to me to booze it up. I'll give you that recipe too.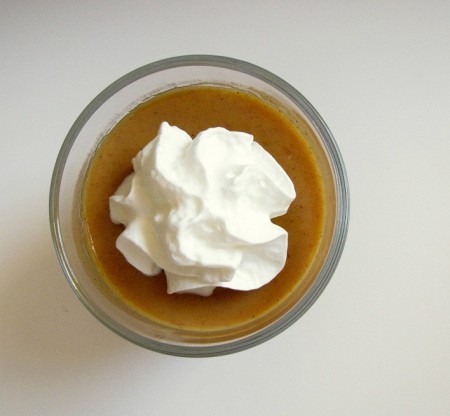 Pumpkin Pie Pudding with Bourbon Whipped Cream
Serves 4
Ingredients:
6 tbsp sugar, divided
2 tbsp cornstarch
1 ¾ cup 1% milk
1 egg
½ cup unsweetened pumpkin
1 tsp vanilla extract
½ tsp ground cinnamon
1/8 tsp salt
1/8 tsp ground nutmeg
Place the sugar and cornstarch in a large saucepan over medium heat. Combine the milk and egg in a bowl, whisking well. Add the milk mixture slowly to the sugar mixture, stirring constantly. Bring to a boil. Cook, stirring constantly, for a minute and then remove from the heat.
In another bowl, combine the pumpkin, vanilla extract, cinnamon, salt and nutmeg. Stir well. Slowly add the pumpkin mixture to the milk mixture, whisking nonstop. Place the saucepan over low heat and cook for 3 minutes or until thickened to pudding consistency, again stirring constantly. Do not boil. Make sure the pudding doesn't burn on the bottom at this point. Remove from the heat and place in 4 serving dishes. Cover the surface with plastic wrap and chill. When chilled and ready to serve, top with the bourbon whipped cream (recipe below) or plain whipped cream, perhaps some toasted walnuts or pecans too.
Bourbon Whipped Cream adapted from Food & Wine
Makes 1 cups
Ingredients:
1/2 cup heavy cream, chilled
1/2 tbsp bourbon
1/4 tsp sugar
1/8 tsp vanilla extract
In an electric mixer, beat all of the ingredients until softly whipped into peaks.