How was your Mom's Day? I purposely didn't write a post for this special occasion because I've been known to spill the beans. You see, my family put together a great gift for my mom a while back-a ring with all of our birthstones. My dad also got her a swing for outdoor relaxing. Oh, and an awesome Harley for his ride to work and short trips with my mom-similar to the one Greg and I used to ride around on. They love their new goodies!
I'm proud that, for once, I didn't reveal the surprise gift (it's not a necklace…inside story). Greg's momma received a package of delicious meats (and crackers) from Murray's Cheese from us and the arrival of Greg's sister, home from her first year of college. (She did very well so I hear. Good job, sister Witkamp!) We were close in heart and mind but not geographically speaking. It was an even more special Mother's Day since my sister and sister-in-law are new moms. Greg and I sent our love and were definitely thinking of you.
I'm also thinking of you, fans. Remember when I mentioned that amazing chicken meal a few weeks ago? Here it is from a 2008 recipe in Bon Appetit magazine. At first glance and read-through it seems almost too basic with ingredients that kind of catch your attention but make you wonder if the simple flavors could really produce something wonderful…and then you make it and are blown away. Love this dish!
I went a step beyond and added a handful of green picholine olives (optional). A grand idea if I do say so myself. Trust me, don't skip on any of the ingredients. Keep the yogurt dip and red pepper flakes. Use the smoked paprika, not another kind of paprika. You can find it at most grocery stores. Even the cilantro plays an important role so if you absolutely can't stand it, this may not be for you. But I think you're missing out. If there are leftovers, they would make a great pita sandwich.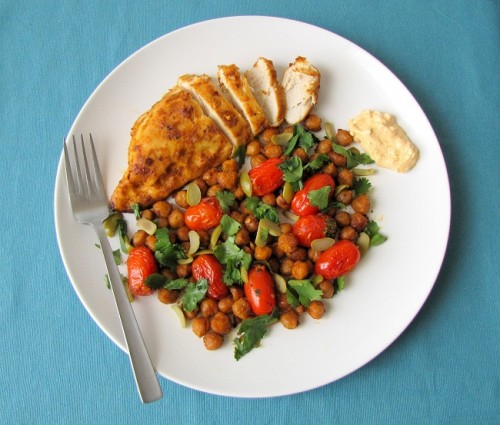 Roast Chicken Breasts with Chickpeas, Tomatoes and Smoked Paprika from Bon Appetit
Serves 4 (add pita bread to the side)
Ingredients:
¼ cup olive oil
4 garlic cloves, minced
1 tbsp smoked paprika
1 tsp ground cumin
½ tsp red pepper flakes
½ cup plain Greek yogurt
4 chicken breasts (with or without bones)
15 oz. canned chickpeas (aka garbanzo beans), rinsed and drained
12 oz. cherry tomatoes
1 cup fresh cilantro, chopped and divided
handful of picholine olives, chopped (or another green olive you enjoy)-optional
Preheat the oven to 450F. Mix the oil, garlic, smoked paprika, cumin, and pepper flakes in a bowl. Pour 1 teaspoon of this spiced oil into a small bowl and whisk in the yogurt then set aside (in the refrigerator preferably) for a serving dip. Place the chicken on a rimmed baking sheet. Rub 2 tablespoons of the spiced oil over the chicken. Add the chickpeas, tomatoes, and 1/2 cup cilantro to the remaining spiced oil and toss to coat. Pour that mixture around the chicken. Sprinkle with salt and pepper.
Roast until the chicken is cooked through, about 20 to 25 minutes. Stir in the remaining 1/2 cup cilantro and optional olives. Transfer the chicken to serving plates, slicing beforehand if you like, and then spoon the tomato/chickpea mix around the chicken. Serve with the yogurt sauce and pita bread. Leftovers, if there are any, would make great pita pocket sandwiches.