Have you ever had such awful service at a restaurant that you didn't leave a tip or much of one? I know I just wrote about not sweating the small stuff when others are sweating their basic needs but it's so rare a moment for us to have this horrendous of a dining experience that I want to bring up the topic. Margarita recipe at the end….who loves ya baby? (Me.)
Greg and I went to the local Mexican restaurant last night to celebrate Cinco de Mayo a day ahead of the crowd. This is a place we love and give our patronage on the rare times we eat out. Normally a young woman is our server who greets us with a smile and treats us very well. She's a doll. Last night, the guy we assume is the owner, the person usually at the register, was the person to seat and serve us. Well, he was supposed to anyway.
We sat in a room filled with the amount of people you could expect to be there at that time. Ten minutes went by; he seated a group of college students, immediately took their drink order (pushing the sale-priced margaritas), then went off to get those drinks. He arrived a few minutes later, asked their food order but they weren't ready so he came back 5 minutes later, gathered their requests while we sat without a nod to our existence. After 25 minutes, he came to get our drink order, once again pushing the sale-priced margaritas. You know momma isn't going to pass on a margarita so we both agreed to the seemingly great sounding deal. I've been calling myself momma which makes no sense.
Onward with the story: he brought them out, another server brought the chips and salsa and we sat there. Not one employee passed by before the alarm sounded on Greg's phone announcing our laundry was finished (40 minutes). Greg left to retrieve our clothes and I began searching for someone to take our order. Contemplating the route that wouldn't disturb other diners/make a scene yet get the job done in a respectful manner…I saw no such route. Meanwhile, several tables had arrived and been served their meal on the opposite side of the restaurant while our order still hadn't been taken.
Someone finally came out so I flagged him down (the kitchen assistant bringing out the food). He didn't seem surprised that this guy didn't do something right. The original server came out in a frenzy and asked if we were having more people come…we'd never said anything to this effect. He hadn't said more than a sentence to us. Mud on his face. I was the slinger.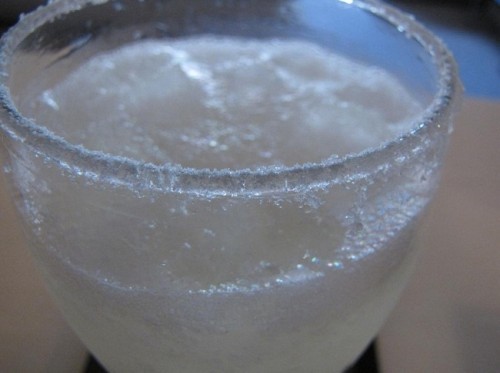 This upcoming part is my favorite: the kitchen server told the guy to "shush and pay attention" with a smirk on his face. I too was smirking. Nowhere after this point, a few minutes from being there an hour, did he acknowledge his slip-ups or try to make the rest of our time happier.
Our food came in no time and was delicious (like we know it is) then he finally asked if we'd like water. He was rather arrogant and threw out a vibe as if we were in the wrong. I was polite throughout the entire visit and the only sign of extreme aggravation was in our not leaving a decent tip. When the bill came, it was also apparent the margaritas were not the sale-priced sizes that he pushed onto us and we spent $50…more than half was for the 2 margaritas.
Beyond frustrated at this time, we handed over just $1 more towards our tab. Had the kitchen server been in view, he would've had a tip his way purely for the comment to the guy, probably his boss. The best worst part of the evening was when the awful server had the nerve to come back and ask if the amount we left was correct and covered the bill…he was asking for a tip, a bigger tip! This blows my circuit. Cannot compute.
Worst dining experience we've had in a looooong time in Northfield. Not only am I sure our faces will be remembered and we'll be treated poorly on our next visit, although we've had a good dozen great visits, but I am positive that we won't be eating there any time soon. That's sad since we don't have many decent places to eat in town. (Decent meaning with tasty dishes and/or affordable dining.) On a side note: a new Japanese sushi bar will be open mid-August. I'm ecstatic!
So on this Cinco de Mayo, I bring you my margarita recipe-one of my first posts. This day happens to be the one year anniversary of "meeting" our nasty neighbors who no longer live here. Yay! Meeting meaning listening to the first of many many parties on the sidewalk below our bedroom with their idiotic friends and their talk of drugs and fighting one another in the alley, as well as, within their apartment. Anyway, for the price that we paid last night for two drinkies, we could have bought the tequila, limes, ice, orange liqueur, a blender (since I am sans blender right now) and the special, kitschy glasses to put them in. We could make an entire pitcher or two for that price. Okay, maybe a little exaggeration for dramatic effect. Cheers!
Classic Margarita
Makes one pitcher- 4 large drinks
* Place 2-4 glasses in freezer (depends on how many want some of course) before making the drink*
Ingredients:
4 cups ice (plus more for serving)
1/2 cup orange liqueur
1 cup silver tequila
1 cup lime juice
½ -3/4 cup simple syrup (boil 1 cup of water and 1 cup of sugar until syrup-y and remove to cool)
lime wedges-rub around rim and optional decor
coarse salt
Place ice in blender and add tequila, orange liqueur, lime juice and simple syrup. The amount of simple syrup depends on how zippy/tangy you like yours. Keep tasting (oh darn) until satisfied with the ratio. Blend to desired consistency. Take glasses from freezer, add more ice (if desired) and run a lime wedge around the rim of the glass, dip rim into a salt pile and add mix to glass. Place wedge on the side if you want and serve.