Just a few words about my ultimate potato soup before the recipe. Not even the lameness of using the word 'ultimate' can hurt this dish. Trust me.
Potato soup is my chosen variety of potage. If there are potatoes in a broth, I'm there with a giant bowl, already thinking about how to get my hands on another serving.
When I was young, my unquenchable hunger for potato soup was met by both my mom and dad's recipe and a small restaurant that held the concoction in a large terrine at the end of their buffet (or beginning…it depends how you look at it). I thought I would go the rest of my life never finding a match to these but one day, with lower expectations (still hoping for great results), it happened. Greg loved it too. I think this was eaten in less than a day between the two of us for 8 servings.
You can tell when this kind of soup is good. Creamy with tender pieces of the highlighted veg, maybe with specks of accompanying veg, and an intoxicating smell wafting through the air for miles.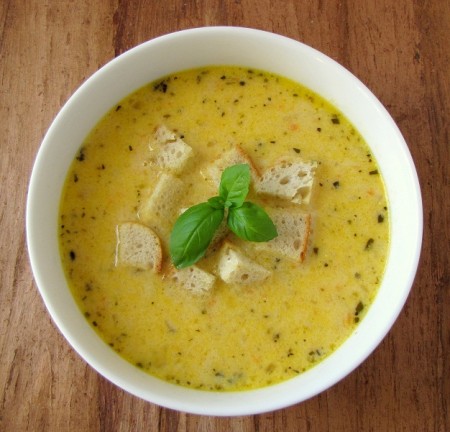 My additions would be garlic and cheese…cheddar to be specific and garlic salt with a slight hint of herbs like sage, parsley, thyme or herbes de Provence ( a mix of fennel, basil, thyme, etc.)-the last mix being my choice. To be honest you can't pinpoint or recognize the exact herbs but their being present makes the whole that much better.
Can you believe my ideal potato soup began as a cauliflower soup? I added the potatoes and they took over the show. So yes, this does contain cauliflower but after simmering it into oblivion, it is barely noticeable and seems to only add to the texture, helping thicken and support its pal potato.
This is not a low calorie/low fat blend but I don't think you'll care. You're a grown up and you know how good butter and cheese are in your potato soup. I know some of you might resort to using Velveeta and I can't wrap my mind around that (although I know I had it as a kid) but don't tell me and I won't tell you how much better a decent cheddar would be for this recipe. Oops. If you really want heaven on earth, add a handful of croutons right before serving.
Potato Soup of My Dreams
Serves 6 to 8
Ingredients:
6 tbsp unsalted butter
2 medium potatoes (Russet, Red Bliss, Yukon…you choose), peeled and diced
1 small onion, diced
2 large carrots, peeled and diced
2 stalks of celery, diced
1 whole medium head of cauliflower, roughly chopped
1 tbsp dried herbes de Provence (or parsley, sage or thyme)
2 to 3 tsp garlic salt
5 tbsp all purpose flour
4 cups low sodium broth (vegetable or chicken)
2 cups milk (whole is better for this)
1 cup half & half
½ cup cheddar (mild, medium or sharp-your choice) I like sharp
1 cup sour cream, room temperature
croutons-optional topping
freshly ground pepper
In a large pot or Dutch oven, melt the butter over low-medium heat. Add the potato, onion, carrot, celery, cauliflower, herbs de Provence and garlic salt, stirring, covering and cooking for 15 to 20 minutes, until vegetables are tender.
Add the flour, stirring until thickened (a roux). Add the broth and milk. Bring to a boil then reduce the heat to a simmer, adding the half &half and cheese at that point. Simmer for 15 to 20 minutes, taste the amount of salt and add more if needed. It's at this point that I blended the mixture slightly with my hand blender (or mashed with a fork) until I reached the consistency, with small chunks, that I desired. Stir in some freshly ground pepper and the sour cream before serving. Top with croutons if you wish…I wished. Enjoy!