*Update on the comment front: they are back but any new comments in the last two weeks are not in the cue. All apologies! Things should be working as normal now so comment away.
As I peruse the foodie blogosphere for new and inspiring recipes, I can't help but notice that (and expect) it is teeming with holiday dishes, treats and desserts. I want a little of every beautiful, scrumptious-looking thing.
It reminds me that most people will be, and already are, surrounded by the holiday spirit. They are enraptured in all that this time brings, such as, family and friend gatherings, parties for work, baking, shopping, wrapping and decorating (hopefully passing on important values to loved ones along the way and being charitable).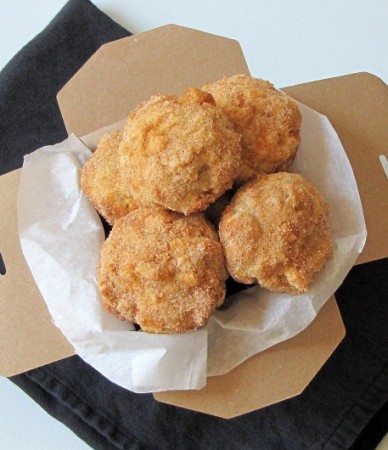 It also reminds me that Greg and I will be celebrating, just the two of us, for the first time ever. In the 8 years we've been together we've had places to go, people to see, parties to attend, dishes to make and careful considerations for the holiday lineup usually in the form of a timeline. We'll go here on this day for that event and then travel here for another party where we can stop here to pick up a gift/bottle of wine/cheese tray for this event, etc…and then do it again the following day.
I'm not wrapped up in that holiday spirit this year because those things are absent. On one level, it's kind of nice but when it comes down to it, we'll be missing our loved ones.
On a side note: Northfield's Winter Walk is tonight perhaps that will aid my ardor. Somewhere between the parade and horse-drawn wagon rides I hope to find it. Come out if you're nearby in Minnesota. There will be reindeer, choirs, cocoa and candy!
Being twenty-somethings without children, we haven't hit that mark where we enlist our own ways to rejoice. I feel like I'm still in a college holiday mentality. The kind of mentality where you maybe put up a tiny tree (a picture of a tree…could be a palm tree with lights strewn about) or some kind of other lame attempt at decorating, go home to family and friends, celebrate, then drive back, put your decorations away (or just leave it out all year) and life continues until you go home again to do laundry.
When I graduated in 2006, as a real working girl, I made sure that Christmas was more adult and bought a 7ft fake tree with lights built in, some ornaments, had my mom make the tree skirt (beautiful) and put candles and other small décor around our apartment. But it still felt somewhat empty of emotion (except for the ornaments handed over to me from my mom)…it wasn't helpful that back in those days Greg fought me on this because he didn't enjoy any part of embellishing. He's much better and even into it nowadays.
My husband and I have discussed what we could possibly do to make it a special first. We agree that it should be celebrated with our own traditions although some we're both carrying over based around the sentimental value of times with family. We just don't know what our own traditions will be-maybe it takes children to get there (?).
Here are some of our ideas:
-Make this cinnamon swirl bread or the easy, awesome, oven-baked doughnuts below (made in a muffin pan) for breakfast
-Watch A Christmas Story (a family tradition on Christmas Eve), It's A Wonderful Life or a few Indiana Jones movies (Greg's family tradition)
-Walk around town after a meal made together (could be duck this year…I'm excited)
-Make homemade eggnog for the first time
-Finish the day side by side on the couch by the tree listening to music with candles lit around the apartment
What would you suggest we do? What do you cherish about this time of year? (I ask and my comments still aren't working. Email me at thedabble (at) gmail (dot) com.)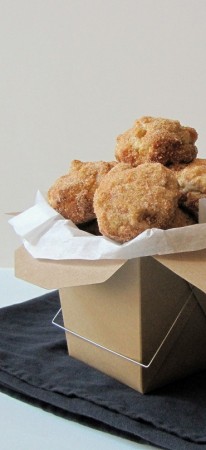 Oven-Baked Apple Doughnuts from Chocolate Shavings
Makes 24 mini or 10 to 12 large doughnut holes
Ingredients:
¼ cup brown sugar, packed
¼ cup sugar
1 ½ cups finely diced apple, peeled and cored
1 ½ cups all-purpose flour (or 1 ½ cups + 3 tbsp cake flour)
1 ¾ tsp baking powder
½ tsp kosher salt
1 tsp nutmeg
1/3 cup cold butter, cut into small pieces
1 egg
¼ cup milk
Coating:
¼ cup butter, melted
1/3 cup sugar
1 tsp cinnamon powder
Preheat the oven to 350F. Whisk the flour, baking powder, brown sugar, sugar, salt and nutmeg in a large bowl. Add the cold butter pieces, rubbing it into the mixture into coarse crumbs the size of peas.
In another bowl, beat the egg and mix in the milk and diced apple. Add this mix to the flour mix, stirring with a spatula until just combined (don't overmix).
Place a spoonful of batter into each mold of a buttered mini muffin pan or regular muffin pan for larger doughnuts. Bake mini doughnuts for 15 to 18 minutes and bigger doughnuts for 25 to 30 minutes or until golden and baked through (with the clean toothpick test).
Mix the sugar and cinnamon in a bowl for the coating. Remove the doughnuts from the muffin pan and lightly brush with the melted butter. Roll in the sugar mixture and shake off the excess. Serve immediately. If you have turbinado sugar (Sugar In the Raw), you can add a few pinches to the cinnamon/sugar mix for a sweet crunch.