I failed to mention that we had a spectacular weekend with our pals again. We won six MN zoo passes and two gas gift cards in the hog roast party raffle. Not bad with only $20 in the mix with a prize value of $130. I credit Greg's luck. His dad seems to win big in contests so ultimately, it must be his genes.
We hope to go to the zoo this fall with our adopted family. (That's you, Beckie and Ryan!) I could live in a zoo….for many reasons beyond my striking resemblance to a monkey. (I just can't get rid of that facial hair.) I adore most animals.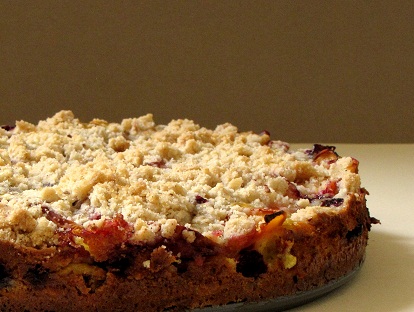 Are you still marveling over the produce of summer or are you getting tired of the vast quantities of items from your garden? I'm trying to help with most of the recent recipes. Perhaps it's because I don't have my own garden that I am swimming happily in the bounty like Scrooge McDuck swims in his large vault of money in DuckTales. I'm still in awe. Although, I have more cukes than I know what to do with-any ideas?
Anyway, peaches and blackberries are easily attainable (in season) right now. It seems only fitting that I supply a crumble recipe. This one has a twist, in my books, with the use of almond flour. If you don't have almond flour (I didn't), you can finely chop almonds in a food processor and it works, providing a nutty-buttery addition to the sweetened fruit. I only changed the consistency of the almonds and added turbinado sugar to the top for a crunch.
Thanks to My Baking Addiction and Jaime of Sophistimom who generously did the guest post for this recipe. Delish!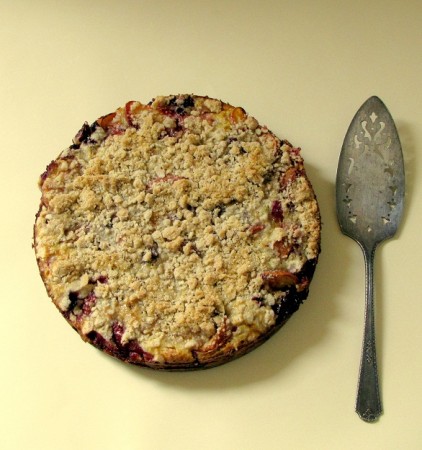 Peach Blackberry Crumble
Serves 8 to 10
Ingredients:
1/2 cup almond flour or finely chopped almonds
1 1/2 cups all-purpose flour
1/2 cup sugar
1/4 cup light brown sugar
1/2 tsp cinnamon
1/4 tsp nutmeg
1/2 tsp salt
10 tbsp cold unsalted butter, cut in pieces
handful of turbinado sugar (Sugar in the Raw) to top-optional
Filling:
1 tbsp all-purpose flour
1/3 cup sugar
1 egg
1 egg yolk
1/3 cup heavy cream
1/4 cup milk
1/4 tsp vanilla
1/4 tsp almond extract
pinch of salt
1/4 tsp nutmeg (fresh is best)
4 firm peaches, scrubbed and cut in 12 slices
6 oz. blackberries
Preheat the oven to 350F. Butter a 9 inch spring-form pan.
In the bowl of a mixer, fitted with the paddle attachment, mix together almond flour, all purpose flour, sugar, brown sugar, cinnamon, nutmeg and salt. Add the butter on low speed and mix until the dough sticks together when pressed in your hands. Press three fourths of the crumb mix into the prepared pan. Bake for 10-15 minutes, until set. Set aside to cool while you prepare the filling.
Whisk together the flour, sugar, egg, egg yolk, heavy cream, milk, vanilla, almond extract, salt and nutmeg. Scatter the fruit in the bottom of the crust and pour the filling over the top. Sprinkle with the rest of the crumb topping mixture and optional handful of turbinado sugar. Bake for 45 to 55 minutes, or until the filling is set and beginning to brown. Serve with ice cream if you wish.